Meet the Leonard Lodge Care Home team
From nurses and carers to chefs and housekeepers, staff in our home are here to deliver high quality care and services to those we support. Check below to meet some of the friendly faces you are likely to see when visiting our home:
Fiona Crickmore
General Manager
Hi, my name is Fiona, and I am the General Manager of Leonard Lodge Care Home. Welcome to our website!
I have worked in the care sector for many years and I have a lot of experience in managing care homes.
I love working for Barchester and leading the team at Leonard Lodge in the care and support of residents to provide a quality service that meets their individual needs. We have a lovely home and a fantastic team.
At Leonard Lodge we are creating a community that is as homely, happy and active as possible. Striving to make sure the residents are leading interesting fulfilled lives is at the centre of our aims here at Leonard Lodge. We treat every resident with the care that we would want shown to our own family.
Please feel free to drop in for a chat and to learn more about life at Leonard Lodge.
June Dube
Head of Memory Lane Community
I started working at Leonard Lodge in 2001 and this year will receive my 20-year Long Service Award. I commenced as a registered nurse and moved into the Unit Managers position in January 2002. 
As well as being an RGN I am also a qualified Mental Health Nurse. My keen interest in dementia care means that I work very closely with relatives and health care professionals to ensure that we are providing the very best personalised care for each of our residents. 
Show More
Julie Staines
Hi, my name is Julie and I am the Activities Coordinator for the Jubilee community here at Leonard Lodge.
I joined Leonard Lodge in June 2020. I have worked in the care sector since 2013, including 3 years as a Domiciliary Carer and 3 years as an Activity Coordinator.
I'm proud of being part of a great team and pride myself in delivering fun, life enriching and social activities. My residents are at the centre of everything I do.
Show More
Lynn Amiri
My name is Lynn and I lead the Activities Team here at Leonard Lodge.
Since working at Leonard Lodge I have dedicated myself to ensuring that each of our residents can continue to partake in the hobbies that they have enjoyed for years. It is important that all of the residents here have access to life enriching, fun and social activities.
The whole home supports my team and I to organise activities, events and entertainment tailored to every residents preferences, abilities and needs. Each year we have a fantastically full calendar, and we look forward to the future when we can invite the families of residents to join us in the home again. 
I am married with two children and two rather annoying rescue cats. I lived in Italy for a number of years and love all Italian food, especially when somebody else cooks it for me! I love to read, especially crime novels. I am a regular theatre goer with a passion for musicals. I like to sing and dance (albeit badly!).
Show More
Paul Brady
I started working as Head Chef at Leonard Lodge in 2009. I take the responsibility of ensuring each resident enjoys tasty and nutritious food seriously. I regularly talk to the residents to ensure the menu meets their tastes and requirements.
I commenced my career with the British Transport Hotels Ltd working in Hull, London, Leeds and Inverness, I came second in the Apprentice of the Year competition whilst in this position. I moved on to work for the Swallow Hotels where I became their International Chef of the Year. 
I hold gold, silver and bronze medals at various competitions including from Hotel Olympia. I have also cooked for HRH the Queen, several Prime Ministers and leaders of other countries. In 1978 I held the world record for the most dishes cooked in one hour.
Show More
Sheila Rogan
I have worked at Leonard Lodge since the doors originally opened. I started as a Laundry Assistant and have worked my way up to Head Housekeeper. I pride myself in ensuring a clean, fresh and inviting environment for residents, visitors and staff. I have also received my 15 year Long Service Award, which was presented at our anniversary party.
Show More
Sheree Wright
I have worked in the care sector as a Nursing Home Administrator for the past ten years. I very much enjoy working in an environment where we can make a difference - each and every one of us - to our resident's daily life.
I worked in London for the first six years of my career as a Records Clerk with the British Medical Association. I was fortunate enough to meet Prince Charles who was our Honorary President, at a Grand Ball held in his honour. I then progressed to being the Records Officer at Gray's Inn. 
I now have a lovely granddaughter, who takes up a lot of my spare time and I wouldn't have it any other way. 
Show More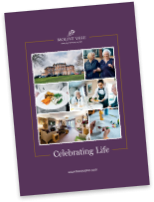 Read our brochure 'Providing great quality care and wellbeing' for more information on how we're here to help you and your loved one.
Read brochure
Food & Nutrition
Activities & Events
Care & Facilities
What happens now?
Are you ready to discuss your individual care requirements? Pick up the phone and talk to us, book a visit to our care home or come and take a look around our facilities.
Care enquiries
New care enquiry phone lines are open 8am - 8pm
01277 508451
All other calls
Our fees and contract
We want to be as transparent as possible about how we charge for the different services we provide as well as what's included in our contract. Please click the links below to find out more about our fees and contract.
View typical fees
View Our Contract
Useful downloads
Here to help you make the right decision about your care requirements.
99