Meet the Lawton Manor Care Home team
From nurses and carers to chefs and housekeepers, staff in our home are here to deliver high quality care and services to those we support. Check below to meet some of the friendly faces you are likely to see when visiting our home:
Rebecca Whitehouse
General Manager
Hi, my name is Rebecca and I am General Manager at Lawton Manor. Welcome to our website!  
Thank you for taking the time to look further into what we have to offer to you or your loved one. Here is an opportunity to look at some of our staff team in the home, who all play a vital role in day-to-day life.
I have worked within the health and social care sector for over 15 years now in a variety of roles and services all over Central England.  My passion has always been older peoples care I feel that the older generation have such a wealth of life experience and knowledge they can pass onto us that means every day I learn something new in my role.   I started my career in care as a carer and have worked my way up to then work within a variety of management roles within the sector including home management / commissioning manager / regional support manager /regional manager in both residential and nursing settings.
I am passionate about making a difference to the people who live with us and feel I am in a very privileged role to be able to do this and I am also passionate about working with teams to develop and enhance their skills and knowledge to make them the best they can be.
Donna Ganaden
I have been a registered nurse for over 29 years and am delighted to have been awarded a 20 year Long Service award by Barchester Health care in 2022.
I like nursing because it's a profession that never stops giving. You learn new things every day, and the opportunity for growth is almost unlimited. I feel so good inside when I see improvement in residents and also when giving emotional support to their family members. Actually, it gives me inner peace that I was able to help somebody.
I feel extremely privileged within my career so far to work with the incredible team at Lawton Manor.
Show More
Rose Long
I joined Lawton Manor over two years ago as Home Administrator and I really enjoy my role within the home.   I love the interaction with residents and team members alike and really feel part of the team in the home.   My role is to support the General Manager with the business aspect of the home and supporting residents and their families from pre admission through to moving into the home.  I get a real sense of job satisfaction from helping others and being part of a bigger team who are striving to make a difference in the lives of the residents who live with us.
I have enjoyed a varied career history prior to joining the team in the home including community care, internal auditing for a local college and administration manager in the pottery industry.
Show More
Nick Mason
Nick has been a Professional chef for over 36 years
He has worked in a Michelin star restaurant in London and in restaurants all over Europe
Nick feels honoured to be a Chef in service to the older generation who he says, have done so much for us throughout their lives
He's very passionate about good quality and seasonal produce
Show More
Deborah Pickering
Deborah has worked at Lawton Manor since 2010 and loves her job.  Deborah says every day is a different day and residents are like family, I pride myself on keeping the home to a very high level of cleanliness for residents.  I also prepare rooms for people moving into the home and like to make sure they are looking their best for new residents. 
Show More
Julie Buckley
With over 15 years service behind her at Lawton Manor, Julie says that most of all she loves the interaction with residents.  Julie is a true professional at all times supporting colleagues and staff members daily & especially so when meeting & greeting resident's relatives, families & their friends.  Julie said "In my spare time I like to be with my family and friends. I really enjoy going away on mini breaks for a bit of retail therapy and love eating out in restaurants with my husband"
Show More
Liz Maxwell
Hi my name is Liz, I have worked at "The Manor" for over 10 years.  We have created a wonderful culture within the home and we work together to give residents the best possible experience. We place a big importance on completing individual booklets with each new resident aptly titled "Getting to know you" 
I am here to ensure that residents enjoy an environment that is both stimulating and socially active. We ensure the team knows each residents' preferences, so that we can deliver a person-centered program of events and activities. Essential to our homely feel is the strong relationships of trust we build with residents and their families and friends. The home also has its very own minibus for our numerous outings for coffee and shopping, which residents love.  Popular day trips include our annual canal barge adventure, shopping trips to M&S and mini bus trips to the seaside at Llandudno.
Outside of work I like to take trips to the farm in Anglesey with my family where we visit the beach & being a foodie I also love going to restaurants.
Show More
Joanne Wood
Registered Nurse Learning Disabilities
I have been a RNLD for 31 years. I enjoy delivering person centered care to residents.  I feel my career experience enables me to deliver the best nursing care to residents with complex issues and all disabilities. Outside of work I like to keep fit by Running & I belong to a Tap Dance Group and have performed at the Crewe Lyceum Theatre!
Show More
Lydia Stringer
Care Home Assistant Practitioner
Lydia has worked at Lawton Manor since 2013 when she started as Healthcare Assistant.  Lydia was quickly promoted to the position of "In House Trainer for Carers" before becoming a Senior Carer.  Lydia has always worked very hard and qualified as a Care Home Practitioner in 2021.
In her spare time Lydia enjoys cooking various cuisine including Chinese dishes and Curries from different Nations using her own blends of herbs and spices.
Show More
James Turner
Over the years that I have worked at Lawton Manor, most of all I love the interaction and variety my role provides and feel privileged to be able to make a difference in people's lives by ensuring their home is maintained and presented to a high standard
Prior to joining the Lawton Manor team I worked as head maintenance for the NHS in a local hospital
Show More
Sam Watkins
Care Home Assistant Practitioner
Sam started his career over 10 years ago at Lawton Manor as a kitchen assistant.  Sam has worked his way up to care home assistant practitioner and is thoroughly enjoying his role as he feels there is a sense of achievement every day.
Sam spends his free time with his family as he is a doting dad and is a huge Star Wars and Marvel fan.
Show More
Josie Quinby
All residents will benefit greatly from having Josie as the home's resident ambassador.  Josie can support in many ways and be an active voice on the views of other residents within the home.
Together with all committee members Josie plays an active part in the monthly meetings in the home inclusive of being the voice of those unable/ unwilling to express themselves – Committees at Lawton Manor include:- The Garden Committee, The Food Committee & The Activity Committee
We want everyone we care for to know how important they are to us here at Lawton Manor and having Josie accept the position of Resident Ambassador means that the management team will be provided with invaluable insight and perspective from a resident's point of view on the day to day management in the home.
Show More
Abbie Mugglestone
Abbie has began working at Lawton Manor in 2021 and is a firm favourite with residents for her kind nature and positive attitude.
Abbie is hard working and eager to learn new skills within the home and is a real team player.
Emma Condliffe
Emma has experienced over 20 years of working in care at care homes and in the community. 
Emma's skills and vast experience within the care sector have proven to be a great asset for all at Lawton Manor.  Emma has a very bubbly personality and maintains a person centred approach to her care delivery.
Show More
Janine Longshaw
Janine is a fantastic Nurse and is always a favourite with the residents for her bubbly nature, constant smile and a lovely bedside manner.  Janine rarely leaves work on time as she is so dedicated, committed and meticulous in all that she does.
Samantha Twemlow
A highly valued member of the team, Sam has been a dedicated carer since 2011 and has always been popular with residents who love her work ethic.  Sam is proactive, helpful and delivers high standards of care at all times
Amy Gibson
Amy started working at Lawton manor in 2011 as Activities Assistant supporting Residents with the home's dailylife enrichment programme.
Amy is an active member of the homes local community with links to the local church and Mother's Union. Amy also has a passion for crafting and makes beautiful cards for all occasions.
Show More
Housekeeping Team
L-R:- Yvonne Seddon, Ross Ganaden & Michelle Rowley
Nothing is too much trouble for our housekeepers, their dedication to residents really shows as they are a much loved team by all. 
Brandon Poole
Brandon has worked in care for more than two years and finds the role really rewarding.
Brandon likes working at Lawton Manor as its close to home, the environment is nice to work in , staff are very friendly and residents are lovely people
Show More
Diane Lawson
Diane started working at Lawton Manor in 2006 and is a valued member of the Housekeeping Team and Laundry Department.  Diane enjoys the fast pace of the home and loves to chat the residents when delivering freshly laundered linen back to residents' rooms.
Ben Cliff
Ben began working at Lawton Manor in 2020 as a night Carer.  Ben really enjoys his job and is good with residents and his colleagues
Catrina Stoker
Catrina started working at the home in 2014.  Residents enjoy her constant smile and high care standards.  Outside of work Catrina is very creative and makes delicious, very special cakes and cheesecakes!
Chantelle Foot
Chantelle began working at Lawton Manor in 2022.  She is a valued member of the care team and passed all her initial in-house training with flying colours.
Chantelle has a genuine passion for her job and always has a smile for everyone.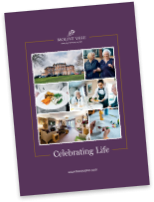 Read our brochure 'Providing great quality care and wellbeing' for more information on how we're here to help you and your loved one.
Read brochure
Food & Nutrition
Activities & Events
Care & Facilities
What happens now?
Are you ready to discuss your individual care requirements? Pick up the phone and talk to us, book a visit to our care home or come and take a look around our facilities.
Our fees and contract
We want to be as transparent as possible about how we charge for the different services we provide as well as what's included in our contract. Please click the links below to find out more about our fees and contract.
View typical fees
View Our Contract
Useful downloads
Here to help you make the right decision about your care requirements.
48412