Meet the Kingsland House Care Home team
From nurses and carers to chefs and housekeepers, staff in our home are here to deliver high quality care and services to those we support. Check below to meet some of the friendly faces you are likely to see when visiting our home:
Karen Williams
General Manager
Hi, my name is Karen, and I am the General Manager here at Kingsland House. Welcome to our website!
I have been a nurse for over 30 years and have worked both in the NHS and the private sector. A large part of my experience has been in palliative care and I have been lucky to have been able to run the inpatient unit at Phyllis Tuckwell hospice in Farnham, and worked as a Specialist community nurse for St Catharine's Hospice in Crawley
I moved into management of nursing homes and was the manager of the first home to get an Outstanding rating from the CQC in Surrey. I love being a nurse and have learnt so much from the people I have met and cared for in the different settings that I have had the privilege to work in.
I have been involved in various projects with Surrey University looking at ethics in Health care, and with Skills for care. The Gold standard framework has also been something I have been involved with and have been able to use what I have learnt to benefit the wellbeing of residents and increase Quality of life.
Zamo Gqanabisa
Hi, my name is Zamo, I am a senior nurse here at Kingsland House with more than 23 years' experience working in adult care, dementia and community settings, I hold a NVQ 4 managers award & dementia training.
I am passionate and take pride in my job and I enjoy making a difference to people's lives, it make me happy if I can make people happy that I care for.
Show More
Sayia Clark
Hi my name is Sayia, I am a Senior Nurse here at Kingsland House.
 
Shirley Corteil
My name is Shirley Corteil and I am the Administrator here at Kingsland House. I have been here since it opened back in 1995, so I guess the length of service must say it all! There have been many changes over the years, but I can honestly say that there is never a dull moment working here!
Marsha Manville
Hi, my name is Marsha and I am the new Administration Assistant.  I have worked at Kingsland House for over 7 years now and I am also a Team Leader. 
I am looking forward to my new combined role.
Emily Strange
Hi, my name is Emily and I am an Administration Assistant here at Kingsland. I enjoy seeing new and old faces as they pass by in reception or for a coffee and a chat!
Jordan Briscoe
Jordan is a registered nurse with over 4 years' experience in psychiatry and intensive care. Jordan's area of academic interest includes work and industry, health and social care, as well as education and leadership.
Jordan currently holds a Bachelor's of Science in Nursing, (Honours) level 7 post graduate diploma in Strategic Leadership and Management and is currently in his final student at the University of Chichester pursuing a Master's in Business Administration.
Jordan is a published academic author of multiple research papers in nursing. Jordan's hobbies include spending time with his wife and new born daughters, reading academic journals and writing academic papers
Show More
Donna Guyver
Hi, my name is Donna, and I am the Activities Coordinator here at Kingsland House.
Theresa Holland
Hi, my name is Theresa, and I have worked at Kingsland House since 2010. I have worked in the kitchen, in housekeeping, and now finally I have settled as an Activities Assistant. I love my job, as every day is a new adventure with the residents.
Paul Wilson
I'm Paul Wilson the new head of maintenance. I'm looking forward to working with the team, helping out and ensuring a high standard of maintenance and repair throughout the building and grounds.  I'm also happy to help personalise residents' room with their photos and art etc
Sophie Cox
I started working at Kingsland House in November 2015, originally as a Carer. I later became a part of the catering team, working as a Hostess, which was lovely, as I got to spend lots of time with residents. I am now Head of Housekeeping, and I love my job. The best part of being at Kingsland House is the staff and residents – they make this house a home.
Show More
Shanelle Luring
I have worked for Barchester at Kingsland House since 2016. I started as a Care Assistant I have since trained with Barchester and now hold the post of a care Practitioner which I really enjoy.
Amanda Smith
I started what I didn't realise would be my career at Kingsland House 20 years ago.
I achieved my NVQ 2 & 3 to become a senior carer and, after 10 years, I was promoted to team leader. I have now qualified as a care practitioner, which I am very proud.
I love my job and working here at Kingsland House. I am very passionate about the care our residents receive and that they live a fulfilled life here.
Show More
Chris Dossett
Hi, my name is Chris, and I am the Gardener here at Kingsland House.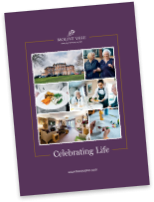 Read our brochure 'Providing great quality care and wellbeing' for more information on how we're here to help you and your loved one.
Read brochure
Food & Nutrition
Activities & Events
Care & Facilities
What happens now?
Are you ready to discuss your individual care requirements? Pick up the phone and talk to us, book a visit to our care home or come and take a look around our facilities.
Care enquiries
New care enquiry phone lines are open 8am - 8pm
01273 769 442
All other calls
Our fees and contract
We want to be as transparent as possible about how we charge for the different services we provide as well as what's included in our contract. Please click the links below to find out more about our fees and contract.
View typical fees
View Our Contract
Useful downloads
Here to help you make the right decision about your care requirements.
91