What our families say on carehome.co.uk
"My father has been in Highview House Care Home for ten months and I cannot praise the staff highly enough. Dad gets the very best attention and care (one particular member of staff). In particular, the levels of engagement and activities provided by the staff are noteworthy. We visit regularly and special efforts are made to look after us and provide space and catering when we are with Dad. Dad has settled so well and a large part of that is down to the quality of attentiveness of your staff team. Thank you so much."
George R
carehome.co.uk rating: 4.92 out of 5
"Home was excellent, the staff were great and the care was impeccable. I can't fault Highview at all."
Geoff R
carehome.co.uk rating: 5.00 out of 5
"Since the initial period when staff were getting to know Mum, and she was settling into the home, I have been very pleased with the standard of care and nursing Mum has received. The staff are all very attentive and friendly and are readily available to discuss the care and nursing with me. All staff appear to be aware of Mum's needs and treat her with respect and dignity. Mum is very settled and content in the home and always speaks very highly of the staff. Although Mum does not leave her room, she is happy that members of staff pop into her room regularly to ensure that she is alright. Mum is always clean, neatly dressed and groomed. She sleeps well and likes her room. I have no complaints regarding the home whatsoever."
S M
carehome.co.uk rating: 4.42 out of 5
"I am very pleased with the care and treatment my dad has received since being admitted to Highview from the hospital. He is very happy there and has settled in well. The staff are all lovely and attentive to my father, and make sure his needs are met. We are so happy that he is local to us as it means my mum can visit every day and spend quality time with my dad."
Mark M
carehome.co.uk rating: 5.00 out of 5
"The care staff have been genuinely warm and friendly to me. They have provided excellent care for my mum and she is very happy."
P S
carehome.co.uk rating: 4.75 out of 5
"Happy with the care my loved one is receiving. Have recommended the facility to others."
G R
carehome.co.uk rating: 4.42 out of 5
"The staff are very kind, knowledgeable and have helped both myself and my dad in settling in. It has been a difficult adjustment for us, but the staff are very reassuring and take on board all comments made."
J M
carehome.co.uk rating: 4.08 out of 5
"A very noticeable improvement in mothers mental abilities since returning from New Craigs. I hope this continues."
D M
carehome.co.uk rating: 4.33 out of 5
"I find the staff very helpful and the room is lovely and bright with all her photos. The whole care home is inviting."
B M
carehome.co.uk rating: 4.58 out of 5
"I have always found the staff at Barchester Highview House friendly, warm, kind, helpful, fun and caring. I can rest in the knowledge that Mum is safe and secure. And that she is cared for by compassionate people. Visiting Highview is a pleasurable experience."
Paul S
carehome.co.uk rating: 4.33 out of 5
"My mother entered Highview House in August 2020 and due to Covid for most of that time access was very limited. Things are better now with 2 family member visits per week. There doesn't seem to be many activities organised at present and my mother spends most of the time in her room. The reasons for agreeing with social services for my mother to go into care was for safety, security and stimulation. Safety and security are fine but there is a lack of stimulation. Most of the staff are good but there are one or two who like to be in the office."
Ron M
carehome.co.uk rating: 3.45 out of 5
"I visited six care homes. As soon as I walked into memory lane I could not explain to myself just what I was feeling a few days later the feeling was like a blanket of love surrounding me. The staff are beyond belief and have accepted me. I am so so pleased that I chose Highview it is very difficult to choose somewhere for the one you love so much. I certainly made the correct choice."
Jan M
carehome.co.uk rating: 5 out of 5
"My sister has resided at Highview House Care Home for eleven months now. Her care has been exemplary. The staff are efficient, caring and go above and beyond their duty of care to serve the individual needs of the residents. We have no complaints whatsoever and are thankful that we were able to place my sister in such a wonderful environment. Finding a suitable home for a loved one is always a responsibility and Highview House ticks every box!"
Sonia R
carehome.co.uk rating: 4.83 out of 5
"Feel very reassured that my dad has been looked after so well during this difficult time. Window visits are a great idea. All staff and carers in Memory Lane are fantastic, keeping in touch with us when unable to visit. Cannot thank everyone enough for their care and affection."
L L
carehome.co.uk rating: 4.08 out of 5
"I can't thank the staff enough for the care given to my mum this year. They have been amazing in every way. They have kept me updated on how she has been and now I can visit her every week I can see for myself how well cared for she has been. Good job guys!"
L F
carehome.co.uk rating: 4.83 out of 5
"My mother has been at Highview for 9 years and she is happy there and well cared for. There have been several changes in management in that time (which have varied in success) but now management and refurbishments are positive. We pay privately and find the annual fee increase difficult to deal with, however, we think Highview staff are excellent and are kind to mum."
Juliet R
carehome.co.uk rating: 4.17 out of 5
"A very safe happy environment, excellent staff with a very caring attitude. Home has had a full refurbishment where staff worked through with little disruption to the residents. Good food choice, daily menu, prepare in home."
F A
carehome.co.uk rating: 4.92 out of 5
"It takes us 6 hours by car to visit out terminally ill sister. We have found all staff friendly and helpful to us and our sister seems well cared for in different circumstances. Their friendliness and patience is excellent."
Fiona R
carehome.co.uk rating: 4.3 out of 5
"My Mother was in the care of Highview for almost 2 years and I have to say that the nursing care was superb and the personal care increasingly good."
Desmond F
carehome.co.uk rating: 4.42 out of 5
Dear Norma and all staff members,
My husband, all my children and I would very much like to thank you from the bottom of our hearts for your extraordinary kindness, compassion and understanding throughout Dad's stay with you. Your excellent nursing care has been greatly appreciated by us.
I would like to thank you all individually, because I saw for myself the evidence of your outstanding work and infinite patience, but since this is not possible, I can only express our gratitude in this note.
I've no doubt you'll miss my darling Dad. I know of no one in my entire life who ever disliked him; he was an exceptional human being. The world is a much better place for many, many people because of him.
We wish all of you the very best for the future.
An Ode to Ronnie and Many Thanks to You All
Thanks for your love and care for Ronnie,        
and for the hugs and kisses from all the lassies, Bonnie.
He always had a story to impart,
an old bodach with a very good heart.
A glint in his eyes until the end,
On his sense of humour, you could always depend.
Two bowls of cornflakes kept him going.
Whether it was raining, hailing or snowing,
A feast of chocolate and a Sultana Slice
Always went down well and he thought it was nice.
When told he could be diabetic in ten years,
He dissolved with laughter and said he had no fears.
As a respected doctor in Craig Dunain,
It was agreed: not only the patients were insane.
Like the psychiatrist that his wife was a bit potty,
He didn't keep Mum under the bed 'cos he thought her a little potty.
Our gratitude and best wishes go to you all,
And may your stresses be manageable and small.
Empathy, professionalism and genuine caring
Are all good qualities required for sharing
With all around you, wherever you are,
That way, you'll always be a star.
Useful Guides and Information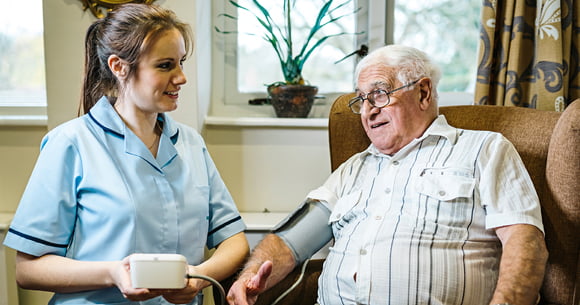 Care & Facilities
Our facilities are designed to the highest standards and the care we provide is delivered by passionate and highly-trained professionals.
Find out more about our care and facilities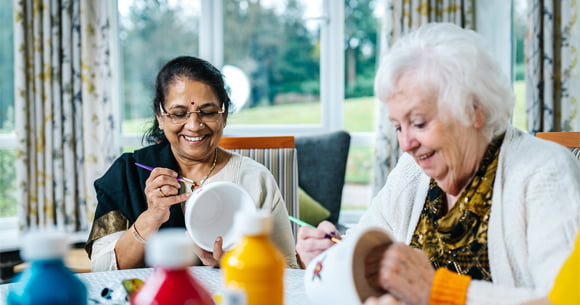 Activities & Events
Our activities programme is planned with individual tastes in mind, and residents always have the opportunity to try new and exciting things.
Find out more about our activities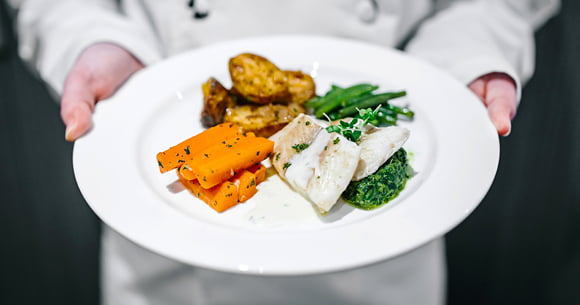 Food & Nutrition
We offer a constantly evolving menu that caters to the tastes and dietary requirements of those we support.
Find out more about our food & nutrition
Your next steps to finding care
Our team are here to help you when you are ready to talk about the care and support you need. Please call our team to arrange a visit and come and take a look around our home.
Call our team
Call our team for more information about our care home and to arrange a visit. Phone lines are open 8am-8pm
Send a message
We'll be happy to answer your questions about the next steps for moving into our care home. Send us a message online
Contact us
Download a brochure
Download our brochure to find out more about life in our care home
Download brochure
Our fees and contract
We want to be as transparent as possible about how we charge for the different services we provide as well as what's included in our contract.
View typical fees
View Our Contract
Frequently Asked Questions
What types of care does Highview House Care Home offer?

Highview House Care Home offers Nursing care, Dementia care, Respite / Short stay.
78