Meet the Harton Grange Care Home team
From nurses and carers to chefs and housekeepers, staff in our home are here to deliver high quality care and services to those we support. Check below to meet some of the friendly faces you are likely to see when visiting our home:
Judith Tully
General Manager
Hi, my name is Judith, and I am General Manager here at Harton Grange. Welcome to our website!
I have worked in the care industry since 2000. I have an NVQ Level 4 in Leadership & Management, and a Level 3 in End of Life Care. I am kind and compassionate and I focus on providing a safe, warm and caring environment for everyone I support.
I have extensive experience in building positive relationships and embedding the key principals of care in those I work alongside.
Beverley Wilson
I came to Harton Grange in 2005 as a Care Assistant before being promoted to Senior Carer, and I am now the Deputy Manager. I assist our General Manager with the day-to-day running of our home.
Claire Moore
My name is Claire, I have been working at Harton Grange since March 2019 and I absolutely love my job. The staff and residents have very much become a part of my extended family now! My Job as the home administrator is to ensure all the finances are up to date and all records are kept up to date. In my own time I enjoy going out with my husband and seeing my family.
Show More
Joy Whitlock
Hi, my name is Joy, and I am the Head Chef here at Harton Grange. I was awarded the national 'Hospitality Champion of the Year' at the 2016 Barchester Care Awards.
Jennifer Walsh
I have worked at Harton Grange since 2011, first as a carer and now as a senior carer. I enjoy coming to work each day, as the residents and their loved ones make my day more rewarding.
Sharon Davenport
I have worked at Harton Grange for 15 years, first as a Carer then progressed to Senior Carer. I have great affection for those we support and have built strong relationships with loved ones and my fellow colleagues.
Sharon Pattison
I have worked as a Senior Carer for Harton Grange since 2017, and I really appreciate the level of team work from the whole team every day.
I enjoy relaxing with my family when I am not at work and also socialising with friends.
Rhondda Thompson
I have 30 years' experience in adult care. I started as a junior care assistant, supporting people with learning difficulties. I then went on to be a care assistant within a nursing home before progressing on to Harton Grange.
Outside of work, I have 3 dogs and 2 cats, so I like long walks with family and friends.
Show More
Lisa Pascoe
I have worked as a carer since 2003. I started working for Barchester in 2018, and I absolutely adore the work I do. Working as part of team makes me feel like it is a very family-orientated home. I always put 100% into my job, and the work I do is very rewarding.
When I am not at work, I love spending time with my family. Having my children and grandchildren are some of the best achievements I have accomplished.
Show More
Patricia Bowe
I have worked in the care sector since the age of 17. I find it very interesting working with all the residents and my colleagues.
Outside of work, I love gardening and cleaning!
Ellen Henry
I have worked in care since 2005, and I have worked for Harton Grange for 1 year. We are dedicated, caring, hardworking and always give 100% in every aspect of the job. Everyone's unique skills and strengths help the team achieve a shared goal in the most effective way.
Outside of work, I enjoy spending time with my family and friends. I especially love my Bichon Frise, Ozzy!
Show More
Krystal Ord
I have worked in care since 2005, joining Harton Grange in early 2020, and I am enjoying the pleasure of working with a dedicated team that give the best care they can.
I currently work part time, as I have two children, aged 12 and 5. I intend to progress and continue my career, as I have been made very welcome at Harton Grange.
Outside of work, I like to relax and spend time with my family and friends.
Show More
Andrew Garthwaite
Hi, I'm Andrew and I joined the team here at Harton Grange in 2021. Prior to my role here I was the manager of a farm park.
I am thoroughly enjoying my role here and look forward to exciting new challenges.    Outside of work I love all things Jurassic Park and I regularly exhibit at shows and conventions with some of my collection.
Show More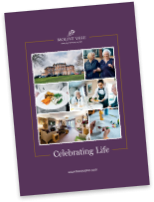 Read our brochure 'Providing great quality care and wellbeing' for more information on how we're here to help you and your loved one.
Read brochure
Food & Nutrition
Activities & Events
Care & Facilities
What happens now?
Are you ready to discuss your individual care requirements? Pick up the phone and talk to us, book a visit to our care home or come and take a look around our facilities.
Care enquiries
New care enquiry phone lines are open 8am - 8pm
0191 502 9569
All other calls
Our fees and contract
We want to be as transparent as possible about how we charge for the different services we provide as well as what's included in our contract. Please click the links below to find out more about our fees and contract.
View typical fees
View Our Contract
Useful downloads
Here to help you make the right decision about your care requirements.
72