Meet the Harper Fields Care Home team
From nurses and carers to chefs and housekeepers, staff in our home are here to deliver high quality care and services to those we support. Check below to meet some of the friendly faces you are likely to see when visiting our home:
Hayley Wilkinson
General Manager
Hello, my name is Hayley!
I qualified as an RGN in 2006, I have spent over 14 years working in care home settings, I have held numerous roles which include Nurse, Clinical lead, deputy manager and General manager.
I joined Barchester in February 2020 and knew right away it was a company that really live up to the values and knew it was a place I wanted to become a General manager.  
I have a desire to provide high quality care, which I have witnessed with Barchester. I am very proud to join such a happy, friendly and caring team who make this a wonderful home for our residents.
Mel McHugh
I have worked in care for over 30 years I am delighted to be the Deputy Manager at Harper Fields home.   I am passionate about delivering excellent care and supporting others to do the same.
Trish
I have worked at Harper Fields for many years and love my job.  I am a senior carer and enjoy every day supporting our residents and bringing smiles and laughter to their lives.  I am proud to be asked to represent the team as staff ambassador.
Binish Rashid
hello, I qualified in 2012 and since then have worked in care home settings.  I am passionate about my job and love working with the elderly to provide excellent quality and person centred care.  Harper Fields is a lovely home with a hard working staff, I am so proud to work with such a great team.
Show More
Jennifer Gray
Hi I'm Jennifer and I am the chef at Harper Fields. I enjoy being responsible for producing delicious and nutritious meals for our residents.
Kerenza Hammond
Hi I'm Kerenza and I'm a Senior carer.  I love to see our residents happy and well cared for.
Sharon McIntosh
Hi my name is Sharon, I am the Activities coordinator here at Harper Fields care home. I ensure the residents have a full and varied activities programme 7 days a week. I thoroughly enjoy what I do and love coming up with new ideas to try with the residents.  I listen to residents to learn their interests and support them to be involved with activities they enjoy.
Show More
Dee Thompson
I am a Registered General Nurse at Harper Fields. I have been qualified since 2015 and I am very passionate about my role. I have previously worked as a community nurse where I gained skills and knowledge over the years. Quality care is my number one focus.  
Ramona Morar
I have been qualified since 2012 as a General Nurse in Romania. I have worked with patients with brain injury, dementia and challenging behaviour. I love helping people, I am passionate about providing a high standard of care to the people that I look after.
Agnes & Joyce
Our Resident Ambassadors Agnes & Joyce support all residents and the lifestyle & activities programme in our home.
Jenny Barnsley
My name is Jenny and I am a care assistant at Harper Fields.  I love working with elderly and hearing stories about their lives.  We are a happy team, I enjoy every day here.  
Maria Jacks
My name is Maria, I am the Home Administrator.  I support Hayley the General Manager and all the team members. My role is varied and busy which I enjoy. It's great to meet our new residents and see them settle in at Harper Fields and to get to know & support their families too. 
Sharaniya Thayanantham
Receptionist/Admin Support
My name is Sharaniya and I am the Receptionist and Admin Assistant I support our Home Administrator.  I enjoy a mixture of duties, I like working in a busy environment and being part of a great team. I love meeting our residents and their families.
Bill Chilwell
Bill is responsible for ensuring that the care home, equipment and plants are maintained to a high standard, whilst also remaining fully functional at all times. This will ensure the comfort, safety and wellbeing of all of our residents. Bill will ensure that the grounds and gardens are maintained to a high standard. Bill will be a key contact with external contractors and manage them when they are on site
Show More
Maintenance assistant
My name is Wayne and I support Bill the Maintenance manager on a daily basis, I enjoy looking after the beautiful grounds at Harper Fields as well as supporting the residents with any tasks they have for me.
Rachael Howe
My name is Rachael and I am a senior carer on one of our Memory lane communities called Windsor. I have a great passion for what I do, the residents are fantastic and I enjoy looking after them daily
Joyce Boswell
My name is Joyce and I am a care assistant at Harper Fields, I thoroughly enjoy my job and seeing the residents every day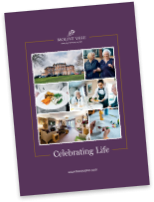 Read our brochure 'Providing great quality care and wellbeing' for more information on how we're here to help you and your loved one.
Read brochure
Food & Nutrition
Activities & Events
Care & Facilities
What happens now?
Are you ready to discuss your individual care requirements? Pick up the phone and talk to us, book a visit to our care home or come and take a look around our facilities.
Our fees and contract
We want to be as transparent as possible about how we charge for the different services we provide as well as what's included in our contract. Please click the links below to find out more about our fees and contract.
View typical fees
View Our Contract
Useful downloads
Here to help you make the right decision about your care requirements.
Frequently Asked Questions
What types of care does Harper Fields Care Home offer?

Harper Fields Care Home offers Nursing care, Residential care, Dementia care, Respite / Short stay.
71