Meet the Fountains Care Home team
Our trained team of professionals work together to create the best possible experience for those living in the home, striving to deliver excellent care services in a warm, homely environment. You can find out more about some of our wonderful staff members below:
Arvinder Basra
General Manager
Hello, my name is Arvinder and I am the General Manager at Fountains. Welcome to our website!
Samantha Adams
Hi, my name is Sam. I have worked in care for approx. 6 years and starting my career as a care assistant. I have worked in residential and nursing homes progressing to a unit leader of a memory lane unit.
I am extremely passionate about caring and I'm very excited to further my skills at Fountains Care home as the Acting Deputy Manager.
Show More
Jinelle Cooke
Hi, my name is Jinelle and I am the receptionist at Fountains.
I joined Barchester in October 2021 and working in the care sector is an exciting and new experience for me. I am finding the role extremely rewarding knowing I am making a difference, however small, to our residents and their families lives.
I love being the first point of contact and look forward to welcoming everyone to Fountains care home.
Show More
Katherine Palmer
I joined Barchester in September 2019. Before this, I worked as an administrator, and I have worked in this capacity since joining the healthcare sector in 2012.
I enjoy being an administrator because I find that you get the combination of helping a business to grow by supporting the environment in any way you can and also meeting people. I enjoy getting to know residents and their families and friends.
I am here to offer help should you need it.
Show More
Paul Turvey
Hello, my name is Paul & I am the Home Services Advisor at Fountains Care Home in Solihull. 
I am both excited and honoured to be working alongside the team here at Fountains to ensure that our home is a vibrant, loving & forward-thinking place that truly makes a difference to those that live here. 
As the Home Services Advisor, I am committed & passionate about building long-lasting relationships with our local community, allowing the people living with us to thrive by staying connected and involved, ensuring life within Fountains is enriched with the opportunity to celebrate individuality, as well as creating a home that empowers the people living with us to live life exactly how they choose to, where they can continue being the people they are & have always been.
 
The team & I are committed to creating long-lasting, meaningful connections with organizations within our local community, ensuring that supporting the people of Solihull is not only a promise we make but a promise we keep. 
For more information on how you or a loved one could truly love life at Fountains, please do get in touch.
Show More
Colin Buss
Hi, I'm the Head Chef at Fountains.
I was born in Hastings East Sussex.
I qualified as a chef in 1985 and after spending four years in the hotel & restaurant industry I started at my first residential home nearly 32 years ago and I'm still in the care industry!
I passionately believe that good food can and should be delivered within the care environment.
Food plays such an important part of our day to day lives not just nutritionally but psychologically too, which is why it is so important to deliver consistently good food.
I am looking forward to making wholesome and tasty food for our residents each and every day.
Show More
Pat Hines
Hi, my name is Pat Hines and I am a kitchen assistant. About 25 years ago I started my career in the kitchen as a kitchen assistant. I worked my way up to Chef Manager in a health care environment.
I have taken this role at  Fountains Care home to achieve a work life balance after many years as a Chef Manager and to enjoy the experience of a brand new care home.
Show More
Maria Edwards
Hi, I'm Maria and I'm the 2nd Chef at Fountains.
I have worked in the catering industry for many years and have worked as a Head Chef throughout my career.
I love seeing the pleasure my food brings to others so looking forward to pleasing the residents through their senses!
Jennifer Kreuter
Hi, my name is Jennifer and I am the housekeeping assistant at Fountains. I'm super excited to be working for such an amazing company that offers so much opportunity to progress. I'm very happy to be working in such a fun, happy and loving care environment.
Hannah Louise
Hi, I'm Hannah.
I'm a senior carer at Fountains and I have worked in the private care sector for nearly 13 years and helping others is a massive part of my life.
I am currently training to be a therapeutic counsellor as I believe it will support my current role to be able to support individuals' physical and wellbeing needs.
Show More
Francesca Ferrarin
Hi I'm Fran and I'm a  Senior Carer at Fountains.
I absolutely love my job and making a difference to our residents lives.
I love being part of such a great team too.
Shabnum Kausar
Hi, I'm Shabnum and I am a Senior carer at Fountains.
I've worked in the care sector for over 7 years now and I really enjoy caring for others.
I'm really passionate about delivering excellent care for older people.
I relocated from London to join Fountains and the team welcomed me with open teams!
Show More
Zara Friend
Hi, my name is Zara and I'm a Team leader. I have worked in care for approx. 7 years and I've been a senior for 6 of those years. I love making a difference to people on a daily basis. I particularly love working with residents living with dementia and have lots of certificates in dementia care.
I am really looking forward to being part of the Fountains team.
Show More
Nathan Beadsworth
Hello, my name is Nathan and I am a carer at Fountains care home.
I have been working in the care sector or approx 6 years and really love my job.
Working for Barchester Healthcare is really exciting and I am looking forward to a long and successful career with the Fountains Team.
Show More
Louise Crooks
Hi, I'm Louise and I'm a carer at Fountains.
I really enjoy working with the elderly as it's so satisfying to know you're making a difference to someone else's life.
I'm looking forward to my journey at Fountains care home.
Sabina Bi
Hi, my name is Sabina and I'm a carer at Fountains.
I have worked in the care sector for over 16 years. I love my work and looking after vulnerable people and those in need of help. I take great pleasure in making others smile and supporting them to live their best life!
Elaine Lynch
Elaine is Fountains hairdresser and is here weekly on Tuesday's.
Elaine has 42 yrs hairdressing experience and started working in Barchester's Edgbaston Beaumont home 12 months ago before adding Fountains to her week too.
Elaine loves pampering and making our residents look fabulous!
Show More
Barley
Barley is Fountains Pet Therapy Dog and he visits weekly with his owner Sophie.
Barley is 5 years old and has been a Pet therapy Dog for 2 years.
Barley loves long walks, cuddles and muddy puddles.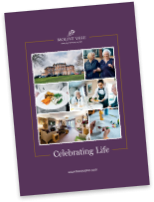 Read our brochure 'Providing great quality care and wellbeing' for more information on how we're here to help you and your loved one.
Read brochure
Food & Nutrition
Activities & Events
Care & Facilities
What happens now?
Are you ready to discuss your individual care requirements? Pick up the phone and talk to us, book a visit to our care home or come and take a look around our facilities.
Care enquiries
New care enquiry phone lines are open 8am - 8pm
0121 5148308
All other calls
Our fees and contract
We want to be as transparent as possible about how we charge for the different services we provide as well as what's included in our contract. Please click the links below to find out more about our fees and contract.
View typical fees
View Our Contract
Useful downloads
Here to help you make the right decision about your care requirements.
65