Meet the Fordmill Care Home team
From nurses and carers to chefs and housekeepers, staff in our home are here to deliver high quality care and services to those we support. Check below to meet some of the friendly faces you are likely to see when visiting our home:
Aileen Alberts
General Manager
Welcome to Fordmill Care Home; my name is Aileen and I am the General Manager here.
I have previously worked in hospitals in Gloucester and Epping, specialising in neurology and breast cancer. On return from the Middle East in 1995, I commenced my career within the care sector. I moved back to Scotland in 2000 to purchase my own care home which I managed with my mother. When my family came along I decided to sell the home and came to work part time at Fordmill in 2004.  
My aim in the home is to ensure residents are happy with the care being provided by the team, and I work closely with the staff to ensure the highest standards are achieved. This is reflected in our Care Inspectorate grades and high recommendations on carehome.co.uk. 
Derek Henderson
Derek has been part of the Barchester Family since 2014. He joined one of our Sister homes in 2014 before moving to Lethen Park in May 2020.
Derek has worked as a Head of Unit since 2015. Previously, Derek has worked in both the NHS and in the private sector, having held positions as a Home Manager and Deputy Manager for different care providers. 
Derek thoroughly enjoys his role here at Lethen Park and loves supporting our residents to provide a safe environment with the best care.
Show More
Marifel Talosig
My name is Marifel and I have worked at Fordmill for about 9 years. I started as a staff nurse in June 2006 and was then promoted to Charge Nurse. It is hard work and you are kept busy but I enjoy it very much.
Laura Southern
I thoroughly enjoy looking after residents and spending time chatting to them to hear their stories and experiences. I am passionate about the delivery of high quality care to those I support.
I continue to develop my skills to support our residents on a day-to-day basis. I love my job and enjoy any training that helps with my continued development that enhances the delivery of great quality care to those who live at Fordmill.
Show More
Debbie Ferreira
I have been working for Barchester since January 2020.  I deal with all aspects of the administration of the home to ensure it runs smoothly, from invoicing, ordering, recruitment, setting up contracts, to manning the telephones, there's never a dull day!
I consider myself to be extremely privileged to work in our lovely home with such wonderful people, with wonderful stories to tell and perhaps the most rewarding is when a resident comes into the home on a permanent basis and in no time at all they inform us that this is their home. What greater compliment can Barchester receive!
Show More
Jane McIntyre
My name is Jane and I have worked at Fordmill for a number of years. I started as Head Housekeeper then after about 6 years I went on to be a NVQ level 2 carer. Then a year ago the admin assistant post became available and I was given the opportunity to 'give it a go' and I'm glad I did!
I have learned so much and I really enjoy it.
Show More
Julia Constandache
Senior Activities Coordinator
I'm Julia and I have been working at Fordmill since December 2016. I really enjoy art and studied Graphic Design & Illustration in Dundee. I love being with people and using my skills to improve their quality of life and bring a smile to their faces through crafts, games and all sorts of other activities.
I plan out the activities, either for groups or individuals, according to specific needs and interests. It's a real joy to get to know residents and their loved ones and I'm grateful to Barchester for giving me the opportunity to work with them and bring some sunshine into the residents' lives.
Show More
Christine Massie
My name is Christine Massie and I have worked at Fordmill for 12 years. I started as Head Housekeeper and after 8 years I moved to maintenance. Although I am responsible for all maintenance throughout the home it is the 'small jobs' I do for our residents that bring the biggest rewards.
Ann Wilson
My name is Ann Wilson and I started work at Fordmill 9 yers ago as a domestic assistant, and I also worked in the kitchen. 
Through experience and training, I am now Head Housekeeper and enjoy my work as I have a good team working with me. 
Mateusz Karwacki
Hi, my name is Mateusz and I am the Head Chef here at Fordmill.   I have a wealth of hospitality experience and joined the team at Fordmill in 2020.
Here at Fordmill, we provide a wonderful choice of delicious and wholesome dishes. The food and the dining experience at Fordmill is recognised as an integral part of the lifestyle here at the home and I am responsible for managing the catering team, ensuring they provide a quality catering service to all our residents, guests and visitors.
Show More
Jess & Skye
Jess and Skye come to work every day with the General Manager, Aileen. They hang out in her office and are available for room visits. They are often wandering around in reception, especially at tea time!
Please look out for them as you approach the front door, as they are often seen with their front paws up on the windowsill, watching visitors coming and going.
Show More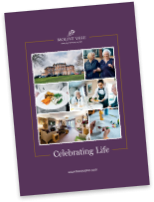 Read our brochure 'Providing great quality care and wellbeing' for more information on how we're here to help you and your loved one.
Read brochure
Food & Nutrition
Activities & Events
Care & Facilities
What happens now?
Are you ready to discuss your individual care requirements? Pick up the phone and talk to us, book a visit to our care home or come and take a look around our facilities.
Our fees and contract
We want to be as transparent as possible about how we charge for the different services we provide as well as what's included in our contract. Please click the links below to find out more about our fees and contract.
View typical fees
View Our Contract
Useful downloads
Here to help you make the right decision about your care requirements.
62