Meet the Flowerdown Care Home team
Our staff are what hold the home together. Each one of these team members are dedicated to providing high quality care and services to those we support, and ensuring that residents enjoy all aspects of life at our home. See below to meet some of our friendly faces:
Hadrian Rodriguez
General Manager
Hi, my name is Hadrian, and I am the General Manager here at Flowerdown. Welcome to our website!
I have been practicing as a registered nurse since 2012, solely concentrating my passion in the surgical theatre and post-anaesthetic care, immediately after graduating with a baccalaureate degree in nursing.
I stumbled upon my great fervour for elderly care, mental health and dementia care when I personally nursed my grand-mother back home who with from Alzheimer's and Parkinson's diseases that brought about her failing health condition. This catalysed the shift of leaving the gruesome but exciting life in the theatre to a more holistic and un-ostentatious career in this health sector.
Working my way through the ranks made me understand more about the complexities of the care, whilst I humbly reflected on why I chose to be a nurse in the first place: the simplicity of our compassionate service translates beyond the individuals we care for, but also to their families and the community.
I am here to serve tirelessly so your loved ones are safe, healthy, and nurtured.
Sue Bull
Sue, our administrator, has been a key member of our team for the past 20 years. Sue is "front of house" and often the first point of contact for Relatives and Friends regarding the administrative and financial systems within the home.
Hazel Hiskett
Hazel has worked in Health and Social Care in various roles since 1979. After retiring as the Registered Manager of a residential home in 2010, joined the team at Flowerdown the following year.
Katie Ford
I have been the Activities Coordinator here at Flowerdown since 2016.
I am responsible for organising the daily activities as well as bigger events in the home. I am holding residents' meetings monthly with General Manager.
I am passionate about enriching the lives of the residents. My aim is to put the smile on residents' faces daily. I have never had a job as rewarding as what I am doing at present.
Show More
Gemma Pitman-McGrath
Clinical Development Nurse
Hi, my name is Gemma and I am Clinical Development Nurse here at the home. My passion is to care for people and I love supporting care and nursing teams across the region to develop high quality standards in practice.
Ian Gregory
I have worked for the care sector in many roles for over 20 years.
My passion for gardening has been with me for many years, starting with growing vegetables and house plants when I bought my first house, followed by creating a family friendly garden for my children.
Now that the children are grown up, I'm enjoying designing a new style of garden for me and my wife, including building a summer house.
I have been gardening at Flowerdown since 2018, and the focus is to create a homely environment for the residents and their families.
I have weekly chats with the residents to discuss the current plans, my ideas and their wishes.
I have made a lot of new boarders at the front of the home and redesigned the raised beds in the back garden to include a climbing frame for new planting, which includes an area for the squirrels to feed, something that the residents enjoy. 
Show More
Leanne Brown
Leanne joined Flowerdown Care Home in February 2022. Leanne is passionate and caring, and this translate to the job she does here in the Home. Leanne's organized and systemic way of working improves the way we process administrative works. Leanne is front of house and often the first point of contact for relatives and friends regarding the administrative and financial systems within the home.
Show More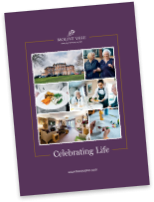 Read our brochure 'Providing great quality care and wellbeing' for more information on how we're here to help you and your loved one.
Read brochure
Food & Nutrition
Activities & Events
Care & Facilities
What happens now?
Are you ready to discuss your individual care requirements? Pick up the phone and talk to us, book a visit to our care home or come and take a look around our facilities.
Care enquiries
New care enquiry phone lines are open 8am - 8pm
01962383144
All other calls
Our fees and contract
We want to be as transparent as possible about how we charge for the different services we provide as well as what's included in our contract. Please click the links below to find out more about our fees and contract.
View typical fees
View Our Contract
Useful downloads
Here to help you make the right decision about your care requirements.
52108