Reviews for Florence Court Care Home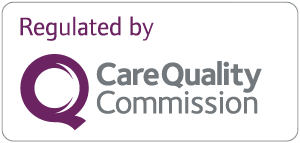 What our families say on carehome.co.uk
"It was a very difficult decision moving Mum into a care home but after visiting Barchester Florence Court Care Home we knew that it was the right choice. The management team worked so hard to get Mum placed into the home within a couple of days and welcomed her with open arms from day one. She has settled so quickly, made lots of friends and is making full use of all the wonderful activities. The care team are amazing, Mum is treated with respect and dignity. As a family, it's such a relief to see Mum so happy and settled."
Y C
carehome.co.uk rating: 5.00 out of 5
"I have spent the last 10 years living with my daughter, son in law and grandsons but my health and care needs have changed so I moved into Florence Court in October. From day one I felt settled and safe. All my care needs are met by the most amazing carers. I am treated with respect and dignity. The food is delicious and the entertainment team is first class. I can't praise the home enough."
H T
carehome.co.uk rating: 5.00 out of 5
"I cannot fault the care and attention my father received from all the staff at Barchester Florence Court Care Home. Although he was only in the home for such a short time, we were all impressed with the care and beautiful surroundings of the home. We will miss going up for a cup of tea and for our father's final resting place, it was perfect."
Nicola Z
carehome.co.uk rating: 5.00 out of 5
"Mum has made amazing progress, now walking with assistance, engaging in conversation and putting on weight thanks to the kindness, care and excellent food she has received. She now has quality of life and I have peace of mind knowing that Mum has support whenever she needs it whether night or day. Most importantly my parents are together and I was able to celebrate with them their 59th wedding anniversary and enjoy the most beautiful cake made by the catering team. The whole team are amazing and has made it possible for Mum and Dad to enjoy their twilight years together, safe, secure, loved and well looked after."
R W
carehome.co.uk rating: 4.83 out of 5
"My father spent his last few months before recently passing in Florence Court. All the staff were fantastic, and I know, looked after him very well in his final chapter of life. They made me and other family members very welcome on each and every visit and kept us updated on Dad's well-being. The quality of the home, the staff and the service provided was outstanding."
Pete P
carehome.co.uk rating: 4.58 out of 5
"My mother hated the idea of going into a home. The manager explained this was normal. It would probably take two weeks for my mum to settle in. It took four, now my mum loves the place. It has provided her with a similar company that she didn't have at home. The staff are respectful and supportive. The stress has been taken out of her life. She eats well, laughs and looks healthier now than before. She enjoys her time at her new home and that is all we ask."
J S
carehome.co.uk rating: 5.00 out of 5
"The level of care Mum is receiving has surprised my expectations. The staff and carers are all lovely and have gone above and beyond to help my mum settle in, she is happy and calm, rather than lonely and frightened as she was for the last 6 months. The home is not like a care home, it's more like a hotel. It's lovely to see how the staff are with the residents, even though they have dementia. They are still characters and the staff embraces that. I can sleep at night knowing my mum is receiving the best care possible and the most important thing is she is happy and has made friends."
Claire F
carehome.co.uk rating: 5.00 out of 5
"I enjoyed my stay here. I feel 100% better in myself for these 3 weeks. I enjoyed the company of other residents. All staff were very friendly and kind. The choice of food was superb and presented nicely. Enjoyed my trips out on the minibus. Would definitely return if needed. Thank you to everyone."
Margaret W
carehome.co.uk rating: 4.92 out of 5
"I enjoyed my stay, it was a lovely holiday! The food was outstanding. The staff were very respectful, friendly and looked after all my needs. Florence Court is very clean and well looked after. I enjoyed our trips out and the staff worked hard to make it a lovely excursion. I was lucky to have quite a few visitors and they were all very impressed with what they saw/experienced and the activities on offer. Should I need permanent residential care, I wouldn't hesitate to return here."
Ilse K
carehome.co.uk rating: 5.00 out of 5
"My first time at Florence Court Care Home came up to expectations even though I was not willing to come to a care home. It was only because my son felt he could not leave me alone at home whilst he was on holiday. This had been booked before my husband had died suddenly and unexpectedly and I had been suffering from TIA's and had been recovering from cancer. Therefore I accepted the wisdom of staying in a care home and in the circumstances, it was a good place to stay. I was very disappointed I was ineligible to go on the beach trip only once in both weeks. I also felt rather lonely and bored quite a lot of the time."
Dorothy M
carehome.co.uk rating: 4.09 out of 5
"Both my grandparents have been in for some respite, my grandad returning a second time. During their stay they have always told me how lovely it is, thankful for the help received and how nice the staff are during my visits, I have also witnessed this. The admission process was quick due to my grandparent's needs at the time. I am positive they will return if the need arises again."
E C
carehome.co.uk rating: 5.00 out of 5
"When respite turned into a permanent stay to best meet Mum's changing care needs, the staff were brilliant with Mum helping her to make a difficult transition when she couldn't go home as originally planned. They showed compassion and kindness and their genuine care for her made a huge difference, thank you."
A G
carehome.co.uk rating: 4.58 out of 5
"It's been an emotive decision for our mum to go into a home but our experience at Florence Court has been second to none. The genuine care from every member of staff radiates as soon as you walk through the door, from the carers, reception, housekeeping and management team through to the maintenance man. They are like extended family and we are comforted that Mum is at Florence Court."
Esther H
carehome.co.uk rating: 5.00 out of 5
"Efficient and speedy pre-assessment and viewing process. Empathetic and caring staff who welcomed Dad and the family into the care home during his 2-week stay. Nothing was too much trouble and the staff made it easy to communicate with Dad on a daily basis. A very high standard of accommodation, cleanliness and care. A full range of activities and plenty of encouragement to 'have a go'. We will certainly recommend Florence Court and will keep in touch through their community cafe."
F J
carehome.co.uk rating: 4.64 out of 5
"Such a wonderful visit with the most caring staff who display amazing kindness and genuine love for all in spite of the huge challenge which it obviously is. Thank you to one and all for your amazing hearts!"
Jonathon T
carehome.co.uk rating: 5.00 out of 5
"We had the most wonderful time with our mum and nan, we were thoroughly spoilt and had such a special time, it will not be forgotten. The staff were simply fabulous and made us feel so welcome. The food was scrumptious and we ate far too much! Thank you to everyone who put this event on, we appreciate all you do."
Laurie C
carehome.co.uk rating: 5.00 out of 5
"We had a wonderful Mother's Day tea at Florence Court. We were made so welcome, people were friendly and kind. It is such a happy place to be. Thank you."
Maggie F
carehome.co.uk rating: 5.00 out of 5
"Wonderful and very welcoming from the first time we came to visit. We have just enjoyed a wonderful afternoon tea to celebrate Mother's Day. It was wonderful and a lovely change. The food was wonderful. Staff are all amazing. Nothing is too much trouble. Thank you for making Nana and myself very welcome."
Charlotte W
carehome.co.uk rating: 5.00 out of 5
"Visited Mum at Florence Court for a lovely Mother's Day afternoon tea. The tea and the staff were fantastic and Mum is very happy here. Thank you."
Pam T
carehome.co.uk rating: 5.00 out of 5
"From the moment we arrived, we found the experience so relaxing. Everyone was so friendly and helpful. The quality of the fixtures, service and food was excellent."
Howard B
carehome.co.uk rating: 5.00 out of 5
"Can't fault anything. My husband and I were very well looked after."
Rosemary C
carehome.co.uk rating: 5.00 out of 5
"From the moment we walked in we knew that it was the perfect place for my mother-in-law to spend a few weeks. She has been made very welcome and any reservations she may have had have been dispelled."
Jeffrey C
carehome.co.uk rating: 5.00 out of 5
"Florence Court Care Home is a peaceful, beautiful place to be. Once inside the building, there is no traffic noise, and the atmosphere is calm and welcoming. All the staff I have met are helpful and very competent and empathetic. The food and facilities are second to none. But it is the level of passion and professionalism of the staff that is the most impressive. Highly recommend Florence Court Care Home."
Fiona H
carehome.co.uk rating: 5.00 out of 5
"I had a very pleasant stay for 2 weeks in July. It was comfortable, relaxing with a good standard of care. The staff were very helpful, polite and friendly and do anything asked of them. Homemade soups were excellent as were the cakes! It was nice for visitors to be welcomed."
E W
carehome.co.uk rating: 4.25 out of 5
"Florence Court was a wonderful experience, with beautiful decor and an en-suite shower in a large beautifully presented bedroom with french doors to the garden. The food is restaurant standard served in a lovely dining room. The carers and staff are wonderful, you are treated as family. A wonderful environment for anyone who needs specialised care - can't praise the home enough and the staff."
J R
carehome.co.uk rating: 5.00 out of 5
"My mother was unsure about entering Barchester Florence Court Care Home for two weeks of respite, but was very happy while there and would be happy to go again. All the staff were extremely helpful and friendly, and they work very hard."
Lesley B
carehome.co.uk rating: 4.58 out of 5
"It has been a caring and loving environment for me to live in, and nothing is too much trouble for anybody, either the care staff or office staff. The food is good, and I would recommend it to anybody."
Gillian T
carehome.co.uk rating: 4.92 out of 5
"As a first experience of respite care for my parents, this experience couldn't have been better. All the staff were wonderful. They got to know my parents immediately and treated them with dignity, sensitivity and understanding. Mum and Dad loved the food, and the room was just right for them; the access out to the garden meant they could walk about every day, something they have been missing. They have come home stronger, healthier and looking forward to their next stay!"
H S
carehome.co.uk rating: 5.00 out of 5
"Good room. Great staff, look after me well. Foods fine and tasty."
J F
carehome.co.uk rating: 5 out of 5
"Dad has been at Florence Court for 3-months and has settled in very well. His happiness and well being is entirely down to the incredible staff, who work tirelessly at keeping him safe, well-nourished, and stimulated. He is always treated with dignity and respect. The home is beautiful, the gardens peaceful, but most important of all is that my dad is happy and content… how do I know? Because he is always singing! We recently held a small surprise birthday party for Dad, a mix of family and friends in the sky lounge. Dad was over the moon with all the effort put in. From the balloons and bunting to the fabulous buffet and cake created by the chef. Creating precious memories for us all. Activities are increasing, as are trips out in the minibus… all enhancing Dad's experience in this wonderful new care home. Thanks to each and every member of staff for all the effort you put in."
L R
carehome.co.uk rating: 4.83 out of 5
"We visited the home before we decided to put my dad in there and found it very welcoming and very professional. All the staff were very friendly as we walked around. The care home was spotless where ever you went. My dad was very well looked after, and the staff treated him very well throughout his respite stay and will be using them again with no hesitation in the future."
J D
carehome.co.uk rating: 5 out of 5
"The home was beautiful, and the staff were very welcoming and helpful. Always had my granny's best interest and communicated well how she had been. The food is lovely, and they have a wide menu and accommodate resident's wants and needs. Haven't got a bad word to say."
Georgina B
carehome.co.uk rating: 4.92 out of 5
"A nice two-week respite break. Bathroom small - difficult to shut the door once transferred from wheelchair to toilet - just a niggle. Would have liked a trip out to the nearby beach but wasn't asked."
M V
carehome.co.uk rating: 4.17 out of 5
"I would like to thank everyone at Florence Court at all levels and competencies, irrespective of your roles and duties of care, your personal caring, sensitive and understanding values shine above everything, it is with that equality within you all that I commend you. You are there for your residents and loved ones too, as you build a trusting relationship, learning, listening and most of all your loving touch."
G F
carehome.co.uk rating: 5 out of 5
"My partner came to stay for three weeks of respite care. Overall experience was excellent. The manager and team were only too willing to proved necessary care. Although a raised toilet seat with arms was brought from another are home, it is surprising that not one bathroom or toilet confirms to the industry standard for a disabled toilet! No handles installed unless you count the toilet roll holder!"
N R
carehome.co.uk rating: 4.83 out of 5
"Have always found it a great experience visiting my aunt and Florence Court. The staff have always been friendly, courteous and caring. The home is amazing, clean and wonderfully decorated. A real pleasure to visit."
D S
carehome.co.uk rating: 5 out of 5
"My dad moved in less than two weeks ago. The home is absolutely beautiful. The staff are wonderful and the care my dad receives is excellent. Dad had his 90th Birthday and the staff have gone above and beyond in helping us put on a fantastic Birthday Party for all his family in the sky lounge. The chef cooked us a gorgeous meal and dad had a wonderful time. Thank you all so much."
D H
carehome.co.uk rating: 5 out of 5
"My grandad had reached the difficult stage where he needed a little more support to live the safest and happiest life he could. Not only has this been provided by Florence Court and its staff but our expectations have been exceeded. In just a few short weeks we have begun to see our grandad's bubbly personality and cheeky sense of humour. They have provided him with the support he needed to relax and come out of his shell. Their Sky Lounge party for his 90th Birthday brought a huge smile to his face and created amazing memories that will last with us forever."
E W
carehome.co.uk rating: 5 out of 5
"Very calm, welcoming environment. The staff are lovely and helpful!"
J H
carehome.co.uk rating: 5 out of 5
Useful Guides and Information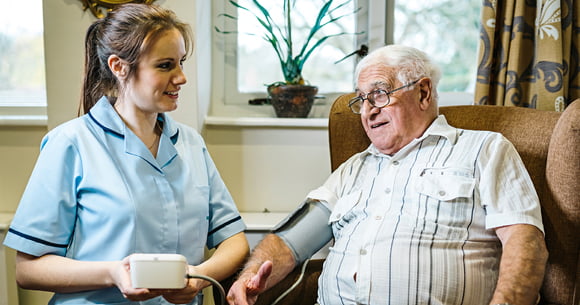 Care & Facilities
Our facilities are designed to the highest standards and the care we provide is delivered by passionate and highly-trained professionals.
Find out more about our care and facilities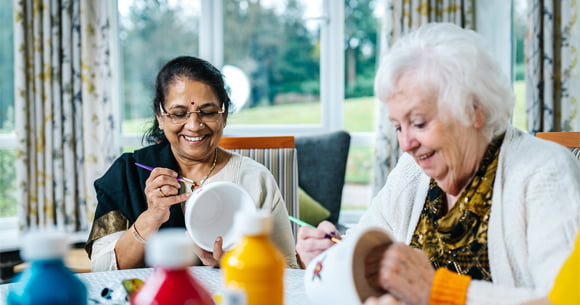 Activities & Events
Our activities programme is planned with individual tastes in mind, and residents always have the opportunity to try new and exciting things.
Find out more about our activities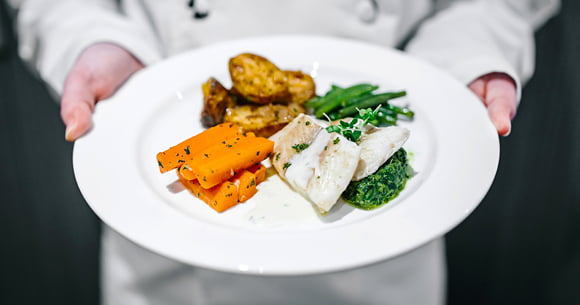 Food & Nutrition
We offer a constantly evolving menu that caters to the tastes and dietary requirements of those we support.
Find out more about our food & nutrition
Your next steps to finding care
Our team are here to help you when you are ready to talk about the care and support you need. Please call our team to arrange a visit and come and take a look around our home.
Call our team
Call our team for more information about our care home and to arrange a visit. Phone lines are open Monday to Friday from 9am – 6pm and on Saturday from 9am-5pm.
Send a message
We'll be happy to answer your questions about the next steps for moving into our care home. Send us a message online
Contact us
Download a brochure
Download our brochure to find out more about life in our care home
Download brochure
Frequently Asked Questions
What types of care does Florence Court Care Home offer?

Florence Court Care Home offers Dementia care, Residential care, Respite / Short stay.
55065