Meet the Florence Court Care Home team
This carefully selected team are in place to ensure that residents enjoy their time at the home and are supported to live life to the fullest. Meet the General Manager, Jacqueline Hampton, who can tell you more about what life is like at Florence Court:
Jacqueline Hampton
General Manager
Hi, my name is Jacqueline Hampton, and I am the General Manager here at Florence Court. Welcome to our website!
I am delighted to have the opportunity to commission a brand new Barchester home. My background covers many years of experience across the NHS and private sector settings, and Florence Court has exceeded all of my expectations - the environment is exceptional!
I look forward to welcoming you to this new home, where you can be reassured of a warm, friendly welcome by myself and our various heads of department. My door is always open, so please don't hesitate to come right in and say hello!
Mrs Sarah lewis
My name is Sarah, I have worked in care for well over 18 years now!
I have been working in a Residential Care Home for the last 10 years which involved me progressing into a Deputy Manager role. I then felt I needed to take on a new and exciting challenge so when the position for a new Deputy came up at Florence Court, I knew at this point I wanted to be apart of the team and take on this new exciting challenge.
My home life is just as busy with 5 dogs and 2 children but I love every minute of it and I am looking forward to my future with Barchester.
Show More
Kelly Anstee
I have been in the care sector since 2015 working in an Admin role. I joined Florence Court in May 2021 as the Administrator, this was a very varied and exciting role due to be being a brand new home and I really enjoyed it.
In February 2022 I took on the role of Home Services Advisor this role is very rewarding helping families as they embark on their Care journey.  
Florence Court is a beautiful home and I feel honoured to work here. I love getting to know the residents and chatting to them on a daily basis.  I get a great deal of satisfaction from my work. 
Show More
Charlie Pierce
I have worked for barchester for nearly 8 years, starting as a kitchen assistant before transferring to admin where I progressed from bank work to a full time administrator. I love to work as part of a cooperative team and am dedicated to being a point of contact to all the enter the home.
Mr Robert Douglas
Hi Everyone!
My name is Rob I have been in Maintenance for over 23 years now. Previous to this role I was in construction. I applied for the job at Florence Court as it is an exciting new oppertunity I wanted to be apart of. I like to take time out of my day to sit down with our residents and have a cup of tea and nitter natter. I am very grateful to be working in such a beautiful home and i'm enjoying being part of such a wonderful team.
Show More
Jesscia Duery
I have been working in the Care Sector for 5 years and started out as a Domestic and Laundry Assistant. I decided that I wanted to progress my career in an Activities capacity so became an activities provider then progressed to an Activities Co-Ordinator which I did for 2 years prior to joining the team at Florence Court . I have a real passion for Activities and get a great deal of pleasure in enriching the residents life's through meaningful activities. I love getting to know the residents and spending time with them finding out what they love to do. Every day is very different and rewarding. I love my job. 
Show More
Stephen Lewis
I have been a chef for over 35 years  I started my career in hospitality by studying at Highbury College, where I achieved my City & Guilds qualification and a catering diploma.
I left college and went straight to London to work in a high end restaurant in Knightsbridge. From London, I worked abroad for a few years, including France, Italy, Switzerland and the Channel Islands.
I took the role with-in Florence court to give myself a better work life balance after working all my years to date
Show More
Connor Allan
I have been a chef since 2015 and I am very passionate about what I do. My earliest memory of cooking was with my dad, which inspired me to be a chef.
I trained at Southampton City College for 2 years and, in that time, secured my level 2 and level 3 in Catering I worked at David Lloyds for 3 years and progressed to sous chef. I then went to Chilworth Manor, which was a very busy environment; we had weddings of 160 guests, as well as restaurant service with 80-100 customers I then left and came to Florence Court for a better work life balance.
I am excited to see what we can achieve here and hopefully be one of the best in the south.
Show More
Olivia Belcher
Hi, my name is Olivia and I am a Senior Carer at Florence Court. I am currently working towards becoming a Mental Health Nurse and have worked previously with adults with challenging needs. I studied with the Open University and have gained a Level 4 Diploma in Community Mental Health and Psychiatry. Being able to help and care for others is something I find rewarding and take great pride in. I love what I do and I will always continue to provide outstanding care for my residents.
Show More
Mrs Ann Roberts
Hello, my name is Ann I have been in the care sector for well over 25 years now. I started off in Domiciliary care then went onto working for an agency. 
I have been in various roles, however when I saw the opportunity to become a senior carer here at Florence Court this is something I really wanted to do so jumped at the oppertunity.
The environment is wonderful and so our residents, and i look forward to seeing Florence Court flouirsh.
Show More
Mrs Audrey Wooton
Audrey has been caring for families loved ones for over 37 years. 
She has done numerous jobs in the care sector and has always loved seeing how her residents flourish whilst in her care. 
Florence Court has given her a new opportunity to be part of a brand new team and is very much looking forward to her journey with Barchester.
Show More
Mrs Deborah Osgood
My name is Deborah, I've been working within the care sector for over 30 years and have developed a wealth of experience and knowledge. In previous roles, I have been a Deputy Manager and a Registered Manager. I've recently joined Florence Court as a Senior Carer and I am enjoying being part of such a wonderful team.
Show More
Rebecca Derham
My name is Rebecca, I have been working here at Florence Court since October. I have been a Head Housekeeper for 6 years now in other care homes and have worked in all sorts of environments. I enjoy my job as Head Housekeeper as I love to make a difference in peoples lives especially my residents. Florence Court is a beautiful home and I am very proud to be working here and for the Barchester Group. 
Show More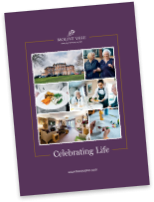 Read our brochure 'Providing great quality care and wellbeing' for more information on how we're here to help you and your loved one.
Read brochure
Food & Nutrition
Activities & Events
Care & Facilities
What happens now?
Are you ready to discuss your individual care requirements? Pick up the phone and talk to us, book a visit to our care home or come and take a look around our facilities.
Care enquiries
New care enquiry phone lines are open 8am - 8pm
01329655857
All other calls
Our fees and contract
We want to be as transparent as possible about how we charge for the different services we provide as well as what's included in our contract. Please click the links below to find out more about our fees and contract.
View typical fees
View Our Contract
Useful downloads
Here to help you make the right decision about your care requirements.
55065