Meet the Falmouth Court Care Home team
Our wonderful team will be ready to welcome residents in January and will include: carers, activities coordinators, chefs, housekeepers and more. This carefully selected team will be in place to ensure that residents enjoy their time at the home and are supported to live life to the fullest. Meet the General Manager Haley Reeves-Larson who is local to Falmouth and can tell you more about what life will be like at Falmouth Court:
Sheryl Allen
General Manager
I am of British Heritage and been living in the UK since 2004, originally from South Africa. I have been working in care since 2004. I have extensive experience in both Community Care as well as Care Homes both as Registered Manager. I have been a Regional and Business Development Manager within the Care Sector.  Also a Peripatetic Manager and joined Barchester in February 2022 as an Operations Manager and I am now supporting Falmouth Court. I have 2 dogs, Teddy and Gracie, miniature poodles whom I adore. I am married and have 3 sons and am a grandmother . I enjoy walking the dogs over a weekend and going to the beach.
Catalin Danciu
Hi my name is Catalin and I am the Deputy Manager at Falmouth Court.
I am originally from Romania where I graduated from Generalist Nurse College as a Generalist Nurse and worked as a nurse in protection of children with disabilities. I have a passion for supporting care teams and have responsibility for overseeing the resident care at Falmouth Court. I've always been a very caring and empathic person and interested in how every person can be so unique. I am very passionate about high quality care using my clinical knowledge to develop carers I lead. I learned during my traveling the importance of contributing to people's quality of life from residents to my colleagues including the difference quality care can make. I have also studied Theatre and Arts. Being passionate about the arts I feel lucky to hear and learn about our resident's stories, which makes them who they are.  It's a privilege to be part of their story.  As I like to say, every one of us is a book, and every person you meet is a chance to a better you. We look forward to meeting you and welcoming you to our home.
Show More
Hugh Dickinson
My role here at Falmouth Court is to provide information to clients and their families who are looking to make the move into care. I'm here to answer all your questions and support you through what can be a daunting process. I aim to make the journey as easy, stress free and comfortable as possible. 
Previously, I have spent the last 7 years working in Retirement Living, so I am understanding, knowledgeable and empathetic with the process of finding the right place for you. 
I'm very proud of our beautiful offering here at Falmouth Court and I look forward to showing you our exquisite new home.
Show More
Deborah Sciascia
My name is Deborah and my role as Administration Assistant allows me to welcome you safely to the beautiful reception area at Falmouth Court.
My previous customer service experience has taken me from Retail Manager to the Employment Support Service then through to the Care sector. Supporting residents, relatives and loved ones in a residential setting is where my heart lies.
When I am not at work you will probably find me out walking near the coast enjoying the Cornwall that I love and grew up in.
Show More
Jonathan Moyle
A 49 year old Cornishman, born & bred who has worked in the hospitality industry for 33 years. Married to my beautiful wife and lucky to be dad to three wonderful children.
I started out as an apprentice at the tender age of 16 in an intimate  50  cover restaurant in Lostwithiel, where I was taught the skills required, including baking, butchery, desserts to name but a few.
Over the next 30 years I progressed into Hotel Kitchen Management, new start up restaurants and traditional Inn's honing my skills using local Artisan businesses' and forging long standing relationships with these suppliers, utilising the best ingredients the county can provide.
I was fortunate enough to become a Head Chef at the age of 22 and have since led and developed various teams throughout my career. There is no better achievement than that of seeing a young apprentice develop and grow into the next generation of Head Chef.
Sadly losing both my parents recently and then caring for my uncle who has now entered a care home setting, I witnessed first hand the importance of a quality food offering and the effect this had on him. This personal example spurred me on to pursue the next chapter of my working life and led me to employment at Falmouth Court as Head Chef, leading the professional team to produce the highest standards of food to our residents.
Show More
Ken Dawe
I am Ken, I'm 45 years young.  I have had a varied career since leaving school and am born and breed in Cornwall where I have spent 25 years in the catering industry.  I am happily Married to the love of my life and we are blessed with children.  Being a dad is one of my greatest joys and keeps me busy! 
Starting as a pot wash and commis working my way up to head chef.  I am lucky to have worked with some fantastic chefs over the years.  In this job you never stop laughing.  I feel privileged to be able to work in a career I love and I am looking forward to this chapter serving the residents of Falmouth Court and working with a wonderful team.  Our aim is to provide the highest standards for our residents.  
Show More
Clare Ingiszi
Hi, I'm Clare the Head Housekeeper at Falmouth Court.  I am a Falmouth girl and went to school at Tremough.  I was originally a hairdresser but during the first Covid event I went to Independent Living Accommodation in Northampton as their Head Housekeeper. I decided to return to Cornwall as I missed Falmouth too much.
I will ensure that your room and the building is kept sparkly clean!
Show More
Gail Jones
My name is Gail, I am 54 years young and happily married to a wonderful man, I have three beautiful daughters who I adore, and four grandchildren that are my proud and joy.
I have lived in Cornwall all my life and have spent 24 years working in the Care Industry as an Administrator which is a very rewarding job to me and I take pride in getting to know all staff and residents.
Working for this company is amazing, I love coming to work and facing a new challenge everyday and especially having a giggle with some staff and residents in particular.
I have to say everyone here has welcomed me with open arms and I feel so very privileged to be part of the Barchester Team, on wards and upwards.
Show More
Amber Andrews
I am a Senior Care Assistant working on night shifts here at Falmouth Court. I have previously worked within the community covering all types of care. My previous position was at Treliske Hospital in Truro covering care before deciding to move into residential care here at Falmouth Court.
I feel my past experience and knowledge will help me to provide excellent person centred care and I am looking forward to meeting our new residents and gaining new experiences within the home.
I have a 1 year old son who I adore and I enjoy being a Mum.  I am a very caring person and passionate about my position.
Show More
Rachel Parry
Senior Night Care Assistant
Hi, my name is Rachel and I am a Senior Night Care Assistant.  I have worked in care for 12 years and have enjoyed every moment and will continue to do so.  I have a white Staffie called Lexi and I love to take her on long walks to the sea front in the summer.  I have 3 sons and 4 grandchildren and enjoy taking my grandchildren to the park although my grand-daughter prefers shopping!
Show More
Sue Evans
Hello there, my name is Sue Evans and I am a Senior Care Assistant.  I have worked in care for 33 years.  I have achieved during that time a level 2 & 3 NVQ.  I really enjoy holding a position in healthcare and am happy to be a part of the Barchester team. 
I am married and have 2 children and 3 grandchildren.  I enjoy spending time with family and love to travel abroad with my husband.  
Show More
Jean Flood
Hello there, I am Jean and I have lived in Cornwall for 22 years.  Previously I lived in Sherborne Dorset.  I have 9 grandchildren and 2 Labradors so my spare time is very full and busy.  I also have a passion for baking cakes.  I am devoted to ensuring our residents rooms and home are in tip top condition at all times.  
Show More
Theresa Harris
My name is Theresa and I am here to make sure the home is clean and welcoming.  I was born in Africa but have always lived in Cornwall.  I have a one son who I love spending time with.  Previously I have had a career in HR. 
Josh Donnelly
I am originally from London but I have lived locally in Falmouth for the last 9 years, I have over 14 years kitchen experience including Level 3 NVQs in Professional Cookery and Supervising food safety. I have a passion for food and I am always looking out for new recipes while maintaining the importance of a healthy yet tasty diet.
Show More
Christina Richards
I have worked in the care industry for over 24 years, predominantly in EMI Dementia care which has afforded me my NVQ 2 and 3 in Adult Social Care.  Whilst working I have also completed the Access to Nursing.  During my time I have gained a wealth of knowledge about Dementia care.  After many years in the care sector, I decided to go to university to complete a Foundation in Healthcare Practice degree which make me an Assistant Practitioner which has really enhanced my knowledge to an even higher degree.
I held a position at the Royal Cornwall Hospital as an Assistant Practitioner on the Gynaecology ward where I booked patients in for theatre, discharge of patients and all other associated duties.
I decided to leave the hospital and come to Falmouth Court because I wanted to get back into person centred care as I find that the most rewarding position. 
Show More
Jason Pink
Hi there, my name is Jason and I am one of the night care assistants at Falmouth Court.
I have been working in care for 25 years.  I started my caring career at a care home in Falmouth.  I then moved on to working with people with Autism and Learning disabilities.
I have a cheerful and positive approach to my work and I am looking forward to working in residential care again.
In my spare time I like to watch the local football team Falmouth Town play at the weekends.
Show More
Gail Bastian
Hi my name is Gail and I am a Care Assistant here at Falmouth Court. 
I have been working in care for 12 years.  I started in community care with experience in residential care homes, personal assisted supported living complex and a Dementia care home.
During my time I have found it very rewarding and enjoyable.  I have carried out many activities for clients by arranging parties, dog shows and taking my ponies into work.  I have also been short listed for the title of Carer of Cornwall and I cannot wait to welcome all our residents into Falmouth Court.  
Show More
Sue Saunders
A big hello and welcome to you all.  My name is Sue and I have lived in this beautiful area since 1978.  I arrived… and just never left! I am delighted to be part of the team here at Falmouth Court. 
I have worked both in hospitality and retail but my absolute passion is as a Carer.  This career has spanned 30 years firstly as a community/residential carer, then as a HCA at the Royal Cornwall Hospital and then shared management of a home support scheme within the local area.  I am NVQ qualified in care.
To feel that I can make a difference means so much to myself and the rest of the team at Falmouth Court.  Caring is like a magnet and it draws me back every time.
I am so looking forward to meeting you all and helping you settle into your new home.  Getting to know you and your families and being part of your journey, living life to the full.
Show More
Sandra Jones
My name is Sandra and I am a Care Assistant for Falmouth Court.  I am proud to have 37 years of experience working within care homes and in supported living.  I am a very passionate person and have always enjoyed the years that I have spent supporting and enabling people.  I am thrilled to be part of the Falmouth Court team. 
In my spare time I enjoy listening to music, dancing and spending time with my grandchildren.
Show More
Katie Linthwaite
Hello everyone.  My name is Katie and I have worked in the care sector for the best part of 4 years, passionately providing the best care that I possibly can.
Along with my love of spending time outdoors, I enjoy reading and writing and I have even attempted my first book!
Abbey Cheeseman
Hi, my name is Abby and I am a day Care Assistant here at Falmouth Court.  I have previously worked in a residential/nursing care home here in Falmouth.  I look forward to progressing my career at Falmouth Court and gaining more qualifications.  I have 3 children at home so I have a busy household.  I enjoy pushing myself to gain more confidence in everything I do.
Show More
Chelsea Murray
Hi, my name is Chelsea and I am a Night Care Assistant here at Falmouth Court.  Since a young age I have always felt a great sense of achievement in helping others and always strive to make a difference.
I started off my career in the health care sector straight after leaving college where I gained my NVQ2 in Adult Social Care.  I have more than 10 years experience working within nursing homes, domiciliary care, residential care homes and most recently private care.  During this time I have obtained a lot of knowledge of working with complex care, dementia care and peg feeding.  I have such a passion for my role and strongly believe in person centred care.
I enjoy a challenge and I am always willing to learn and develop within my job role.  I look forward to continuing my career here at Falmouth Court with such a good team behind me.  We look forward to welcoming our residents and providing an excellent experience for all.  
Show More
Beth Martin
Hi my name is Beth, I started off as a Housekeeper in another care home then decided I wanted to do more for the residents.  When the opportunity arose for me to become apart of the team here at Falmouth Court I was thrilled to have the opportunity to provide great care. 
I am currently studying 3 courses at Falmouth sixth form. With a hope to go on and hopefully attend paramedic science at Plymouth University. 
I enjoy taking care and meeting all the needs of the residents and their families and working alongside the amazing friendly awesome team here at Falmouth Court.
Show More
Mervyn Lyons
My name is Mervyn and I am one of your hosts.  My vast catering experience has taken me from hotel positions to general hospitality including 22 years at the Falmouth location of Exeter University.
When I am not at work I enjoy increasing my knowledge of history and geography, reading and tending my garden.  My joy comes from my family especially my 3 grand-daughters.
Show More
David Sanders
My role here is to provide meaningful activities to residents living at Falmouth Court.  Every person is unique so it will be my passion to identify a resident's interests and hobbies then deliver a person centred activities plan that meets their needs.
I am passionate about arts, music and craft activities and will incorporate these creative interests into our program.  Engaging residents with the local community and providing trips out and about in the local area will also be important to provide stimulation for our residents here.
My own background is maritime based as a boat builder, teacher and sailing instructor within the local community.  I very much enjoy working within a team and providing enrichment to the lives of residents in a care environment.
Show More
Zoe Burns
Hello my name is Zoe and I am one of the hosts at Falmouth Court.
I am a very caring person by nature and I have always wanted to help people.  I have not held the post of host before but I am eager to learn new skills.
I have wanted to work in a care setting since I was 17 years old but never had the courage.  Luckily Haley and the team have supported me to overcome that barrier and I cannot wait to work with our residents and be their host.
Show More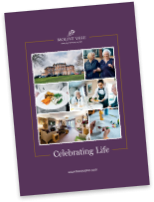 Read our brochure 'Providing great quality care and wellbeing' for more information on how we're here to help you and your loved one.
Read brochure
Food & Nutrition
Activities & Events
Care & Facilities
What happens now?
Are you ready to discuss your individual care requirements? Pick up the phone and talk to us, book a visit to our care home or come and take a look around our facilities.
Care enquiries
New care enquiry phone lines are open 8am - 8pm
01326 741 214
All other calls
Our fees and contract
We want to be as transparent as possible about how we charge for the different services we provide as well as what's included in our contract. Please click the links below to find out more about our fees and contract.
View typical fees
View Our Contract
Useful downloads
Here to help you make the right decision about your care requirements.
55960