Meet the Elm Bank Care Home team
From nurses and carers to chefs and housekeepers, staff in our home are here to deliver high quality care and services to those we support. Check below to meet some of the friendly faces you are likely to see when visiting our home:
Jessica Pateman
Senior General Manager
Hello. My name is Jessica and I am the General Manager at Elm Bank. My aim is to ensure residents, staff, families and visitors all feel they are in a welcoming environment and being supported by every team in our home. I have always had a passion to care for others due to personal experiences in my early life. I make an effort to stay in regular contact with residents' relatives, to make sure the family also receives support and information from us, and so we can answer any queries as quickly as possible. 
I began my career as a Carer and have gained experience and qualifications to progress to my current role. I have worked in other Barchester homes, so I fully understand the high standard of care and superior lifestyle delivered throughout the company.
Please scroll through this page to meet other members of the wonderful team here at Elm Bank.
Arnel Berido
Hello. I am Arnel, Deputy Manager at Elm Bank. I support the General Manager in all aspects of the home. I am passionate about supporting people in their later years, especially those affected by dementia. I am the Dementia Champion at Elm Bank where I guide my colleagues in providing the best care we can. When I am not at work I enjoy cooking, listening to music, dancing and arts & crafts - which are all things our residents enjoy, too, so I often join in with the daily programme of activities. People describe me as a happy, smiley person, which I hope cheers other people up.
Show More
Jill Lynas
Hello. I am Jill and I have lived at Elm Bank for many years so I know the staff really well. I enjoy attending all the activities and I always want to try the new things offered here. I help to put up decorations for special events throughout the year, to create a celebratory atmosphere. Staff and residents work together to make special days really enjoyable. I am a confident person and it is part of my role to liaise between the General Manager any residents who want to express their wishes but are unable to do so. I make a special point of welcoming all new residents to our home and help them to settle in. I am very proud to be part of Elm Bank as we are all cared for like family.
Show More
Sophie Vickery
Hello, I'm Sophie, Head of Care at Elm Bank. I have always worked in elderly care and have a Health & Social Care Level 3 qualification. I have previously been Deputy Manager of a smaller home, so I understand all aspects of care homes. Our residents are lovely and I get a lot of pleasure from helping them at the time of life when they need it. I enjoy being busy but I also value the time I spend interacting with residents. Moving to a care home is a worrying time for residents and their families, so I like to make the process as smooth and welcoming as possible. We are a close team and everyone does whatever is asked of them to ensure we provide high-quality care. I like to get to know families and often speak with them to provide updates on their loved ones' well being. In my spare time, I enjoy reading, sewing and embroidery.
Show More
Maxine Kwiecien
Hello. I am Maxine and I have been a team member at Elm Bank since 2014 when I joined as a Senior Carer. I support residents to make sure their everyday health needs are provided for, including issuing prescribed medication and carrying out regular health checks. I enjoy the company of residents and I take pride in making sure they are comfortable and have everything they need. I enjoy listening to their life stories and reminiscing over photos. I like helping with Elm Bank's activities and meal times, too, making sure the whole team encourages residents to participate and socialise.
Show More
Amanda Yule
Hi. My name is Amanda and I joined the Elm Bank team in 2018 as a Care Assistant on our residential community for people with lower support needs and have progressed to Team Leader on our Daisy Lane Community for people with dementia. I love providing residents with the best quality of life everyday, starting in the morning when I make sure they are well presented, so they look and feel good. Then, with the rest of the team, we meet their everyday needs and wishes, as if they are our own family - in fact, it feels like one big family here. When I'm not at work I love spending time with my little boy, or going shopping, and I enjoy eating out and going on holiday with family.
Show More
Tina Coveney
Hello. My name is Tina and I have been a team member at Elm Bank since 2011. I make sure all the staff in my team are supported to deliver the correct care to residents, with dignity at all times. I enjoy seeing residents socialise with each other in our friendly community, sharing their life stories and getting to know each other better. I support the Activities Team by encouraging residents to participate in the wide range of options available every day, helping them to try new things to promote physical, emotional and cognitive well-being. I issue prescribed medication at set times throughout the day and make sure all support needs are being met by the team. I like meeting new residents and their families so that I can help make their move to Elm Bank as smooth and relaxed as possible.
Show More
Sue Harrison
Hello. I am Sue, the Night Team Leader at Elm Bank. Our friendly team takes over when the day staff go home. We provide all the care and support residents need at bedtime, throughout the night, and when they wake up in the morning. We support people at the times they want it - not everyone wants to go to bed at the same time. We enjoy being with residents as they are winding down with TV or a book, and we make them as comfortable as possible for a good nights sleep with whatever they like for their bedtime routine - a cup of cocoa and an extra pillow maybe.
Show More
Willow Walk Respite Community
Hello. We are Keeleigh and Danni, Senior Carers on Willow Walk, our ground floor respite suite at Elm Bank. We welcome residents to enjoy a short stay here before returning to their own home. There are many reasons why respite care can help people - to recuperate after an operation or period of illness, for peace of mind while family are away on holiday, or while building works are taking place in someone's own home. Sometimes people come here just to be spoiled for a while, or book in at the same time as a friend for a holiday together. We provide premium care and support to respite guests while giving them as much independence as possible. We help deliver the daily programme of individual and group activities and social events, including pamper sessions, arts and crafts, food-related activities and much more. At mealtimes, residents are encouraged to enjoy the fine dining experience in our beautiful dining room. Willow Walk has its own garden where residents can sit out in the summer months, to enjoy the sunshine, chat with new friends or read a book.
Show More
Bluebell Walk Residential Community
Hello. We are Sue, Jessica and Alina. We are all Team Leaders on the Bluebell Walk Residential community for people with lower support needs. We make sure everyone's care and social needs are met from the minute they wake up until they go to bed, when we leave them in the capable hands of our night care colleagues.
Show More
Kerrie Ashford
Hello. I'm Kerrie and I joined Elm Bank as the Activities Team Lead in 2021. I am especially interested in mind and soul, providing premium activities with a holistic approach. I plan a programme of events, entertainment and social occasions with a daily choice of things to get involved with. I promote the wellbeing of residents and support our management team in connecting the home with the local community in Kettering. I've previously worked as a Care Team Leader in a supported  living setting and in a mental health hospital. I have a degree in animal science and I'm keen to bring animal therapy into Elm Bank, so we have regular visits from PAT Dogs and Animals in Mind, which includes rabbits, guinea pigs, geckos and snakes. We also have visits from Alpacas that we can stroke and feed. We have connections with schools, nurseries, Scouts and Guides who visit us for some intergenerational activities, such as baking, crafts, music or reading books. I also have a level 3 qualification in Counselling Studies, which I use to bring stimulating activities into Elm Bank to promote positive mental wellbeing. I also enjoy creative activities including knitting, crochet,  photography and being in the natural environment.
The four of us in the Activities Team create new activities for residents to enjoy, as well as encouraging people to continue hobbies and interests they had before moving to Elm Bank. When a resident first moves here we meet with them to find out what activities they would like to do. We complete a 'Getting to Know Me' book with each resident to find out about their family, life story, likes and dislikes. We have created mindfulness rooms including a Sea Life Room and a Namaste Room. Our Sea Life Room is where we keep our Magic Table, which projects interactive games, music and sensory videos onto a table, wall or ceiling, for residents to enjoy and engage with. Residents particularly enjoy the sport, garden and animal Magic Table games. In our Namaste Room we have equipment and activities to stimulate the five senses - taste, touch, smell, sound and sight - bringing sensory and physical activities to residents living with dementia in our Blossom Trail community.
Show More
Activities Team
Hello. We are members of the Activities Team - Emily, Mark and Margaret. We support Kerrie, who leads the Activities Team.
Emily (on the left) supports residents with creative activities - everything from tie-dyeing to artwork for display around our home. She also brings musical activities to residents living with dementia, especially using the disco area in our Daisy Lane community.
Mark (centre) enjoys organising games, such as Family Fortunes, bingo and carpet bowls. Everyone looks forward to their weekly sessions of bingo and carpet bowls, as well as card games, chess and dominoes in our activities rooms.
Margaret (on the right) specialises in residents' life stories and completing their 'Getting to Know Me' books, creating sessions that reflect individuals' interests. She also enjoys holding reminiscence mornings with the residents while they enjoy a bit of pampering with some nail and hair care.
Show More
Sharntelle Hall
Hi. My name is Sharntelle and I am the Head Chef at Elm Bank. I ensure we offer a choice of delicious meals, three times a day, to meet residents' food preferences and dietary needs. I love cooking and I take the time to speak to residents about what food they enjoyed or weren't so keen on. We include special requests and residents' favourites in our menus, and we provide cakes and biscuits to go with morning and afternoon refreshments. We also cater for special events, food-related activities and all the birthdays and other celebrations here at Elm Bank. I manage the great kitchen team here which includes a Second Chef, Kitchen Assistants and Dining Hosts.
Show More
Dining Hosts
Hello. We are Garion, Gerardo and Leenose and we are part of the kitchen and dining team, helping to serve everyones meals to them on time, wherever they like to eat - in our sociable dining room, in the privacy of their own rooms, or outside in the nice weather. We also help create fine dining experiences for residents to enjoy with their families and friends. It is important that residents are supported to make their menu choices, and are helped with serving and eating their meals if required. We get to know people really well and remember what their favourite foods are. We are all passionate about food and love to cook in our spare time.
Show More
Sophie Taylor
Hello. I am Sophie and I support our Head Chef to produce a varied menu every day, and I manage the kitchen team when the Head Chef is on leave. It is very important to me that every resident enjoys their food, so I get to know exactly how and when they like their food. We also take into account any dietary and swallowing needs to make sure people get all the nutrition they need. We make lots of treats too for birthdays and events.
Show More
Isabel Carlisle
Customer Liaison Assistant
Hello. My name is Isabel and I have been working at Elm Bank Care Home for nearly 10 years. I am the Customer Liaison Assistant for our home, supporting with enquiries, show rounds, show rooms and welcoming visitors the home. I also liaise with the local community and community projects which showcase Elm Bank and the wonderful work we do.  We have lots of activities every day and it's lovely seeing people from our community joining us. We also welcome community groups to use our lounges for group sessions. Please pop in and have a chat with me as I enjoy meeting people and I'm always proud to show people around Elm bank. Every day is different here!
Show More
Nina Roberts
Hello. I'm Nina. I joined Elm Bank as the Administrator in 2021 and I help residents and families with finances and paperwork, so please do speak to me if you have any questions about these. I have worked in administration roles for over 20 years and absolutely love working as part of a team. I aim to make moving to our home as smooth as possible for residents and I like making our support procedures as efficient as possible.
Show More
Naomi Rodwell
Hello. I am Naomi, one of the Receptionists at Elm Bank. I love welcoming residents, their families and other visitors to our friendly home and being as helpful as I can to anyone who would like information about the high quality care here. I am also the home's Community Champion, connecting Elm Bank with as many local organisations and individuals as possible. We often hold events here, which the public are welcome to attend, and we also take residents out to events and activities in Kettering and further afield.
Show More
Kathryn Jackson
Hello. I am Kathryn and I have been working at Elm Bank since 2012 as an Administration Assistant and Receptionist. I support our Administration Team by responding to new enquiries, showing people around our lovely home, welcoming families and other visitors and helping with any queries. I make sure our reception area is welcoming, clean and tidy for everyone who enters our beautiful home. We welcome members of the community to participate in our activities and events as residents like to see new faces, so please get in touch to find out how you can become part of the Elm Bank community – I'm here to help you.
Show More
Catherine Spooner
Hello. I am Cath and I joined the Elm Bank team in 2021. I enjoy being part of the Elm Bank team and am pleased to have a role in such a friendly environment. I am a sociable person and like getting know residents and their families. We have lots of visitors here, as well as entertainers, so it is important that I make everyone feel welcome and help them to where they are going. I look forward to meeting you.
Show More
Jade Pateman
Hello. I'm Jade, Head of Maintenance at Elm Bank. I enjoy the variety of my work and I like to keep active, making sure everything is checked regularly, and repaired or replaced if necessary. It is vital that Elm Bank is safe, comfortable and attractive for residents, visitors and staff, and I am proud to make that happen. I have also worked here as a Carer, so I understand how important it is that people's rooms are personalised, so I'm happy to bring in items of resident's own furniture, or put up pictures and family photos for them.
Show More
Tony Booth
Hi. I'm Tony and work with the Head of Maintenance to make sure everything works smoothly so Elm Bank is safe, comfortable and attractive for residents, visitors and staff. I like getting to know residents, making sure everything works well for them and keeping their rooms nicely decorated. I really like working in such a friendly home with beautiful surroundings.
Show More
Tina Bezzina
Hello. I am Tina and I am Head of Housekeeping at Elm Bank. There are 11 members of our Housekeeping Team and I ensure everyone knows how to keep Elm Bank safe, clean and comfortable for all residents, staff and visitors. Infection prevention is a very important part of our role and I make sure we have all the equipment, materials and training we need to do this.  We have several residents who like to help with the washing up or folding clothes, which helps maintain their independence. I like chatting to residents and finding out about their families, careers and hobbies. I also like to know their likes and dislikes so we can support their daily routines and make sure their rooms are exactly how they like them.
Show More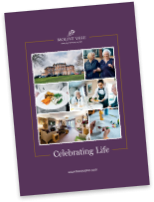 Read our brochure 'Providing great quality care and wellbeing' for more information on how we're here to help you and your loved one.
Read brochure
Food & Nutrition
Activities & Events
Care & Facilities
What happens now?
Are you ready to discuss your individual care requirements? Pick up the phone and talk to us, book a visit to our care home or come and take a look around our facilities.
Our fees and contract
We want to be as transparent as possible about how we charge for the different services we provide as well as what's included in our contract. Please click the links below to find out more about our fees and contract.
View typical fees
View Our Contract
Useful downloads
Here to help you make the right decision about your care requirements.
48450