Meet the Drummond Grange Care Home team
From nurses and carers to chefs and housekeepers, staff in our home are here to deliver high quality care and services to those we support. Check below to meet some of the friendly faces you are likely to see when visiting our home:
Eleanor Wilson
General Manager
Hi, my name is Eleanor, and I am the General Manager here at Drummond Grange. Welcome to our website!
I have been nursing since 1972, having begun my career as a Nursing Assistant in one of the largest psychiatric hospitals in the county. I continued to develop my career, working in various specialties in both hospital and community in NHS Lanarkshire. My last post within the NHS before taking early retirement was as a General Manger for Motherwell Locality, with an area wide lead for older people with mental health problems, including dementia.
My retirement was short lived and, after a brief period of rest and relaxation, I joined Barchester as Deputy Manager at Alexandra Court in Glasgow, where I worked happily for two years.
I came to Drummond Grange on a temporary basis at the beginning of 2014 and found the welcome I received from residents and colleagues overwhelming, and as such was delighted to be offered the opportunity to join the team on a permanent basis. 
In 2016, I won a Resident Engagement Award at the 18th National Care Awards because of the proven positive effect I have had on residents and staff whilst working at Drummond Grange.
Alina Brehar
Hi, my name is Alina and I am the Deputy Manager here at Drummond Grange. Welcome to our website!
I graduated in 2003 and began working as an RGN. I lived in Romania until 2006, which is when I came in to the UK, and then started working in South Shields in a residential care home as a senior care assistant, until I registered with NMC. I moved to Edinburgh in 2008 and took up a nurse position at Drummond Grange, and have spent my time here working my way up to Deputy Manager.
At present, I am working on my NVQ Level 5 in Management & Leadership. I feel very passionate about the home and everyone we support, and I consider Drummond Grange to be my second home.
I am very approachable, honest and open to any positive ideas when it comes to improving the quality of our services.
Show More
Gail Clapperton
Gail head a team of of dedicated nurses and carers on our Pentland unit. She returned to work at Drummond Grange in 2019 after working at one of our sister homes for a while.
Mary McDonald
Non-Clinical Service Manager
Mary is the Non-Clinical Service Manager here at Drummond Grange,
In 2016, she was named as a Divisional Winner for Home Administration Champion in the Barchester Care Awards.
Anamaria Balaj
Hi, my name is Anamaria, I trained as a nurse in Romania 20 years ago.  I came to work at Drummond Grange 5 years ago as a staff nurse and then became a Charge Nurse of our complex care unit 2 years ago.
Laarni Tolentino
Hi, my name is Laarni, and I am a Charge Nurse here at Drummond Grange.   I trained as a nurse in the Philippines over 20 years ago and began working for Barchester 17 years ago.  I came to Drummond Grange over 10 years ago as a staff nurse.  I have recently became Charge Nurse of our Memory Lane Unit.
Show More
Rory Campbell
Rory Campbell is our Music Therapist and comes in on a Wednesday & Friday.
Rory has a number of residents that enjoy one to one therapy with him.  Playing the guitar, keyboard, drums and various other instruments.  He also has a one hour session where residents come along to relax to the music.
Show More
Resident Ambassador
Hi, my name is Susanne and I am Drummond Granges resident ambassador. I have been in Drummond grange since March. As an ambassador I want to keep the home a nice place to live and help with another concerns and to be the voice of the residents. I have a husband and a four year old little girl who both visit the home often. Prior to coming to Drummond I worked in the financial industry as manager and mentor as well as a health, wellbeing and engagement coach. I now use my previous skills to help in my role as ambassador and love that through this role I can continue to help others.  
Show More
Katie Nicolson
Hi my name is Katie and I am the activity assistant. I started in this role in August 2021 and have been loving it so far.
I have worked in care my entire working life, with most of my family working in some sort of care role. I studies Psychology and sociology at Queen Margaret University and have just been awarded my Degree of Bachelor of Science in Psychology and Sociology.
During university I had to jump around a lot workwise while studying but with this I feel I picked up experience from many different people from all walks of life. I am really looking forward to permanent work place and to be part of a team and I can't wait to develop my skills and see what we can accomplish for our residence.
Show More
David Krage-Smith
Hi my name is David Krage-Smith and I am the Home Administrator at Drummond Grange.  I have been working in care homes for the past 6 years and prior to that worked in management/HR roles.  I am always willing to help and wherever possible, & strive for continual improvement.
I have been welcomed at Drummond Grange and look forward to an exciting future here!"
Show More
Chris Lewis
Hello, My name is Chris and I am the Head Chef here at Drummond Grange. At Drummond Grange we strive to provide a wonderful choice of beautiful, delicious and nutritious meals and that our residence needs are not only met but exceeded.
Gerrard Fox
Having had many years' experience within both the private and public health sectors, Gerard, our Physiotherapist, has a special interest in neurological rehabilitation. He retains a close working relationship with the NHS Wheelchair Service, Orthopaedics  and the Spasticity Management Service.
Gerard runs regular Keep-Fit & Relaxation Classes, together with garden walks with Rocky, our pet therapy dog. Postural management and one-to-one sessions are held within our large, dedicated gym.
Show More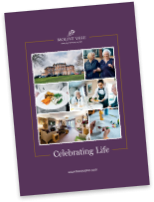 Read our brochure 'Providing great quality care and wellbeing' for more information on how we're here to help you and your loved one.
Read brochure
Food & Nutrition
Activities & Events
Care & Facilities
What happens now?
Are you ready to discuss your individual care requirements? Pick up the phone and talk to us, book a visit to our care home or come and take a look around our facilities.
Care enquiries
New care enquiry phone lines are open 8am-8pm
0131 341 0022
All other calls
Our fees and contract
We want to be as transparent as possible about how we charge for the different services we provide as well as what's included in our contract. Please click the links below to find out more about our fees and contract.
View typical fees
View Our Contract
Useful downloads
Here to help you make the right decision about your care requirements.
54