What our families say: Derham House Care Home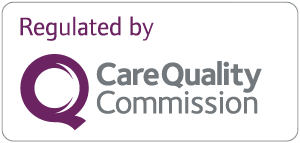 "My mother spent nearly two months in Derham House Care Home, initially for respite care. She was treated kindly, efficiently and with respect. I was impressed by the knowledgeable and empathetic approach of the management team. My mother liked going into the garden, but we had to ask for her to be helped there. My mother found the 5 pm time for the evening meal too early."
G D
carehome.co.uk rating: 4.17 out of 5
"My mother lived at Derham House from March 2018 until her recent death in October 2022. She lost her mobility after breaking her hips and more recently experienced dementia related to Parkinson's disease. The staff and management have been wonderful. Living in Canada, it was important that I find a place where I could have complete confidence in the staff to meet my mother complex needs. Not only did they meet her physical needs, they also showed her love and kindness. She would talk fondly of the Pinkie ladies who lead the activities while she was still able to participate in them. She also formed a special bond with several of the carers. Before the pandemic I used to visit my mother every four months and would spend many hours with her each day. I always saw the carers treat my mother and the other residents with kindness and respect. Just before my mother died, the nurse arranged for me to spend time with her via Skype and I got to spend two and a half precious hours with her."
Jackie R
carehome.co.uk rating: 4.33 out of 5
"The staff were simply wonderful! The care... perfection! After an extremely difficult hospital experience, the support from Derham House was outstanding, for both my dad as a respite resident and also for our family. They allowed the transition back to life to be hassle-free, sorting everything out with the doctors and medication. We had a holiday - we never imagined or dreamed was possible. We wouldn't have been more pleased choosing Derham House to get our dad back once again. Thank you; you have all been amazing."
Samantha L
carehome.co.uk rating: 5.00 out of 5
"Mum spent 17 days at Derham House for respite care. This was her first experience of residential care. The interview and assessment process was professionally carried out. Mum was impressed by the standard of care provided by the excellent staff."
J H
carehome.co.uk rating: 4.00 out of 5
"We couldn't be more impressed with Derham House. After an extremely difficult 3 months with my Dad's health, we finally found a place of happiness once again. The staff are truly amazing and the level of care couldn't be better! Because of the kindness shown by everyone, we were even able to go on holiday knowing my Dad couldn't be in better hands! more to the point, our old Dad before health issues has once again returned. We couldn't be more thrilled! Thank you all! You are amazing!"
S L
carehome.co.uk rating: 5.00 out of 5
"I am happy here. Thank you, everyone."
J F
carehome.co.uk rating: 5 out of 5
"Derham House has been the most amazing place for my aunty's final weeks of life. The staff went above and beyond to give her the best care, love and support - nothing was too much for them. They treated her family so well - so welcoming. I know my auntie was in the best hands. I would totally recommend Derham House!"
Joanne D
carehome.co.uk rating: 4.92 out of 5
"The team at Derham House ensured my husband was well cared for and received the appropriate care for his particular needs. I was kept well informed and involved in any changes to his care plan. The visiting GP demonstrated empathy and compassion as my husband approached the end of his life. Overall, I highly recommend Derham House."
P T
carehome.co.uk rating: 4.92 out of 5
"The staff are very welcoming and very friendly, especially two members in particular. The setting of Barchester Derham House Care Home is beautiful, with horses on arrival. Barchester Derham House Care Home was a lovely place, the residents were very happy and all very friendly. Everyone looked very happy."
Nicola B
carehome.co.uk rating: 5 out of 5
"Following Mum's hesitancy to enter a care home for the first time, we found Derham House very relaxing and a calming environment for her three week respite. At the end of this time, she was settled, relaxed and didn't really want to leave. The staff are really helpful and caring, and the manager is very understanding and accommodating. We would recommend their facility for others to use."
A G
carehome.co.uk rating: 4.92 out of 5
"Mum's care has been excellent from the very first day she arrived. The staff have always been very friendly and caring. We've all felt that mum has been very comfortable over the time she has been in here."
J S
carehome.co.uk rating: 4.5 out of 5
"I find the care home very well equipped, clean and well decorated. My wife is well looked after by caring staff and they always are very nice and pleasant to me and my wife. Nothing is too much trouble for any of them. I feel that my wife is getting the best care available and it is much appreciated."
J R
carehome.co.uk rating: 4.42 out of 5
"Loved it! Thanks so much."
C S
carehome.co.uk rating: 5 out of 5
"Mum initially came to Derham House for 3 weeks of respite care during which time she settled well and is now a permanent resident. All staff are exceptionally friendly, professional and caring. The Activity Co-ordinators do an amazing job at organising a variety of activities to keep the residents stimulated and socially engaged. The Deputy Manager is very approachable and responsive when dealing with any queries or concerns; always involves Mum to ensure her voice is heard. The home is set in beautiful grounds that are well maintained providing lovely outdoor areas that the residents and family regularly use. Going into a care home is not an easy decision for a family to make but my sister and I are happy in the knowledge that Mum is in a safe and caring environment."
Andrea Q
carehome.co.uk rating: 4.58 out of 5
"Situated away from cosmopolitan busy areas of Upminster, with great landscapes and countryside view, very close to nature, is this home - Derham House, Barchester. The management and staff of this beautiful home are so lovely, kind and supportive, no dull moment, always engaging, interesting and too many activities to participate. their hospitality cannot be faulted. The meals are top of the range and very consistent."
Rita L
carehome.co.uk rating: 4.67 out of 5
"Mum has been a resident of Derham House for nearly a year and has settled in lovely. They give her high-quality care. The staff are outstanding, very responsive to Mum's needs and effective in care for her dementia needs. The staff keep us informed and updated. I feel the home is very well-led, and I would highly recommend Derham House."
Jackie G
carehome.co.uk rating: 4.92 out of 5
"In all areas of the care home, they are extremely helpful, with full marks on care. I would recommend it to anyone."
Y B
carehome.co.uk rating: 5 out of 5
"My Mother's stay was satisfactory. We never went into the home due to Covid so I'm unable to make a comment."
Christine F
carehome.co.uk rating: 5 out of 5
"Over the years I have visited many clients and friends that reside full time in Derham House. The staff have always greeted me warmly and are always on hand to answer my queries and respond efficiently to any requests. My clients and friends have always been very well cared for and live in a very safe, secure, caring and clean environment. I also know of many local families whose relatives reside at Derham House and they have nothing but praise for their care."
Jill F
carehome.co.uk rating: 5 out of 5
"Just a few lines to say. A bit thank you for my two-week stay in Derham House. I will always remember my stay. Everyone was so kind and helpful. The care and kindness of the staff are a credit to you all."
Sheila E
carehome.co.uk rating: 4.17 out of 5
"Mum was pleased with her room and its nice views. Despite taking a while to settle in she said the staff were always courteous and helpful to her. She said the food was very good and she came away with a nice new hairstyle!"
Michael H
carehome.co.uk rating: 4.33 out of 5
"Staff have been excellent in providing video calls to my mum during lockdown - which started before the official government lockdown. They have also started a very efficient and careful programme of visits in the grounds. Despite the difficult circumstances, they did a great job of helping my mum to celebrate her 'lockdown birthday'."
Lynne H
carehome.co.uk rating: 4.58 out of 5
"We are incredibly happy having our mum at this home. The care and attention (especially in these difficult times) have been superb. All the staff have shown great care and compassion to my mum and also have been fantastic communicators to me and my sister regarding the lower rating for value for money - this is not aimed so much at your home but at the cost of care in general. Totally satisfied."
Mark C
carehome.co.uk rating: 4.67 out of 5
"My friend was well looked after although sometimes I noticed that her drink had not been touched and she needed someone to encourage her to drink it."
M S
carehome.co.uk rating: 3.25 out of 5
"We continue to be very pleased with the kindness and support showed to Mum, particularly at such a difficult time. Many thanks to you all."
Robert M
carehome.co.uk rating: 5 out of 5
"Having not visited the home for four months due to COVID-19, I found the system put in place by the staff excellent, allowing us to visit in a safe environment. All care was taken that we were two meters apart and didn't come in contact with others at the home. Well done."
J E
carehome.co.uk rating: 3.92 out of 5
"Very satisfied with care. Very well informed of any incidents - damage to arms etc. Very friendly staff who keep us informed."
C B
carehome.co.uk rating: 4.5 out of 5
"We would like to express our appreciation for the loving care and dedication the team at Derham House has shown towards Mum over the last couple of years. During the recent lockdown period, we feel they have gone above and beyond their duty to ensure the safety and wellbeing of residents. The staff has been sensitive to the needs of both the residents and their families and we also appreciate the efforts gone to set up regular Skype 'visits' so we could keep in touch with Mum."
P G
carehome.co.uk rating: 4.33 out of 5
"Can find no fault with the whole system since my sister has been a resident. She has been treated with the utmost care and her condition has improved greatly. The staff is absolutely wonderful."
Ray C
carehome.co.uk rating: 4.58 out of 5
"My mum is our world, from the day she arrived at Durham house 15 months ago, she has been cared for and loved from the staff, the 2 nurses and carers and even the activities girls whom my mum loves dearly. They are all very attentive they understand her needs at all times. We as a family, feel they are angels. If there is a problem of sorts they contact me right away. How my mum has been treated throughout the virus has been exemplary. We will never know how to thank them."
Yvonne B
carehome.co.uk rating: 4.83 out of 5
"Mum is very well cared for, the location is lovely, the home is lovely but most importantly the staff are wonderful. Communication is good, especially in these uncertain and worrying times and the staff have gone out of their way to support my mum's needs and my own concerns, especially during the past few months when I have not been able to see my mum due to the COVID outbreak. A few staff members have been exceptional. The home have kept their residents safe and well during this time and I know that Mum is in good hands. The only reason I quoted value for money as satisfactory is a general comment on the high costs of care homes in general."
Suzanne H
carehome.co.uk rating: 4.67 out of 5
"Mum has been in this home for over 5 years and the staff are helpful and very much on top of mum's care. During lockdown have been able to speak to Mum and they've sent pictures of her having hair done. I would definitely recommend to others and have done so."
Lorraine B
carehome.co.uk rating: 4.25 out of 5
"One of the best nursing homes in the the area, this home is much more than professional with kind support and gracious care displayed by each team member. I would recommend without avail. Keep the good work going."
Claudiu Brici
carehome.co.uk rating: 5 out of 5
"In these most difficult of times for all it is extremely reassuring to know that my mum is being cared for at Derham House. A quality care home in beautiful surroundings however the best part are the staff who have shown nothing but a desire to ensure their residents are treated with kindness and great skill. It is very reassuring to all our family that Mum receives nothing but the best."
Barry H
carehome.co.uk rating: 4.42 out of 5
"The nurses were very kind and caring towards my mum and us through a very difficult time. Some of them became like family and my mum loved them very much. The only negative feedback is that at times (night), there were too few staff members around and it took a very long time to attend to my mum when she pressed the call button. However, any concerns we had were addressed once highlighted."
C K
carehome.co.uk rating: 4.83 out of 5
"The staff at Derham House are friendly and kind to my father. Even though he was challenging and demanding, they treated him with respect and dignity and looked after him with great care. The home is clean and well looked after with a beautifully maintained courtyard garden. It was a good place for my father to spend his last few months, which I would highly recommend."
Carolyn F
carehome.co.uk rating: 4.91 out of 5
"It is always lovely coming to Derham House. The location and amazing staff make it very special."
A B
carehome.co.uk rating: 4.42 out of 5
"My mum has resided at Derham House since Christmas Eve and she is receiving outstanding care and is treated with dignity at all times by caring staff. At her Diamond Wedding anniversary, the staff went over and above the call of duty by arranging a surprise party for the family with a buffet, cake and champagne in a private suite beautifully decorated for the occasion. Thank you to all the staff at Derham House."
Neil B
carehome.co.uk rating: 5 out of 5
"My Mum was in Dereham House for 18 months. During that time she was always looked after and cared for by the friendly carers and nurses. I was very happy with the way she was treated there and Mum enjoyed being there - it is a very peaceful, quiet place and very calming, which suited my Mum, although there are, of course, various activities my Mum could have taken part in. The staff were always caring towards her, right until the end."
Susan B
carehome.co.uk rating: 4.25 out of 5
"Amazing staff and great quality of care provided to the residents."
Zaid H
carehome.co.uk rating: 4.92 out of 5
"Great home, very clean. Good food. Very friendly staff. Always made welcome. Would recommend to anyone."
Michael S
carehome.co.uk rating: 5 out of 5
"My brother came to the home with late stage cancer. The team were so friendly and on hand. A warm, kind, dedicated team. I visited the home at various hours of the day and it was consistent with its care. A special mention to the Deputy Manager who was there from 7 am on Monday 7th January and was wonderful. She managed my brother's condition and made his last few hours as comfortable as possible. Even after my brother passed, the staff were incredible, giving relatives tea, offering food. I stayed with my brother all night and they offered to make me drinks and gave me breakfast. Thank you as well to The Manager for her help and making sure we were all ok and running us through what we needed to do next after my brother passed. The two carers who worked the night shift of Sunday 6th until Monday 7th Jan (they finished at 7 am) whilst I stayed with my brother overnight, a big thank you. Professional, caring with dignity and beautifully maintained home."
M W
carehome.co.uk rating: 4.42 out of 5
"My mum was in Derham House for 18 months. In that time, I can't thank all the staff, management enough for all their love and care they gave to my mum. Mum sadly passed away 13th Oct 2018. Staff have said come back and have a cup of tea, don't stay away. I have found this very comforting after my loss. One carer said it was a pleasure to know my mum and to care for her, that's nice."
Janet A
carehome.co.uk rating: 4.75 out of 5
"I would like to thank each and every one of the exceptional staff that work at Derham House, who looked after my mother in the last 3 years. There is nowhere else I could have wished for my mother to have been looked after, with love, dignity, caring, kind, professional, and would definitely recommend this care home to anyone who wants to be looked after with real love. I truly can't fault the care my mother has received."
June B
carehome.co.uk rating: 5 out of 5
"My Dad stayed for his last few days and was treated in a caring and calm environment. Staff were helpful to his family and compassionate. No better help or care will be found anywhere! Thank you all so much."
Kay
carehome.co.uk rating: 4.5 out of 5
"Have been coming in here for several years on and off. The care towards my darling friend has been fantastic. Sometimes they are short staffed but still provide a professional and caring service. Sometimes residents can be quite hard towards the staff but most of the staff know if can be frustrating for them. Overall, I love visiting my friend. It's like being in a hotel."
S M
carehome.co.uk rating: 5 out of 5
"I don't have words to thank the staff enough in Derham House. All exceptional. Very helpful."
John W
carehome.co.uk rating: 5 out of 5
"My mum has settled in very well now at Derham House, she has been there for 6 months. Mum always appears well cared for and seems to be happy living there."
Susan B
carehome.co.uk rating: 4.25 out of 5
"I feel very satisfied. The attendants are most helpful (and cheery) the food is very much edible - hot or cold and quite varied. The rooms are comfortable and private."
Jean M
carehome.co.uk rating: 4.83 out of 5
"The staff are wonderful and very helpful. The home is very clean. I like the activities. The food is very good. A very nice place to be."
S M
carehome.co.uk rating: 5 out of 5
"I would recommend Derham House to everyone! The staff there are so friendly hardworking and welcoming."
Amanda H
carehome.co.uk rating: 5 out of 5
"The pureed food my wife has to eat is extremely tasteless. It could be improved!"
Jands L
carehome.co.uk rating: 3.83 out of 5
"One of my good friends are staying here, and I have visited many times. What a beautiful home, wonderful atmosphere, and very pleasant overall. The staff are so friendly that I could not fault them for all their hard work that they do. The 25th Anniversary party was a great success, we all had a fantastic time!"
Dorothea May C
carehome.co.uk rating: 5 out of 5
"Since my mother arrived here in July her care has been excellent. Very kind, caring and treated with dignity."
Janet Joyce D
carehome.co.uk rating: 5 out of 5
"We are thoroughly satisfied with the care and compassion shown to my mother. The staff are excellent and support us (the family) through difficult times. We are so grateful to have found Derham House and know that mum is now safe and well cared for."
H M
carehome.co.uk rating: 4.5 out of 5
"Today I visited my much loved auntie. I came once before on her birthday last year. I am very happy to see her so smiley and very well cared for. What a lovely home to live in! It is peaceful, fresh smelling and friendly. My auntie is obviously happy and content, and so am I having seen her today. Thank you."
Susan H
carehome.co.uk rating: 5 out of 5
"Visited my friend who had a stroke last year, she is very happy and looks very well."
E B
carehome.co.uk rating: 5 out of 5
"Since my mum (aged 95) arrived at Derham House in June 2017, I have been very pleased with the care and compassion with which she is treated in this difficult period of transition into life at Derham House. In my experience, the staff, carers and nurses are always cheerful and friendly to both residents and visitors. Every time we visit the home is clean and fresh and my mum always looks smart and well looked after."
S B
carehome.co.uk rating: 4.5 out of 5
"My step-father has been in Derham House since May. He was extremely anxious about going into Derham House but his care needs were more than we could give him. He's been treated with such dignity, care and attention that after the first day, his whole appearance changed where he was so relaxed and at ease. The home has an open door policy and you can visit whenever you like. The staff are very friendly, caring and have always got time for not only the residents but also the families. Can't fault the quality of care they give the residents. Genuine commitment to give good care. Would be nice to give praise to some members of staff but can't single out anyone as all the staff are fantastic. It's a pleasure to write this review."
Tracy R
carehome.co.uk rating: 4.83 out of 5
"When my wife's needs reached the point where she needed residential care and support I was a little anxious about placing her in the hands of strangers, especially in light of some of the negative press coverage about the care home industry. I was pleased to have my faith in human nature restored however by my experiences at Derham House. From the manager down, all the staff I encountered were motivated and efficient with endless patience and compassion. They were all friendly and I could always approach the management, nurses and carers on any topic and they would provide cordial advice and help. In a nutshell, all the staff work as a team and I would be happy to recommend this home to anybody looking for residential care."
Steve H
carehome.co.uk rating: 4.33 out of 5
"My mum as been in Derham House for 2 and a half years which came highly recommended. I have seen change over that time, but I must say my mum's care has been excellent! I visit at different times and the care she has, I cannot fault. The manager is excellent, an open door policy, things are acted on and with the resident's interests at heart! I couldn't wish for my mum to be better cared for, which to me, is all a daughter could wish for!"
Colette D
carehome.co.uk rating: 4.5 out of 5
"I am very happy with Derham House. My relative has settled in very well. Nothing is too much for all the staff, they are so caring and friendly. I can't praise them enough."
Janet A
carehome.co.uk rating: 5 out of 5
"I fell in love with Derham House, as soon as my relative went in there. The staff are all friendly and caring, I feel like I have known them years. I am made very welcome. I have even got to know some of the other residents, which is nice because, at the end of the day, none of us know how we are going to end up, or where. Thank you Derham House for looking after my relative."
Janet A
carehome.co.uk rating: 5 out of 5
"The care my mum has received here for nearly four years has been absolutely fantastic. I visit every day at various times and have only ever seen loving care and concern from all the staff. My mother in law lived here for almost five years and there was no question of my mum going anywhere else! All of them - manager, nurses, carers, cleaners, caterers etc. are a credit to their professions and I can't speak highly enough of all of them. They're stars!"
Sonia G
carehome.co.uk rating: 5 out of 5
"We are so grateful for the care Grandma receives at Derham House and for the genuine love and affection the staff have for her. She continues to do well after nearly 4 years here despite some setbacks with her health. My paternal Grandmother was also here for 5 years and we couldn't fault any aspect of her care. All the staff are genuine and approachable and we are grateful that they have always worked with us to ensure the best for my Grandma. There is nowhere that compares to Derham House in the area, this is the best."
Liz L
carehome.co.uk rating: 5 out of 5
"My experience has been good compared to another home I stayed in."
Mary P
carehome.co.uk rating: 4 out of 5
"I cannot fault this home in any way. The staff are very friendly and polite."
Janet A
carehome.co.uk rating: 5 out of 5
"Not happy with the night staff. Happy with the day carers who are conscientious."
M P
carehome.co.uk rating: 3.17 out of 5
"As shown below my experience of this care home is excellent."
J M
carehome.co.uk rating: 4.67 out of 5
"Since my aunt has moved into Derham House I have found she is always happy, she enjoys her meals and always appears clean and tidy. There is regular entertainment which she thoroughly enjoys and other things to do. I have found that due to this activity she seems to want to communicate more and has more stimulation."
Irene S
carehome.co.uk rating: 4.92 out of 5
"Took my mum in to Derham House in November following a period of significant health problems. She really didn't want to go and it was distressing for me. The staff were amazing- can't praise then enough. Their teamwork was seamless and they were wonderfully focussed on mums needs. On a day to day basis, the staff are great always with a cheerful word or more with my mum and she has settled in well. They've responded quickly when she has been ill and communication with me is always excellent. Very happy with her care."
Lynne H
carehome.co.uk rating: 4.67 out of 5
"2 years ago I left a glowing report on this site for this home. Sadly, after some major staff changes things have gone downhill. Mum needed a daily battery change for her cochlear implant. When it wasn't working she was in a "black hole" of silence, which added to her confusion and depression. We were always noticing that her batteries were dead when we visited her, making communication very difficult. Our many efforts to get staff to address this problem didn't work, they wouldn't even keep a record to show that it was done. The really good activities lady became long term sick, and wasn't replaced for about 6 months. The chart in the hallway showing the daily activities became a joke, showing activities that were not actually happening. The changes must be sad for the many good staff we met during Mum's stay, because things just don't seem the same anymore, and the once happy atmosphere, can feel tense."
Julie C
carehome.co.uk rating: 3.33 out of 5
Dear staff at Derham House,
I am writing on behalf of my family to express our sincere thanks for the high level of care that my wife received in the last 9 months of her life from November 2012 to August 2013. We will be forever grateful for the excellent level of love, compassion & care that we witnessed during her time with you.
We would like to thank each & every member of staff that cared for her during her time with you.
Many thanks for all your help & support through this difficult time.
3 cheers for Derham House nursing home Upminister! Our mum has been a resident there for 2 years she is 102 years old and has settled in better than we could have hoped.
We often hear of bad homes but this Home is lovely. All the team is doing a great job which at times can be difficult so "Let's hear it for Derham House!"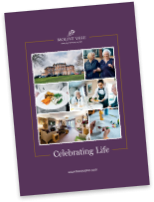 Read our brochure 'Providing great quality care and wellbeing' for more information on how we're here to help you and your loved one.
Read brochure
Food & Nutrition
Activities & Events
Care & Facilities
What happens now?
Are you ready to discuss your individual care requirements? Pick up the phone and talk to us, book a visit to our care home or come and take a look around our facilities.
Our fees and contract
We want to be as transparent as possible about how we charge for the different services we provide as well as what's included in our contract. Please click the links below to find out more about our fees and contract.
View typical fees
View Our Contract
Useful downloads
Here to help you make the right decision about your care requirements.
52