Meet the Denmead Grange Care Home team
From nurses and carers to chefs and housekeepers, staff in our home are here to deliver high quality care and services to those we support. Check below to meet some of the friendly faces you are likely to see when visiting our home:
Abbie Johnston
General Manager
Hi, my name is Abbie and I am the General Manager here at Denmead Grange. Welcome to our website!
I have worked in the care sector since 2012. I have progressed from Activities Coordinator through to Senior Carer, and then became a Deputy Manager in 2018. I was invited to join Barchester Healthcare in October 2019 as the Deputy Manager for this beautiful care home. I am passionate about being involved in the delivery of high quality care for our seniors. I have always found working in care extremely rewarding and I am very excited to lead the team here at Denmead Grange.
Gemma Pitman-McGrath
Clinical Development Nurse
Hi, my name is Gemma and I am Clinical Development Nurse here at the home. My passion is to care for people and I love supporting care and nursing teams across the region to develop high quality standards in practice.
Susan Kureishy
I'm Susan and I'm the Administration Manager here at Denmead Grange. I started my career with Barchester in 2007. I have moved to Denmead Grange after spending many years at our sister home on Hayling Island.
Lloyd Kingston
My name is Lloyd and I'm the Head of Life Enrichment here at Denmead Grange Care Home. My role is to compose an inclusive weekly programme full of activities and events for my residents to enjoy.
Enriching the lives of my residents is my goal; I connect with the local community to organise social events, I drive our Mini-bus and take residents on day trips and I liaise with close family and friends to find out what each resident's hobbies and interests are to create a person centered programme. 
Each activity I deliver is created to stimulate the residents mental, physical and nutritional wellbeing whilst having bundles of fun.
Show More
Trevor Jones
I have been with Barchester since 2012, starting off as a carer, but I have 20 years' experience in training and assessing and was also in the Royal Navy. I find my job very rewarding when I see the great care going on in my homes and assisting staff in developing their careers.
Mike Martin
After leaving school, I completed a 4 year apprenticeship at Portsmouth Naval Base as a joiner. This enabled me to spend a large part of my career as a boat builder. Other jobs I have done include being a milkman and driving instructor!
I have come to the care sector from the National Trust, working at Petworth House, Uppark and Hinton Ampner.
I enjoy golf & football, sometimes playing, but mostly supporting Portsmouth FC. I have also taken part in the Great South Run 5 times!
I have a daughter and one granddaughter, Amelia, who I like to spend as much time as possible with
Show More
Alison Sweetingham
Before coming to Denmead Grange I worked in hospitality for 22 years as a Supervisor, with roles including laundry and silver service waitressing.
I loved making up our guest rooms with towel art, swans and birthday cakes, two of my favourite. I worked for the National Blind Association also and completed a charity walk along Southsea seafront. I am a keen photographer and studied fine art photography, I can also play the bagpipes.
Show More
Jacqueline Tucker - Home Services Advisor
I have worked as Home Services Advisor for Denmead Grange since mid November 2021, and prior to that I worked predominantly in finance and insurance and before that I used to be a nurse. Getting back into the world of care has been something that I have wanted to do for a long time and Barchester have given me that opportunity.
I am here to support you and your family throughout the care home journey, I enjoy finding out as much as possible about our future residents hobbies, interests and needs to ensure the transition is as smooth as possible and give those residents and their families peace of mind and something to look forward to.
No question is too small and the whole team are here to help so if you want to pop down to find out more (and have a cup of tea and a cake) just give me a call
Show More
Lou Kneller
I have been working in care for 15 years and last year I came to Denmead Grange as a Senior Carer, I find working in care a rewarding career and love how every resident at Denmead Grange is treated as an individual
Cathy Kennealy
Honorary Activities Assistant
Cathy used to work at Sinah Warren a local holiday camp, and since coming to Denmead Grange in 2020 she has taken an interest in helping with all activities and is our tour guide when we go out in the minibus, especially when take a trip to Hayling Island where she lived for many years.
Cathy helps with the daily activities helping to organise and then participating in them, she is an invaluable asset to the team
Show More
Mavis
Hi, my name is Mavis, and I am a Resident Ambassador here at Denmead Grange.
Rosemary
Hi, my name is Rosemary, and I am a Resident Ambassador here at Denmead Grange.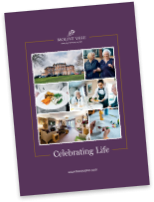 Read our brochure 'Providing great quality care and wellbeing' for more information on how we're here to help you and your loved one.
Read brochure
Food & Nutrition
Activities & Events
Care & Facilities
What happens now?
Are you ready to discuss your individual care requirements? Pick up the phone and talk to us, book a visit to our care home or come and take a look around our facilities.
Care enquiries
New care enquiry phone lines are open 8am - 8pm
02380 084786
All other calls
Our fees and contract
We want to be as transparent as possible about how we charge for the different services we provide as well as what's included in our contract. Please click the links below to find out more about our fees and contract.
View typical fees
View Our Contract
Useful downloads
Here to help you make the right decision about your care requirements.
40947