What our families say: Chacombe Park Care Home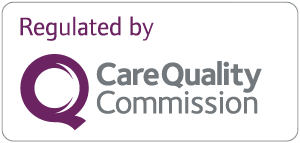 "I found that because I have full capacity I was treated like an idiot. The receptionist told me because I wear my glasses on my head I look stupid, also how most of the residents hate me and because I have full capacity I can clear off....which I did. But had to return because of the worry I caused to my daughter. I have no love for this care home and I think they prefer people with either Alzheimer's or dementia who can't express an opinion. Would I recommend... never unless you can't express your own opinion."
Suzy A
carehome.co.uk rating: 1.00 out of 5
"My mum stayed at the care home for a few weeks before she sadly passed away. During the time she was there, I would visit her almost every day and sometimes during odd ball hours. Here is a list of concerns I encountered on my visits that never got addressed. 1. I could hear her calling for help because she had no covers over her and was cold. 2. Laying in her own Urine with a sodden inconvenience pad on. 3. Staff didn't clean her hands when she had urine on them. 4. Urine and faeces left on bathroom and carpet floor. 5. No toilet rolls, inconvenience pads, and clean towels on several occasions. 6. Pad sodden when staff had only taken her to the toilet 1/2 hour before. 7. Red alarm button out of reach or not working at all. 8. Clothes went missing and never returned. 9. Up to 30 minutes or longer for staff to attend red alarm button. 10. Basic Hygiene low. 11. Wrong food delivered/on occasions nothing to drink. Not able to publish one thing I saw, I can only say I was horrified. Disgraceful treatment."
N D
carehome.co.uk rating: 1.67 out of 5
"My mother was a resident for a short time at Chacombe care home before her passing. Friendly atmosphere, very caring, safe environment. Could bot fault anything. The staff are amazing."
Trevor D
carehome.co.uk rating: 5.00 out of 5
"My mother was cared for by Chacombe Park care home for just a few weeks at end of life. From the outset, the whole team made both Mum and her family feel at home. A safe, caring and friendly place. We could visit as often as we liked. Mum went out on a trip to Stratford and joined in with daily activities. The care team are always available for Mum and the family. Most of all, the care given to Mum has been outstanding."
Alison B
carehome.co.uk rating: 5 out of 5
"My friend was admitted to Chacombe Park in 2018 with dementia. He was made very welcome, and his room was spacious, airy and enjoyed views over the gardens. The nursing and administrative staff have been brilliant - caring, kind, thoughtful and always helpful. No one wants to be in a care home, but Chacombe Park is one of the best."
John S
carehome.co.uk rating: 4.67 out of 5
"Mum has been well cared for whilst under the care of the hub. Staff are attentive; she enjoys the food and is settled with the facilities and the care in general."
Paul A
carehome.co.uk rating: 4.5 out of 5
"The staff are 1st class, menu good and the rooms are good."
T K
carehome.co.uk rating: 3.8 out of 5
"My father-in-law was in a hub bed and as only one person was allowed into his bedroom I did not see inside the home. I only got to see my father-in-law in the pod which he hated as he was deaf."
L M
carehome.co.uk rating: 3.92 out of 5
"The staff have been very friendly and attentive to mum's needs,w which has helped what has been a stressful time for mum and the family. The nursing team and carers looking after mum show genuine care for her, ensuring pain is addressed and comfort a priority. The admin team have been brilliant dealing with all the changing Covid rules and very efficient. Everyone smiles and talks to you."
H H
carehome.co.uk rating: 5 out of 5
"All staff I encountered were amazing. Their care for my Dad was exemplary. It is difficult to express how good they all were. I have fed back to the home in much more detail and have highlighted staff by names. I will be contributing to the staff fund."
Justin F
carehome.co.uk rating: 4.17 out of 5
"My mum has been at Chacombe for over three years now. I can't tell you what a relief it has been throughout the pandemic to know how well she has been cared for; once we were able to visit the staff made such an effort, even though it was really difficult. We went to visit yesterday and were so thrilled to be shown a short video of her being helped to her feet when she wanted to join in with the dancing, despite her dementia she still responds to music and it was lovely to see her having such fun with the help of the staff. Chacombe is a happy and caring home, the staff are so kind; they all know the residents so well and treat them with dignity and respect. The rooms are beautifully clean and the food is fantastic with a great choice. I would recommend Chacombe to any family without hesitation."
G H
carehome.co.uk rating: 5 out of 5
"I found the staff extremely courteous, friendly, well trained and amazing. I have no difficulty in recommending Chacombe Park Beaumont to anyone."
W M
carehome.co.uk rating: 4.75 out of 5
"I was in an upstairs room to start with but was taken to a downstairs room opening onto a secluded garden which was great. The food was lovely, tasty and hot. The staff were very helpful and pleasant and quick. One member of staff treated me like a silly old ninety-year-old which I did not like at all. I might be 90, silly I am not. However, I would recommend the care home to friends and relatives, and I would consider staying there in the future if the need turned up. I loved the grounds."
J P
carehome.co.uk rating: 4.55 out of 5
"My father-in-law was at Chacombe for a month. The staff, their professionalism and care were outstanding. Many times they would go beyond the call of duty providing the support necessary to the residents, their families and their visitors. The palliative care given and the assistance provided at the moment of death was excellent. Thank you to Chacombe Park and staff. You've made a very hard process bearable."
M W
carehome.co.uk rating: 4.45 out of 5
"I visited my relative today for the first time and was most impressed by the friendly atmosphere and how kind and helpful that the staff were."
G P
carehome.co.uk rating: 5 out of 5
"I was in Chacombe Park for a week. Staff were lovely. Food was excellent, I tried things I'd never eaten before and really enjoyed it. The only problem with my room was the bed. I found it very uncomfortable."
J P
carehome.co.uk rating: 4.7 out of 5
"Friendly, attentive staff. Comfortable room. Excellent amenities, clean and tidy. Situated in beautiful surroundings. I received excellent care for the whole of my three month stay."
Mary B
carehome.co.uk rating: 4.25 out of 5
"The care my mother received was excellent she was happy to be here she has been in other homes before but this is most definitely the best. Keep up the excellent work and thank you for taking such great care of my lovely mum."
I D
carehome.co.uk rating: 5 out of 5
"Mum has only been at Chacombe a short while yet the team there have gone to a great deal of trouble to ensure Mum gets the help she needs. Although normal visits are not possible due to Covid, the measures set in place to enable visits where Mum can see us and speak to us in the secure visiting suite are much appreciated. Some things I cannot comment on as I have not seen them during the present challenging times, however, Chacombe also looked after my Dad during his final days and it was this experience that led Mum to wish to go there also."
Steve
carehome.co.uk rating: 4 out of 5
"I moved my mother-in-law from a nursing home in Banbury to Chacombe Park in October (due to the inability for all but two of the family to see Granny where she was living) and it must be one of the best decisions of my life. Covid has made things very difficult but Chacombe Park have sensible, safe visiting restrictions that meant different members of the family were able to see Granny during her month living there; if she had stayed where she was only two members of the family would have seen her in the 5 months before her death. The home manager, all the nursing and care staff and the administration staff were all very professional, helpful and appeared to go 'out of their way' to be helpful, caring and supportive not just of Granny but of the family too. The knowledge of the manager relating to Granny's continuing health care needs and how to meet these was very reassuring to me prior to moving Granny and during the month before Granny died I witnessed an excellent standard of care."
Trish L
carehome.co.uk rating: 4.58 out of 5
"There is always a genuine welcome at Chacombe Park. Anything we want to ask or raise is dealt with in a timely fashion. The pod for visits is very good and the booking system very fair. My uncle is always clean and tidy and is very settled here. Lovely carers who all deserve to be winners of any care awards."
Vivienne C
carehome.co.uk rating: 5 out of 5
"Chacombe Park have been amazing, supportive, encouraging and nothing but kind since my Nanny transferred there from another home. Within days of arriving at Chacombe Park, her mood was much brighter and the care she has received has been fantastic, we finally feel like all Nanny's needs are being met. The visitors' policy and pod during this unprecedented time allows all of our family to take it in turns in visiting. I would highly recommend this care home to anyone. The staff go above and beyond to make residents feel comfortable in the warm homely environment, nothing is too much trouble. Thank you to all at Chacombe Park for taking such good care of our precious Nanny."
Zoe L
carehome.co.uk rating: 5 out of 5
"I really enjoy my stay at the home but will feel upset to leave."
B S
carehome.co.uk rating: 4.92 out of 5
"Our mother spent several weeks at Chacombe for respite care following a spell in hospital. She was very well cared for by all the staff and made the progress needed to return home. The staff were kind, considerate and engaging with my mother. They were also very helpful to us and our requests."
Stephen S
carehome.co.uk rating: 4.75 out of 5
"I visit the home with my Pets as Therapy Dog on a regular basis. From the first meeting, I was made most welcome by the professional, warm and friendly staff. I was amazed at the high level of cleanliness and heartened by the attentive, sensitive and respectful manner with which all the staff treat the residents. Ultimately it is clear that the residents are all very happy and content - it could just be my 5 minutes with them with my dog, but I seriously doubt that."
Vicky W
carehome.co.uk rating: 4.58 out of 5
"My stay of 6 weeks was very pleasant. I found all the carers very helpful at all times from the minute they came on in the morning to putting us at night to bed they could not help us enough. Although at times it was unpleasant for them and us we were never made to feel awkward. At all times everything was spotless."
S B
carehome.co.uk rating: 4.67 out of 5
"I have been volunteering weekly at Chacombe Park since 2019. Despite the prolonged period of lockdown the home has been currently experiencing, I have still been involved with regular garden visits. In all my time visiting the home I have always been hugely impressed with the highest levels of care and kindness that are always offered to every single resident. They always seem happy and comfortable and every member of their team treats them with real love, patience and respect. They really listen to the residents and regularly make them laugh and even make time for some of them to get down and have a bit of a boogie. The home is always very clean and tidy and things tend to run very smoothly. It very much runs like a family rather than just a business. People will always make you feel very warm and welcome and a big smile will always go a long way at Chacombe Park. I look forward to my ongoing future contact with this lovely care home."
Jonathan A
carehome.co.uk rating: 5 out of 5
"My husband had Altzheimers for 12 years. We lived in Nottinghamshire up until four and a half years ago when we moved into Chacombe House. My husband was mobile up until earlier this year sow we knew a lot of the staff and would call info tea or coffee on our daily walks. He was hospitalised and not allowed home so went into our second home Chacombe Park. His care was first class and although his memory had now gone he did smile and try to talk to the carers. They were marvellous. He died there on September 5th 2020."
A R
carehome.co.uk rating: 4.92 out of 5
"My mother spent the last 14 months of her life at Chacombe Park following a disabling stroke and I am so pleased that she was cared for in this happy, comfortable and caring environment. The buildings and grounds are beautiful, but the atmosphere and the staff really make the place special. The management, nurses, carers, and office staff all take a genuine interest in the residents and were unfailingly kind, smiley, patient and attentive, even though Mum took time to settle and could be demanding at the beginning. The home is managed extremely effectively by the current manager and senior nursing staff who were always accessible for one to discuss my mother's care and willing to work with the family to get the best outcomes for her. Mum was fond of the staff and enjoyed chatting and joking with them. I am deeply grateful to Chacombe Park and so happy to have found such a lovely place for my mum, where nothing ever seemed too much trouble and no problem too small to merit attention."
Lesley W
carehome.co.uk rating: 4.83 out of 5
"Although we never got to visit the home, communication with us was outstanding. Care for my Mum was above and beyond with her short time there."
N P
carehome.co.uk rating: 5 out of 5
"My brother was on end of life care and was made as comfortable as possible. The staff really took great care of him and even baked him a cake on his birthday. My sister and I were well looked after and comforted by knowing how much the staff cared for my brother."
M N
carehome.co.uk rating: 4.83 out of 5
"I am so pleased with the care my brother received at Chacombe Park. His room was comfortable and clean; the food was excellent, staff friendly, helpful and knowledgeable. Especially appreciated the efforts to make his birthday special. Staff explained everything to us, going into some detail at end of life. They also looked after us very well on his last day, even providing food and drink for us! Being able to visit weekly, knowing the end was near was great."
I N
carehome.co.uk rating: 5 out of 5
"I have been living at Chacombe park for over a year now, I am 64 years of age. I could not take care of myself at home. I am very happy here, I have been very poorly recently I suffer from osteoarthritis and psychosis. Management and staff have all been so very kind to me. I would not want to live anywhere else."
L W
carehome.co.uk rating: 4.92 out of 5
"I was extremely impressed by the way the whole care home worked together to get us through the recent pandemic. All of the staff did different jobs to get us through."
V T
carehome.co.uk rating: 3.67 out of 5
"The care my mum received was second to none. I sing the praises of Chacombe Park to everyone, family, friends and strangers alike. On the dementia floor, every member of staff gave the same level of attention towards my mum. She never liked personal care, they were so patient with her. The reception, so helpful and kind. Also the manager."
R P
carehome.co.uk rating: 5 out of 5
"Dad is looked after very well. He has settled in and is very happy. Food is great."
Lisa C
carehome.co.uk rating: 5 out of 5
"All management, nursing, care, maintenance, kitchen, laundry and housekeeping staff treated my wife, myself and my family and our friends with care and respect and helped us all through a very difficult time."
R T
carehome.co.uk rating: 4.5 out of 5
"Such a wonderful place. Beautiful grounds, lovely care staff. My Aunt is very lucky to be enjoying her life here. We really enjoy visiting her and having a lovely lunch. I hope I can become a resident here in about 20 years!"
D L
carehome.co.uk rating: 5 out of 5
"I cannot praise the members of staff highly enough from office staff to nurses to the cleaners. They are always friendly and helpful and will do anything they can to make you feel happy and reassured. I can rest easy knowing Mum is in such good hands. She couldn't be in a better place. The staff have been such a help from the start, helping me in all areas, including finances. They are always there to talk if I have any problems."
K B
carehome.co.uk rating: 4.5 out of 5
"'Home from home'."
Sylvia H
carehome.co.uk rating: 4.17 out of 5
"I'm very pleased with how my uncle is being cared for, all staff are very dedicated looking after residents in the home, and there is always plenty of activities throughout the week to keep their minds body simulated. This week they have just in installed magic table, it's a fun way to help stimulate people with dementia, a projector mounted to the ceiling projects images or games on to dining room table which responds to hand and arm movements when touched, the residents will have a lot of fun playing games, which in return will help them exercise and stimulate their minds. Well done Chacombe Park."
Robert B
carehome.co.uk rating: 5 out of 5
"My mother is in the nursing wing. She has recently returned from a two week stay in hospital with very reduced mobility. I was assured staff would respond quickly to the call bell. I accidentally set the call bell off (via the alarm mat they have placed in front of my mother's chair) the day after she left hospital. Staff eventually arrived after just under 20 minutes. Not a quick response and just to point out staff had no idea I was there. Mother also needs soft food at the moment and assistance in being fed. Last night she was brought mashed potato and cheese, not exactly an appetising meal. Due to the normal staff levels, she had to wait 40 minutes before someone was available to help feed her, so she was given cold mashed potato and cheese. She obviously refused this and was eventually bought 2 yoghurts. She is currently a stone underweight and anaemic. This appalling level of care is not helping her recovery in any way."
Anna R
carehome.co.uk rating: 2.67 out of 5
"I find the beautiful home and gardens at Chacombe Park extremely well cared for and the atmosphere friendly and welcoming. The nursing care and personal care to my husband is extremely good. There is a serious lack of social care for the residents. Those with advanced dementia are often left alone and very little if any, social stimulation. The 'homely' atmosphere the severe dementia unit (Memory Lane) once had is no longer there."
M H
carehome.co.uk rating: 4 out of 5
"My mother has spent a month respite care after major surgery. Everyone has been extremely kind, friendly and totally professional in the care of my 92-year-old mother. The food, all meals, have been excellent! Family often joined my mother in the lovely restaurant for lunch. No visiting restriction time meant Mum had lots of callers at different times of the day. Mum especially liked having such a good hairdresser!"
Gail S
carehome.co.uk rating: 5 out of 5
"My husband was well cared for. I was pleased with the attention he was given and the respect owing to his illness. I thank you all for the TLZ and for his needs. Everyone I spoke to was very polite and helpful. I thank you all for caring for him."
H B
carehome.co.uk rating: 4 out of 5
"My sister was a resident at Chacombe Park for 18 months or so until she sadly passed away with cancer. We thought the Home was terrific and gave my sister great care whatever her varying needs were at any time. My sister absolutely loved it there and got to know all the lovely staff at all levels."
James W
carehome.co.uk rating: 5 out of 5
"Very organised as we were taken in at short notice, great welcome and care. Nursing staff very helpful and all carers were very good. Very accommodating for my mum who visited every day. Thank you very much for helping my dad feel settled and return to good health."
K J
carehome.co.uk rating: 4.67 out of 5
"We were made to feel very welcomed by all staff. Care and support was excellent, a very relaxing environment. Room and cleanliness very good. Food - good choices on all courses. Staff provided very good care and support through the day and night time, very beneficial to my husband's recovery."
J B
carehome.co.uk rating: 4.92 out of 5
"Delightful staff. Always helpful and a very nice location."
J S
carehome.co.uk rating: 4.67 out of 5
"We have thoroughly enjoyed our stay. If we came again, we would prefer to occupy a warmer room but we understand the weather has turned quite cold. We are very impressed by the level of care and attention by all of the staff."
T S L
carehome.co.uk rating: 4.42 out of 5
"Most of the staff are excellent on Memory Lane (dementia unit). However, they are regularly stretched and there have been issued when there is not enough staff available. Our recent complaint was responded to quickly and improvements made. Whilst the need for more staff is disputed, particularly Memory Lane needs more attention when there are incidents to support the other residents and to engage all, including the less able, in meaningful activities. Despite these issues, the home is always clean and the food prepared is of excellent quality."
Miriam M
carehome.co.uk rating: 3.75 out of 5
"Having had a dreadful year with Dad moving from one illness to another, he is now able to enjoy life again, which would not be possible without good care in a setting such as this. Staff are very friendly, and in this, I include laundry ladies, cleaners, maintenance and garden staff, activities and reception teams, as well as carers, nurses and the manager. Over recent years the home has suffered far too many short term managers, so even if good in themselves, lack of continuity has led to problems. We hope for a period of stability now; retention of good quality staff is SO important. Dad particularly appreciates the sense of space, with lovely grounds to enjoy in the warmer weather, but also a large room and wide corridors, suitable for electric wheelchairs."
M W
carehome.co.uk rating: 4.42 out of 5
"The high standard of care is manifest in the friendly, engaged staff as well as in the beautifully maintained home and its grounds. I walked around the grounds this morning with a light sprinkling of snow making it look magical and I thought how lovely for any resident able to look out at this or even take a stroll around the grounds. Well done!"
Jane S
carehome.co.uk rating: 4.08 out of 5
"Excellent."
Jean S
carehome.co.uk rating: 5 out of 5
"I have been in this care home since 31 March 2017 after a time spent in hospital. From the first moment, I was well treated by carers and was placed in a room which had just been redecorated throughout with a lovely view outside. The grounds outside are excellent and it is a pleasure to walk round in them, peaceful and quiet. The staff are very good and are always anxious to be helpful in any way and really friendly. I would greatly recommend this care home to anyone who wishes to settle down and enjoyably spend a life here."
Robert C
carehome.co.uk rating: 4.45 out of 5
"I am very happy here. The care workers do care and we are very lucky to have two good organisers. Cleaners are very good. Also the front desk staff are always pleasant and happy to help. One complaint - it would be much appreciated to receive what is on the menu, such as croutons, garlic bread and sauces for meats."
Heather B
carehome.co.uk rating: 4.82 out of 5
"Comfortable and happy."
C H
carehome.co.uk rating: 3.58 out of 5
"Our family is so pleased with the care you give to my mother. They cope with her tendency for challenging behaviour and particularly her distress when she is left alone. The staff are so friendly to her (and us). They anticipate her needs so well. We really feel that she couldn't be in a better place."
Richard H
carehome.co.uk rating: 4.83 out of 5
"We definitely feel that Mummy is in the right place at Chacombe Park and it's a great relief to know that she is safe and well cared for by staff who really understand the condition of dementia. Knowing how to handle mummy and cope with her challenging behaviour at times means that we all have peace of mind. Thanks to all the staff."
Anne P
carehome.co.uk rating: 5 out of 5
"My sister was admitted to Barchester Chacombe Park Beaumont for end of life palliative care. My expectations for her care were high but the care given was of such high quality that it exceeded my highest expectation. The staff from senior management through all functions were especially caring and efficient. All services were of a high standard and the general ambience of the home and the beautiful grounds were perfect. This was an ideal place for my sister to be cared for in her final weeks. Thank you to everyone in Barchester Chacombe Park Beaumont."
Michael G
carehome.co.uk rating: 5 out of 5
"Each week I volunteer as a driver, visit this wonderful care home with the husband of one resident lady and I do meet quite a few staff all of which behave so professionally I think the residents are very lucky to be there. I am welcomed each visit by the most friendly ladies in reception which makes my lengthy visit a real pleasure. Well done and thank you for everything."
Peter R
carehome.co.uk rating: 4 out of 5
"It has been a very happy experience to have resided here in Chacombe Park. I have nothing but good things to say about this facility. Your staff work extremely hard under difficult and exacting conditions, yet they go above their work with a smile on their face. I am particularly impressed with your senior management who, in spite of the fact they are under immense pressure, have treated me with respect and help."
J D
carehome.co.uk rating: 5 out of 5
"Chacombe has had a difficult time of late; many staff leaving and a new manager in situ. The manager promised to turn things around and, indeed, she has stuck to her word with an efficient professionalism. I have noticed a huge difference in staff morale and Chacombe is, once again, a happy ship with a prime motive, to give my father and all the residents the best possible care. There is a buzz about the place and a new momentum to help in achieving what the new manager wishes. She is an inspiration to her staff."
S B
carehome.co.uk rating: 4.5 out of 5
"After a rocky start to the year with staff departures, a new manager has arrived and with a magic wand has flown in and brushed all the cobwebs away to restore Chacombe Park to a care home of excellence in all respects. The well-being of residents is the prime aim and concern. My father is cared for with such warmth and dignity in the most wonderful environment. All staff are amazing with the residents. Chacombe Park is a home of outstanding care - long may it continues."
Susan F
carehome.co.uk rating: 4.75 out of 5
"The setting of Chacombe Park Beaumont is extremely tranquil and creates a lovely ambience. Staff care on a daily basis is very good with individual attention from carers and nursing staff who quickly grow to understand the know the residents and their needs very well. The rooms and environment are spacious, clean and calming."
K C
carehome.co.uk rating: 4 out of 5
"The level of service, care and assistance has been consistently exemplary."
H P
carehome.co.uk rating: 5 out of 5
"I am very pleased to see improvements in the home under the influence of the new manager. Staff seem happier and the atmosphere in the home is good. Mum is very happy here and has made some good friends. She is also well cared for."
J M
carehome.co.uk rating: 4 out of 5
"The care received by my Mother is generally very good, the staff are friendly, polite and treat the residents with respect. Very nice location with lovely grounds, large en suite rooms and nice visitors areas. I would have given a higher rating in the review but since my Mother has been a resident (seven years) the same issues keep reoccurring. Staffing levels have always been kept to a minimum, which does result in staff shortages and residents waiting for up to half an hour for attention, which can cause problems for those who require carers to assist with basic needs! The food is inconsistent at best its average at its worst it is returned to the kitchen! Overall the care home does not represent good value for money, the fees increase but the areas of concern do not improve."
Duncan R
carehome.co.uk rating: 3.17 out of 5
"Very friendly staff. Enjoys the many activities, feels very safe. Happy environment."
Mike G
carehome.co.uk rating: 4.58 out of 5
"My mother has been a resident since October 2017. In this time, the staff have got to know her and ensure that she is cared for well. She has Alzheimer's and although previously very independent, she now requires help with washing and dressing. The staff are always kind and thoughtful and they have persuaded her or join in activities that she would not have done if she were still in her own home. My mother is very happy at Chacombe Park."
S N
carehome.co.uk rating: 5 out of 5
"Excellent services from all members of staff"
Brian B
carehome.co.uk rating: 4.25 out of 5
"Very friendly and welcoming staff. Good environment and nice rooms."
J S
carehome.co.uk rating: 5 out of 5
"In the short time that my uncle has been here, he has received good care but feels that staff are under a lot of pressure. The room was really nice to move in to with a pleasant view from the windows. He feels that the food is sometimes a little tough and the choice is a little limited."
M B
carehome.co.uk rating: 3.92 out of 5
"From the receptionists to nurses, everybody we met were so friendly and helpful. Carers are so caring which is not always the case in some care homes. Supporting the family as well as the resident."
Karen M
carehome.co.uk rating: 4.83 out of 5
"When I arrived I was unable to walk and was very exhausted. The staff really looked after me and enabled me to get back my strength and my legs."
Richard C
carehome.co.uk rating: 4.33 out of 5
"Arrived in a very distressed state mentally and physically and the whole staff looked after me beautifully and took the care of my husband off my hands until I had a chance to recharge my batteries. The kindness I was shown was overwhelming. Thank you. Thank you also for taking us in at such short notice."
Patricia C
carehome.co.uk rating: 4.36 out of 5
"My husband has been in Chacombe Park for eighteen months, during which time he has been treated with dignity, the nursing care has been excellent. The staff treat me and my family in a friendly way and keep me informed of changes. Keep it up."
Joan B
carehome.co.uk rating: 4.83 out of 5
"The staff have been so helpful and have given me so much care and love in helping me in the passing of my mother."
Sandra T
carehome.co.uk rating: 5 out of 5
"My husband needed palliative care until it was necessary for end of life care. My husband was well cared for, kept clean, showered and shaved. The nurse was excellent. Healthcare Assistants were kind, cheerful and helpful. The whole team were quickly responsive to any requests. The home is well kept and maintained. It's very clean and has genuine care by genuine people. Thank you for supporting us through such a difficult time."
M E
carehome.co.uk rating: 4.64 out of 5
"A beautiful home in lovely surroundings. Good facilities and a range of activities. The lack of continuity of staff has a serious effect on the standard of care. There are many good carers but the home manager has changed too often. Too many agency staff are used to keep the numbers safe but this is unsettling for both residents and regular staff alike. Food can be unsuitable for old people eg chewy, tough, undercooked but is generally satisfactory."
Jeanie E
carehome.co.uk rating: 3.83 out of 5
"Lovely location, grounds and building. Good choice of food for all tastes. Inconsistent in the delivery of care plans. Struggle to get my mother's name correct. First priority is ensuring monthly fee is paid. Some lovely individuals in the staff/tea, who really care but overall, very average care with many flaws."
M W
carehome.co.uk rating: 3 out of 5
"Receptionist, housekeeping and laundry all carry out excellent work and are polite and friendly and probably not recognised enough as they just get on with jobs in the background. Care staff are very kind, helpful and caring but often they are short staffed which puts extra pressure on them when they are already working very hard. The majority of the nursing staff are very very good and go above and beyond. The supply nurses can sometimes not be so easy to understand and not know the residents so well. I feel I have to sometimes chase things as they don't always happen after I am told they will."
D F
carehome.co.uk rating: 4.64 out of 5
"My father-in-law has been a resident at Chacombe for many years. The care he has received has been amazing. The staff at Chacombe are their biggest asset, always ready with a friendly smile and time for a chat. We are very happy that dad got to spend his final years at such a lovely home."
Amanda H
carehome.co.uk rating: 5 out of 5
"My husband has been in Chacombe Park for just over a year. We have found the staff and facilities excellent. Nothing is too much trouble. The food is to be recommended - excellent."
Joan B
carehome.co.uk rating: 4.83 out of 5
"Charcombe Park Beaumont comprises a large, stone faced property with a roofing of clay tiles up to three storeys in height, set back from both the village of Charcombe and Banbury Road, nestling within a country park setting of well-established dense growth of a variety of tall mature trees amongst thick ground bearing shrubs, which in certain areas open out into well maintained and significant areas of grasslands offering sweeping views. This environment supports a network of footpaths affording a variety of country walks for residents, some of which are suitable for wheelchairs. The care home property is surrounded with a broad walkway of concrete paving slabs which gain access to planted garden areas around the property many of which are maintained by the residents gardening club. On the whole, it can be stated that living at Charcombe Park is comfortable, warm, friendly and stress-free. The surroundings, the décor in both the public and private rooms have recently been upgraded and well furnished. A program of activities is scheduled each week covering both mental and physical subjects with occasional visits in the care home mini bus to sites of interest such as Blenheim Palace and Upton House with other visits to restaurants, tea houses and pubs."
I M
carehome.co.uk rating: 4.5 out of 5
"Chacombe Park is a haven nestling in a rural location close to the Cotswolds. The home is welcoming with its display of flowers and immaculate lawns which continues into the Reception area. Staff are friendly, helpful, courteous and totally competent. My father receives first class care and has told me on numerous occasions how lucky he is. It is such a relief to me to know my father is so content and well cared for at Chacombe Park."
Susan F
carehome.co.uk rating: 4.92 out of 5
"Very well run, caring and friendly. I would recommend it to anyone."
B J
carehome.co.uk rating: 5 out of 5
"We are part of the independent living here at Chacombe Mews and want to express our delight with the appointment of the new General Manager, a breath of fresh air which has flourished within the Park's community. Long may she remain with us to fulfil the great plans she has discussed with us all to make our living here such a wonderful experience. Thank you from all the Mews residents."
Roland S
carehome.co.uk rating: 4.25 out of 5
"My mother has been on the nursing wing in Chacombe since March 2017. The staff are all highly professional, caring and very welcoming to residents and visitors. There are daily activities, usually twice a day which all residents are encouraged to attend. The setting is beautiful with all rooms overlooking the large grounds that surround the home. Any small problems I have had been dealt with quickly with follow-up by managers to check that all is OK. My mother's behaviour can, at times, be a little challenging and staff deal with her in a calm and caring manner. I am kept very well informed of any health issues, falls or any other problems my mother has due to her illness. Residents are encouraged to maintain their independence and their separate needs and personalities are all taken into account when making any decisions."
Anna R
carehome.co.uk rating: 4.92 out of 5
"I have been at this care home at Chacombe near Banbury for just over a fortnight. My single room (including toileting with hot shower) is well arranged with all necessities. The grounds of the large property are very extensive, including a lake and are therefore good to walk in, and I go for at least 2 long walks every day. It is well staffed. The staff are efficient and helpful; if you ask one of them if they can do a particular task for you, you can be sure that they will if they can. Food at all meals is the best quality and varied. Altogether, I would recommend this location and I have come to regard it as my REAL HOME."
Robert C
carehome.co.uk rating: 3.75 out of 5
The gratitude we have for each of you, who cared for Mum with such kindness and tenderness is immense. You understood and forgave her difficult behaviour and kept focused on her sweet and gentle nature-as well as her sparkling wit and humour. After a life dogged by the torment of medical procedures and years of constant pain, that her last few days were entirely free from pain and medication is remarkable. We thank each of you for being a part of Mum's life since she came to Chacombe. You've made a difference and helped in ways too numerous to mention. With our loving thanks
Thank you to everyone for all the help and care and the many small kindnesses you showed to my mother. She loved everyone at Chacombe and it was the loving care of the staff at Chacombe that made her life so comfortable and secure. She lived at Chacombe for 6½ years and because of your care, her final years were greatly enriched and, in fact, you all extended her lifespan. More than anything, you were all so kind and friendly towards her and I know she appreciated this so much.
Bless you all, I am so very grateful of all you did for Yvette and my family when we visited her.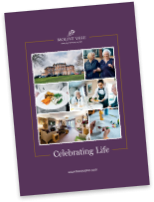 Read our brochure 'Providing great quality care and wellbeing' for more information on how we're here to help you and your loved one.
Read brochure
Food & Nutrition
Activities & Events
Care & Facilities
What happens now?
Are you ready to discuss your individual care requirements? Pick up the phone and talk to us, book a visit to our care home or come and take a look around our facilities.
Our fees and contract
We want to be as transparent as possible about how we charge for the different services we provide as well as what's included in our contract. Please click the links below to find out more about our fees and contract.
View typical fees
View Our Contract
Useful downloads
Here to help you make the right decision about your care requirements.
39