Meet the Camellia House Care Home team
Our staff are what hold the home together. Each one of these team members are dedicated to providing high quality care and services to those we support, and ensuring that residents enjoy all aspects of life at our home. See below to meet some of our friendly faces:
Brighton Nyagomo
General Manager
Hi, my name is Brighton, and I am the General Manager here at Camellia House. Welcome to our website!
I am an experienced manager with a demonstrated history of working in the hospital & health care sector. I am skilled in nursing management, emergency nursing, clinical research and customer service. I am a strong operations professional with a Bachelor of Science - BSc. Hons focused in Pharmacology from the University of East London.
Nolizwe Mangisi
I have been a nurse since 2007 and I have worked in various settings. I am passionate about my job and I always approach every challenge with everything I have.
I have worked for Barchester since 2017 and I joined Camellia House in 2017. I am looking forward to growing a relationship with the team and our wonderful residents, who all make this job worthwhile.
I am blessed to be able to contribute my knowledge and experience to Camellia House and to continue to do this job which I love, as it makes a difference to someone's life. My role is to support the General Manager and all staff in order to continuously improve our care and work towards an outstanding level of care.
Show More
Kelly Salmons
I started working at Camellia House in 1990 as a Care Assistant and from there I worked my way up to become a senior carer. I was also one of the home's in-house trainers where I enjoyed encouraging new staff to flourish in our home.
I am now the home administrator. I got to this position through hard work and dedication. I enjoy working at Camellia House with all my hard-working colleagues, lovely residents and their families.
I get to meet people from all different walks of life. At Camellia House, no two days are the same, every day brings a new challenges which is what keeps me busy and enjoying my job. The thing I enjoy most about my job is knowing we are all working as a team to make a difference to our resident's lives, that feeling is irreplaceable.
Show More
Bama Kangben
I have worked in the care sector since 2012 and I love coming to work every day. Putting smiles on residents' faces gives me job satisfaction. I have been a qualified care practitioner since 2016 and I enjoy assisting the nurses with their tasks.
Linda Wilkie
I have worked in this home for nearly 30 years, so it is very much part of my life. I started as a part-time Domestic when my children were small and, as time has gone by, I have become a Senior Carer and the Activities Coordinator.
I have NAPA and OOMPH qualifications, as well as an NVQ Level 3 Health and Social Care.
I am very passionate about my role, as it is very important to us as a team that every individual is able to live the life they wish, feeling fulfilled in their mind, body and soul, maintaining past hobbies, yet have the opportunity to try new experiences.
I have built up a very good rapport with our team, our residents, family and friends, and I have built many links with the local community, which all help the residents get the most out of life at Camellia House.
I enjoy every day; the smiles on the faces I see are reward for doing a job I love.
Show More
Zena Salmons
I first began my journey at Camellia House in 2017, where I was doing volunteering as part of my Duke of Edinburgh Award. I then decided to take on the receptionist role on a bank basis, as I enjoyed my time in the home so much.
Recently I was offered the job on a part-time basis, so that I could continue studying Business Administration at university whilst having a part-time job which was flexible.
My role as a receptionist has encouraged me to grow as a person. I am passionate about providing a friendly, caring service and I enjoy building a rapport with the residents and their families.
Here at Camellia House, no two days are the same, my role is very varied and this is what I enjoy the most. I feel privileged to offer help to families and support to our residents in what can be a very difficult and emotional time.
Show More
Lilia Espina
I came to England in April 2002 and had my adaptation period. When I got my pin from MNC I applied to Camellia House as an RGN in December 2002. I've worked here for 7 years. I left in January 2010 and came back in April 2015 until present.
My role as an RGN is to support my manager and to work with my colleagues to provide outstanding care to our residents.
Show More
Lynn Brachtvogel
My previous job was a domestic cleaner at Princess Alexandra Hospital in Harlow, Essex. I enjoyed my job but rarely got to know any of the patients on the ward, as it changed daily.
However, since joining Camellia House as part of the housekeeping team, it has made me realise how caring and homely a care home can really be. Getting to know the residents and hearing their stories is a real joy, making it a lovely place to work.
Show More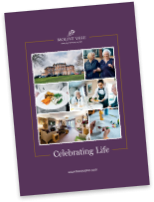 Read our brochure 'Providing great quality care and wellbeing' for more information on how we're here to help you and your loved one.
Read brochure
Food & Nutrition
Activities & Events
Care & Facilities
What happens now?
Are you ready to discuss your individual care requirements? Pick up the phone and talk to us, book a visit to our care home or come and take a look around our facilities.
Care enquiries
New care enquiry phone lines are open 8am - 8pm
01920 644624
All other calls
Our fees and contract
We want to be as transparent as possible about how we charge for the different services we provide as well as what's included in our contract. Please click the links below to find out more about our fees and contract.
View typical fees
View Our Contract
Useful downloads
Here to help you make the right decision about your care requirements.
52115