Meet the Ashlar House Care Home team
Our trained team of professionals work together to create the best possible experience for those living in the home, striving to deliver excellent care services in a warm, homely environment. You can find out more about some of our wonderful staff members below:
Sharon Osborne
General Manager
Hello, and welcome to our website. My name is Sharon and I am the General Manager of Ashlar House care home. 
I am proud to be leading the fantastic team at Ashlar House to provide the very best care and lifestyle for all of the residents.  
My vision is to create a 'home from home' environment, where residents are actively involved in organising events, making decisions, and planning their care. 
Our door is always open to visitors who want to experience our family-friendly atmosphere and I am always ready to speak to anyone who is starting to explore their future care needs.
Sarah Chant
Hi, my name is Sarah and I am one of the Senior Carers here at Ashlar House.
Being a Senior Carer at Ashlar House is very rewarding, we have a superb team and fantastic residents. The care team look after each resident's day to day care needs and we often get to know the residents better than family!
Show More
Kristina Suopyte
Kristina has been at Ashlar House since 2010. She is responsible for maintaining the cleanliness and presentation of the home. Kristina is extremely artistic, and you will see much of her handiwork as you walk around the building. 
 A firm favourite of the residents here, Kristina always has time for a chat and to help a resident arrange their room just the way they like it.
Show More
Villah Mutyasira
Hi, my name is Villah and I am the Senior Night Nurse. 
I have been at Ashlar House since 2016 and I love it here. I am in charge of the wonderful night team, we take care of all the residents during the evenings through to morning. My team is very dedicated and I am proud of the work they do.
Show More
Natasha Wilkins
Hello, I'm Natasha and I am one of the Care Practitioners. 
I have been working as a Care Practitioner at Ashlar House since 2013 and it gets better every year. The care team here is very talented and hard working, we are all aiming to provide the sort of care that we would want our own family to enjoy. 
Working alongside passionate carers and nurses each week is a privilege and this is a very happy home.
Show More
Ariel Hibionada
Ariel is our Head Chef with 8 years experience working within the catering departments of Care Homes. He has been head chef at Ashlar for 6 years and is responsible for developing and maintaining a nutritious, varied and interesting menu. He is also responsible for the purchase of fresh products and the preparation of individual meals. He is enthusiastic about cooking and works with residents incorporating their ideas and choices onto the menu.
Show More
Derek King
Hi, my name is Derek, I am the Head of Maintenance at Ashlar House. My role is to ensure that the home is always in tiptop condition.
Since joining the team I have also taken on the role of Health & Safety Champion. It is my duty to keep the building in good repair and ensure everyone's safety.
Ashlar House is a beautiful home and everyone who visits us is guaranteed a warm and welcoming hello. I take great pride in our gardens and I ensure that our home is kept to a very high standard.
I'm here to help in any way I can, and will always make time for a quick chat.
Show More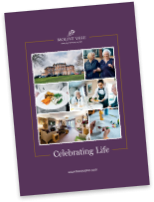 Read our brochure 'Providing great quality care and wellbeing' for more information on how we're here to help you and your loved one.
Read brochure
Food & Nutrition
Activities & Events
Care & Facilities
What happens now?
Are you ready to discuss your individual care requirements? Pick up the phone and talk to us, book a visit to our care home or come and take a look around our facilities.
Our fees and contract
We want to be as transparent as possible about how we charge for the different services we provide as well as what's included in our contract. Please click the links below to find out more about our fees and contract.
View typical fees
View Our Contract
Useful downloads
Here to help you make the right decision about your care requirements.
15