Meet the Ashford House Care Home team
Our trained team of professionals work together to create the best possible experience for those living in the home, striving to deliver excellent care services in a warm, homely environment. You can find out more about some of our wonderful staff members below:
Daisy Mingle
General Manager
Hi, my name is Daisy, and I am the General Manager here at Ashford House. Welcome to our website!
I have been part of the Ashford House team for a long time now and I am enjoying using my skills and experience in nursing to care for the residents. I have been a nurse for over 15 years, starting in the Philippines, and have continued to develop my skills since moving to the UK.
I am happily married with a son and I feel privileged to be able to work in a job I feel passionate about.
Sheeba Khan
Hi, my name is Sheeba, and I am an Activities Coordinator here at Ashford House.
Having a degree in Fine-Arts and a creative background enables me to plan person-centred activities according to the personalities and tastes of our residents here at Ashford House. I believe and work towards making a positive difference to their day to day life and I can honestly say this is one of the most rewarding jobs. I am really enjoying my role as an Activities Co-Ordinator at Ashford House.
Show More
Sharon Pearson
I joined Ashford House as Head Chef in 2015, having previously worked for several large catering organisations.  I wanted to be able to focus my skills on providing for a smaller group of people with varying needs.
I am responsible for managing the kitchen budget as well as my kitchen team, which comprises a 2nd and 3rd chef and 4 kitchen assistants.
My primary focus is to ensure high quality, nutritious, appetising meals are provided for our residents, using fresh, seasonal produce as much as possible.  There are many different dietary needs amongst our residents and I enjoy working with families to ensure their loved ones' nutritional needs are fully addressed whilst, at the same time, providing them with their favourite foods.
My kitchen team and I know how important food safety, hygiene and cleanliness are in the kitchen environment, and I am proud of achieving excellent results in all inspections, by both in-house and external auditors.
I encourage my kitchen team members to take advantage of courses offered by Barchester to improve their skills in order to enable them to further themselves.
Show More
Linda Elward
Linda has worked in Ashford House since 2010. She first joined as a Care Assistant, but was offered the position of Head Housekeeper in June 2015. Since then, Linda has been a dedicated member of staff, always upholding excellent standards throughout the home. Linda is responsible for ensuring that the laundry and domestic departments run smoothly, providing an outstanding service for everyone we support. Alongside this, she and her team maintain our show rooms to an incredible standard and prepare rooms for new residents, making them as homely and welcoming as possible.
Show More
Josephine Brittain
My name is Josephine Brittain and I was employed by Barchester in June 2009. As a professional, I have enjoyed every moment of it and advanced in my career as acting Head of unit in 2012. I got my promotion as a Head of Unit in 2014. I mentor staff and feel proud of this achievement. I try my level best to provide safe and effective nursing care alongside my colleagues using all my skills. I keep up with all the information and guidelines provided to the home to promote the care of our lovely residents. I love my profession and I'm proud to be recognised as a Nurse.
Show More
Lesley Parslow
Hello, my name is Lesley Parslow and l am the Admin Assistant at Ashford House.
I have worked here for 15yrs and have had the privilege to meet a lot of lovely residents and staff as l started here not long after the home opened.
Malgorzata Chocianowska
My name is Maggie and I have worked at Ashford House since 2013. I commenced my employment  here as a nurse, in November 2018 I was promoted to 'Head of Unit', this is  a role I am really proud to hold. I enjoy supporting my team, fellow nurses and families of residents. I work to Barchester's and my high standards and make sure all the needs and requirements of our many residents are met daily for their comfort and safety.
Every day my role brings new challenges and an opportunity to use my skills and knowledge to provide a safe, clean environment for our residents.
Show More
Irina Urzeine
Hi, My name is Irina Urzeine and I love working as a Care Practitioner at Ashford House
Housekeeping Team
Here's our Housekeeping team who keep Ashford house spotless and welcoming at all times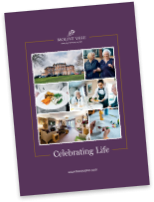 Read our brochure 'Providing great quality care and wellbeing' for more information on how we're here to help you and your loved one.
Read brochure
Food & Nutrition
Activities & Events
Care & Facilities
What happens now?
Are you ready to discuss your individual care requirements? Pick up the phone and talk to us, book a visit to our care home or come and take a look around our facilities.
Our fees and contract
We want to be as transparent as possible about how we charge for the different services we provide as well as what's included in our contract. Please click the links below to find out more about our fees and contract.
View typical fees
View Our Contract
Useful downloads
Here to help you make the right decision about your care requirements.
14