Meet the Ashcombe House Care Home team
Our trained team of professionals work together to create the best possible experience for those living in the home, striving to deliver excellent care services in a warm, homely environment. You can find out more about some of our wonderful staff members below:
Jane Moseley
General Manager
Hi, my name is Jane and I am the General Manager here at Ashcombe House. Welcome to our website!
Bianca Garcia
Hi, my name is Bianca and I am Deputy Manager here at Ashcombe. I have been a nurse for 14 years and I joined Barchester in 2016. I am passionate about my work here and will  make sure that our residents will continue to receive the highest quality of care.  Here at Ashcombe, we truly believe that "Team Work makes the Dream Work.
Show More
Anita Suniwar
Anita originally joined Ashcombe House as a Carer in 2014. She always took a keen interest in medication and the role of our nurses, so Anita felt it made sense to be trained as a care practitioner.
Karina Ismail
I have been working at Ashcombe House since 2017. I originally joined as a care assistant before moving to the activities team, and now I am the home's administrator. 
Having had an admin background, this was an easy transition, and I still get to see all our lovely residents day-to-day. Some of them even like to help with making up our brochures and putting our newsletters in envelopes, which they seem to really enjoy.
Show More
Michelle Martin
I'm a fun, loud and outgoing individual who loves organising fun activities for residents at Ashcombe House (and staff, if possible). I'm very creative and keep the residents very active, both mentally and physically In my spare time, I love doing a lot of fundraising, which usually ends up with me sliding in mud.
Show More
Gemma Pitman-McGrath
Clinical Development Nurse
Hello, I'm Gemma and work for Ashcombe House as the Clinical Development Nurse. I love my role supporting the team to deliver the very best care to our residents
Stacy Ahston
Stacy used to be in the Army as a combat medic before joining Barchester in 2014. Stacy joined Barchester as in-house and online trainer as the home before progressing to Operational Trainer.
In her spare time, she likes to spend time with her family and friends
Eric Muldoon
I've recently joined the team at Ashcombe House and I bring with me a wealth of knowledge and experience in maintenance and refurbishment.
I've been married for over 30 years with 3 children and 3 grandchildren who I love to spend time with, camping and getting out and about. I'm a big Rugby League fan and a devout Saints fan.
I enjoy playing the guitar and enjoy 60's & 70's rock music.
Show More
Housekeeping Team
Head Housekeeper, Juliana, can be seen with her housekeeping team: Khim, Agness, Irs and Naanda. They all love working at Ashcombe House, ensuring that they maintain a clean environment for residents. They are a friendly and happy team who love their jobs. They enjoy getting to know the residents and always spend time chatting to them whilst they are cleaning the home.
Show More
Care Team
Here at Ashcombe, we have a friendly care team who are committed to delivering the highest standards of care to those we support. We have a real family feel here and enjoy working together to make living with us fun and comfortable.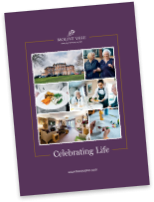 Read our brochure 'Providing great quality care and wellbeing' for more information on how we're here to help you and your loved one.
Read brochure
Food & Nutrition
Activities & Events
Care & Facilities
What happens now?
Are you ready to discuss your individual care requirements? Pick up the phone and talk to us, book a visit to our care home or come and take a look around our facilities.
Care enquiries
New care enquiry phone lines are open 8am - 8pm
01256 442 675
All other calls
Our fees and contract
We want to be as transparent as possible about how we charge for the different services we provide as well as what's included in our contract. Please click the links below to find out more about our fees and contract.
View typical fees
View Our Contract
Useful downloads
Here to help you make the right decision about your care requirements.
12