Meet the Ashby House Care Home team
Our trained team of professionals work together to create the best possible experience for those living in the home, striving to deliver excellent care services in a warm, homely environment. You can find out more about some of our wonderful staff members below:
Francesca Fosu
General Manager
Hello. I am Francesca and I am the General Manager here at the home.
I completed my nurse training ten years ago and I joined Barchester when I first qualified as a nurse. I have worked for other care providers since then but I felt drawn back to Barchester as I am supported to develop personally and professionally.
I really enjoy working at Ashby House as Deputy Manager and now General Manager and  I am committed to supporting all our team members to achieve their full potential.
I always aim to carry out my role in collaboration with residents, their families and team members, to ensure residents live enriched and fulfilling lives, in a safe and happy environment. I strive to create a wondrous atmosphere and am truly grateful to residents' families who constantly show their appreciation for our care of their loved ones.
Lorna Sherwood
Hello. I am Lorna and I love my work as a nurse here at Ashby House. I enjoy speaking with residents and helping them to feel as well as they can. I feel proud to be part of this team where everyone plays their part in making everyday life enjoyable for residents.
Fiona Woodley
Hello. I'm Fiona and I have  worked at Ashby House since 2017, first as a Healthcare Assistant and then switching in November 2019 to the role of Activities Coordinator. I have a passion for working in the care sector and have gained experience of working in an activities role with a previous employer. I have always enjoyed being creative. The best thing about my work is that I can put a smile on people's faces and help them enjoy a variety of interests, old and new. When I'm not at work I love to read, listen to music, and do anything to do with history, especially visiting places of interest. I try to maintain a healthy lifestyle through exercise and healthy eating.
Show More
Sue Axford
Sue has worked for Barchester since January 2004 and she has been at Ashby House since June 2010. Her role involves looking after the day to day running of the finances from sales to payroll, supporting the General Manager with the day to day running of Ashby House and supporting staff and relatives/residents within the home.
Show More
Carol Moore
Hello. I'm Carol and I joined the Ashby House team in 2004. It is really important that I keep the home clean to keep it looking nice and minimise infection risks. It is also important that Ashby House is tidy, attractive and well organised so residents feel comfortable and relaxed. I get to know every resident, to understand how they like their room, their clothes and their personal belongings to be arranged. I enjoy my morning chats, getting to know residents as I clean their rooms.
Show More
Jeff Peters
Hello. I am Jeff and I keep the gardens tidy, safe and looking lovely for residents and their visitors to enjoy. I trained at Shuttleworth College and have experience of gardening at a holiday park and for Age Concern. I love being outdoors and working in this friendly environment. In my spare time I still like to be outdoors and I do lots of walking and cycling.
Show More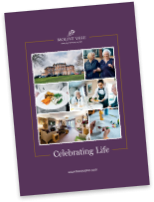 Read our brochure 'Providing great quality care and wellbeing' for more information on how we're here to help you and your loved one.
Read brochure
Food & Nutrition
Activities & Events
Care & Facilities
What happens now?
Are you ready to discuss your individual care requirements? Pick up the phone and talk to us, book a visit to our care home or come and take a look around our facilities.
Our fees and contract
We want to be as transparent as possible about how we charge for the different services we provide as well as what's included in our contract. Please click the links below to find out more about our fees and contract.
View typical fees
View Our Contract
Useful downloads
Here to help you make the right decision about your care requirements.
10