Meet the Arbour Court Care Home team
Our trained team of professionals work together to create the best possible experience for those living in the home, striving to deliver excellent care services in a warm, homely environment. You can find out more about some of our wonderful staff members below:
Kelly Tatton
General Manager
Hi, my name is Kelly and I am the General Manager here at Arbour Court. Welcome to our website!
I have worked at Arbour Court since 2000 and started my career as a care assistant.
After completing my NVQ Level 2 and 3 in Health & Social Care, I became interested in helping other staff to achieve theirs. I qualified as an assessor and became the Home Trainer in 2009.
After achieving a Leadership & Management qualification, I became a Care Practitioner and was promoted to the Head of Hollies Unit in November 2016, and eventually to Deputy Manager.
I am passionate about providing good, person-centred dementia care for those we support. I also take an active role in the training and recruitment of staff.
Corina Gavrila
Hi, my name is Corina and I am the Unit Manager on Hollies here at Arbour Court.
I qualified as a Registered Nurse in 1991 and then went on to higher education to study Nursing and Psychology, gaining experience working on medical, stroke, brain injuries and complex needs in rehabilitation hospital wards.
I enjoy using my skills and experience in nursing to care for the residents at Arbour Court. I have a passion for delivering an outstanding level of care to the people I support.
I enjoy working closely with my team to ensure that we provide high quality care in a centre of excellence.
Show More
Costa Gavrila
Hi, I am Costa and I am the Head of Chestnut Unit here at Arbour Court.
I graduated nursing school in 1990 in Romania and worked as a paramedic in my country and gained experience in nursing in Israel.
We offer dementia care here at Arbour Court and I am responsible for supporting staff to ensure that we provide a high standard of care to residents.
Show More
Joe Maddox
My name is Joe and I am an Activities Coordinator here at Arbour Court.
I started my career as a chef in various hotels in Torquay before moving to Manchester. After working in various other jobs, I became a chef at a different home. Working as a chef for many years, I decided on a career change and came to Arbour Court to be the Activities Coordinator.
I love spending time with the residents and getting to know them on a personal level. We go on outings, play games and find out residents' likes and dislikes.
My interests include football, travelling and going to the races. After spending the day interacting with the residents, I love to relax and wind down with some peace and quiet.
Show More
Edmundo Caballero
I have worked at Arbour Court since 2009 and started my career as a Kitchen Assistant. I enjoy providing nutritious food for those we support and ensuring that all likes and preferences are catered for. Barchester gave me the opportunity to complete my NVQ in Professional Cookery and I love my Head Chef role.
Show More
John Balan
My name is John and I'm the Maintenance Manager here at Arbour Court.
I have worked for Barchester Healthcare since 2006 and I'm responsible for a variety of tasks, including maintaining a safe environment for residents and ensuring the home meets legislative and statutory health and safety requirements. Part of my job role is to liaise with our local fire service to enable me to deliver effective fire training to staff.
Some of my qualifications include aCity and Guilds 7300, IOSH and an ILM diploma in Leadership and Management.
Show More
Joanne Pearce
I have worked at Arbour Court since 2008. I have worked in all departments and have completed my NVQ Level 2 in Health and Social Care whilst working here. I enjoy making sure all residents are living in a clean, tidy and safe home.
Danielle Inman
My name is Danielle and I am admin assistant here at Arbour Court, I joined the Arbour Court team in 2011 as a Care Assistant and progressed to Senior Carer. In 2020 I joined the admin department where I am often the first face that visitors see when they enter the home and I like to give warm welcome. I also perform show-rounds, support the team with day-to-day tasks and answer phone enquiries. I love to spend time with the residents who are always welcome to come for a chat in the admin area.  
Show More
Johanne Wilson
I joined the team as the administrator at Arbour Court in May 2020. I have many years of experience in administration and accounts and achieved the qualifications in NVQ Level two and three in business and administration. Even though it is a very busy environment, I love challenge of the role. I love to care for the staff and families, primarily in the financial part of the roll.
Show More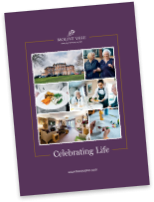 Read our brochure 'Providing great quality care and wellbeing' for more information on how we're here to help you and your loved one.
Read brochure
Food & Nutrition
Activities & Events
Care & Facilities
What happens now?
Are you ready to discuss your individual care requirements? Pick up the phone and talk to us, book a visit to our care home or come and take a look around our facilities.
Care enquiries
New care enquiry phone lines are open 8am - 8pm
0161 885 0256
All other calls
Our fees and contract
We want to be as transparent as possible about how we charge for the different services we provide as well as what's included in our contract. Please click the links below to find out more about our fees and contract.
View typical fees
View Our Contract
Useful downloads
Here to help you make the right decision about your care requirements.
8