Meet the Adlington Manor Care Home team
Our trained team of professionals work together to create the best possible experience for those living in the home, striving to deliver excellent care services in a warm, homely environment. You can find out more about some of our wonderful staff members below:
Fiona Gough
General Manager
Welcome to Adlington Manor's website; my name is Fiona and I am the General Manager here. 
I have a wide and varied career in nursing, including a short service commission in the Queen Alexander Royal Army Nursing Corps. I spent many years the health service in a variety of roles, including Theatre Manager, Directorate Manager and Modern Matron. I moved into the care sector in 2010 and have worked as a General Manager since that time. I joined Barchester in February 2015. 
Caroline Brierley
I have been a registered mental health nurse since 2012, and have worked as a unit manager on the Memory Lane community at Adlington since 2015. I pride myself on having a real passion for ensuring the highest quality of care is delivered to the residents we care for, and enriching their daily lives by providing person-centred care. 
Show More
Danielle Cheetham
Hi, my name is Danielle and I am the homes Deputy Home Manager at Adlington Manor.  I joined the team in 2019.
Trudie Sherratt
I have been working for Barchester since 2020. I deal with all aspects of the administration of the home to ensure it runs smoothly, from invoicing, ordering, recruitment, setting up contracts, to manning reception; there's never a dull day!
Lynne Bowler
I joined the activities team at Adlington Manor in May 2017. Previously, I have worked as a tree surgeon and have had heavy involvement with the Guides and Brownies. I love participating in activities with residents, whether that's by driving the minibus on trips outside the home, or by engaging in themed days.
I am passionate about my role and especially the challenge of coming up with new ways to engage as many residents as possible in our activities here. 
Show More
Helen Broadhurst
Hi, my name is Helen, and I am the admin assistant here at Adlington Manor.
Alfred Yuma
Hi, my name is Alfie, and I am the head chef here at Adlington Manor.
Orginally from the Philippines, I have worked here since 2011, starting as a kitchen assistant and working my way up to second chef, and now head chef. I finished my NVQ 2 Level 2 in Hospitality & Catering Principles in 2018.
I love my job, as I think that it is all about dedication and having a genuine passion for doing what is best for the residents. Our food is all homemade by our team, and we pride ourselves on our abilities to produce wonderful meals that the residents love to eat. Our team is passionate about food, and if the menu choices are not to residents' tastes, we always happy to make something alternative.
Show More
Gary Gibson
My team and I enjoy carrying out all the demanding maintenance duties that this colourful home throws at us daily. It is sometimes challenging, but always rewarding. Maintenance is paramount when it comes to our residents, relatives and colleagues, and my role is to keep the home environment to the highest standards possible, ultimately creating a safe and warm place for our residents to live and my colleagues to work.
I also manage and deal with contractors, keeping records up-to-date for our audits. 
Show More
Heather Findlow
Head Housekeeper, Heather Finlow, leads the housekeeping team here at Adlington Manor, who have almost 50 years combined experience.
Heather and her team are responsible for maintaining Barchester's high standards of cleanliness & tidiness, whilst still keeping a homely atmosphere in a building full of character.
She also oversees the smooth running of a full laundry service for those we support.
Show More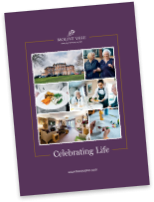 Read our brochure 'Providing great quality care and wellbeing' for more information on how we're here to help you and your loved one.
Read brochure
Food & Nutrition
Activities & Events
Care & Facilities
What happens now?
Are you ready to discuss your individual care requirements? Pick up the phone and talk to us, book a visit to our care home or come and take a look around our facilities.
Our fees and contract
We want to be as transparent as possible about how we charge for the different services we provide as well as what's included in our contract. Please click the links below to find out more about our fees and contract.
View typical fees
View Our Contract
Useful downloads
Here to help you make the right decision about your care requirements.
5