Meet the The Warren Care Home team
Our staff are what hold the home together. Each one of these team members are dedicated to providing high quality care and services to those we support, and ensuring that residents enjoy all aspects of life at our home. See below to meet some of our friendly faces:
Elizabeth Tacliad
General Manager
Hi, my name is Elizabeth, and I am the General Manager here at The Warren. Welcome to our website!
I have a background in nursing in my home country and I have completed my level 5 diploma in leadership and management in health and social care in England. In my 16 years of working in healthcare, I learned to lead by example and the impact it has on residents and staff. I ensure that an excellent standard of care is set, delivered and achieved in a person centered way.
Jade Labrum
I have worked within the care sector for over ten years now. I have experience working within hospitals, dementia and nursing care.
I have been at the Warren since April 2021. I am really enjoying working for the company and I have been welcomed by all the residents and team, making my job role a pleasure.
Show More
Kirstie Tifrani
Kirstie started The Warren in September 2020. She has worked in events for over 20 years and has worked in several hotels, from Marriott, Hilton and Principal Hotels. 
She has always wanted to work in the care sector. She has a wealth of ideas to bring new activities and entertainment into the home. She loves spending time with the residents and making them smile and laugh.
Show More
Sabrina Souris
Hi, my name is Sabrina and I am proud to say that I have been part of Barchester Healthcare for over 20 years. I am the Admin Assistant at The Warren, joining Clare to support and ensure the smooth running of administration within the home.  I am the first person most people will meet when visiting and I look forward to meeting many more friends and relatives who visit our lovely home.
Show More
John Watts
John Watts joined the team at the warren as Head of Maintenance in January 2019. John has a lot of knowledge and experience and is always happy to help staff and residents with any maintenance issues.
Nathan Kidd
Regional Maintenance Manager
Nathan joined The Warren as head of naintenance in February 2007, and has also taken on the responsibility of home trainer. He now works as the regional maintenance manager. Nathan has won two Barchester National Care Awards, one for 'Home Trainer of the Year' in 2009, and another for 'Maintenance Champion' in 2012. Nathan is responsible for ensuring that every aspect of health and safety has been observed, that everything is working well and that The Warren remains a well-maintained and presentable home.
Show More
Clare Durrant
I have a strong background of working in Admin, alongside secretarial support management too.  I have held PA roles within law firms and local authority too.  I also have a background of working with Children with disabilities so the care isn't a new role for me and I very much enjoy being back in the industry.
Show More
Lisa Roll
Lisa is Head of Housekeeping here at The Warren. Lisa started as a Housekeeping Assistant in 2014 and became Head Housekeeper in August 2018. Lisa and her team strive to maintain excellent standards throughout the home.
Aidan Knights
Aidan has worked for Barchester Healthcare in the past and has re-joined us at Peri Chef for the area. He brings back a wealth of knowledge in his field and is enjoying the challenge of keeping all our residents happy, healthy and loving the food he serves on a daily basis.
Gemma Wilkes
I have worked in the care sector for 9 years and really enjoy the interaction with the residents!
I have recently been a Chef within a Private Care home setting but wanted to return as I missed the interaction with the residents.
I enjoy singing, cooking and cannot wait to get involved with the activities and share my knowledge and skill sets with the rest of the team.
Show More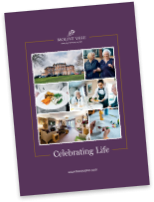 Read our brochure 'Providing great quality care and wellbeing' for more information on how we're here to help you and your loved one.
Read brochure
Food & Nutrition
Activities & Events
Care & Facilities
What happens now?
Are you ready to discuss your individual care requirements? Pick up the phone and talk to us, book a visit to our care home or come and take a look around our facilities.
Care enquiries
New care enquiry phone lines are open 8am - 8pm
01603 954 094
All other calls
Our fees and contract
We want to be as transparent as possible about how we charge for the different services we provide as well as what's included in our contract. Please click the links below to find out more about our fees and contract.
View typical fees
View Our Contract
Useful downloads
Here to help you make the right decision about your care requirements.
183