Meet the Threshfield Court Care Home team
Our staff are what hold the home together. Each one of these team members are dedicated to providing high quality care and services to those we support, and ensuring that residents enjoy all aspects of life at our home. See below to meet some of our friendly faces:
Stacey Nicholson
Senior General Manager
Hi, my name is Stacey and I am the Senior General Manager. Welcome to our website!
I started my career as a qualified nurse almost ten years ago, previous to this I have and continue to have a passion and a heart to care for the elderly. Climbing the management ladder within Barchester has given me the knowledge and understanding of what makes a good care home a welcoming and comfortable environment for each of our residents.
Being a General Manager is a role that I am very passionate about and I aim to ensure that all the residents in our care receive the best support possible. I never forget I am a nurse at heart and that every single person matters. I am driven to ensure that my team and I provide this level of excellent care throughout. 
I really enjoy my job and feel very privileged to work with a fantastic team and a family orientated home with our residents at the centre of all we do.
Ana Pantaleon
I am passionate about providing the best possible care and a home-from-home environment for those we support.
Terry Whitham
Hi, my name is Terry and I am the Home Administrator here at Threshfield Court. I started my career in the hospitality industry, followed by two decades in the retail sector. I started working at Threshfield Court in 2014 as the Receptionist and Assistant Administrator  prior to moving into the Admin role.
I love being part of a vibrant and caring team. Every day is totally different and the essential qualities of excellent management, beautiful surroundings and being able to make a difference to residents' lives makes for a fulfilling daily work experience. I work closely with the homes General Manager and I look forward to welcoming you to our home.
Show More
Claire Boocock
Hi, my name is Claire Boocock. I come from a background of hospitality and working in the Care Home sector is very new for me but already immense job satisfaction in working with our residents alongside a great team.
I am very excited about this new venture in my career. I am an outgoing person with a big bubbly personality and looking forward to making a big difference to the social well-being of our residents with my flair of creativity and adventure.
Show More
Jason Smith
The food and the dining experience at Threshfield is recognised as an integral part of the home. I am responsible for managing the catering team, ensuring they provide a high quality catering service for all residents, guests and visitors. As a team, we thrive on the challenge of meeting the differing dietary requirements of residents, which can add a big boost to their general well-being. I actively encourage anyone who is involved to share their views with me so that we can continually improve our menu.
Show More
Joel Bonus
My name is Joel Bonus and I have worked at Threshfield Court for many years, spending most of my time here as part of the housekeeping team. Following training, I am now very happy in my new role as the Head of Housekeeping.
Threshfield Court is a wonderful, friendly home and I enjoy being a part of the team. Residents are the focus of everything we do and I enjoy talking to them on my daily journey around the home.
The aim of my role is to ensure that the home is a clean and comfortable environment for our residents to live in.
I love my Job!
Show More
Joy Berdugo and Arman Pantaleon
Part of our Senior Care Team are Joy Berdugo and Arman Pantaleon. Between them they bring over 30 years of wisdom and experience in caring for our elderly residents. Both are incredibly passionate about providing the very best of care, every day their professionalism and consistency provides a calm and caring environment while their roles in mentoring the new carers gives them too the best in training and example. Yet both are genuinely humble and immensely kind in their dealings with residents, staff and visitors alike. Two of Threshfield Court's gems!
Show More
Denise Foster
Denise is a local lady who brings a wealth of experience and knowledge of the local area to our home. She has worked in the local care sector since 2010 having being at Threshfield Court since 2017. Denise initially was the Activities coordinator at Threshfield Court and has worked in various roles including the kitchen and Care then has recently moved to the role of Assistant Administrator and receptionist welcoming all to the home on reception. With a passion for caring and hospitality Denise loves to make a difference in the daily lives of our residents, staff and visitors alike. Like many Yorkshire folk, you will find her saying 'If you're passing, the kettle is on and the cake tin full'
Show More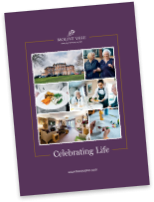 Read our brochure 'Providing great quality care and wellbeing' for more information on how we're here to help you and your loved one.
Read brochure
Food & Nutrition
Activities & Events
Care & Facilities
What happens now?
Are you ready to discuss your individual care requirements? Pick up the phone and talk to us, book a visit to our care home or come and take a look around our facilities.
Our fees and contract
We want to be as transparent as possible about how we charge for the different services we provide as well as what's included in our contract. Please click the links below to find out more about our fees and contract.
View typical fees
View Our Contract
Useful downloads
Here to help you make the right decision about your care requirements.
186