Meet the Sutton Valence Care Home team
Our staff are what hold the home together. Each one of these team members are dedicated to providing high quality care and services to those we support, and ensuring that residents enjoy all aspects of life at our home. See below to meet some of our friendly faces:
Robert Dura-May
General Manager
Hi, my name is Robert, and I am the General Manager here at Sutton Valence. Welcome to our website!
I joined Barchester HealthCare, as I  was looking to use my life skills to enhance both the life of residents and team members,  I liked the values and description of Sutton Valance and Barchester as a care provider.
I really enjoy the daily challenges, team recruitment and always pushing and exceeding performance where I can.  I also enjoy adding value, enhancing care and giving elder life purpose to enable them to engage in a fulfilled life.
I am passionate about delivering the levels and standards of care that I would expect for my own parents who are sadly no longer with us. If I had known about Barchester when my own parents required care, my family would have not experienced such pain and anxiety, this is why I chose Barchester to ensure that other families do not, where possible, have to endure what I had experienced in the past.
I have over 20 years' experience in the NHS, Private and Public business and have worked in the care sector with children, young adults, adults with acquired brain injury and last 10 years in elderly care.
I have recently studied open university course to ensure decisions made at the home reflected best practice providing a safe community.
Making a difference to people's lives throughout my career has been my biggest achievement. I strive to continually develop to ensure that the individuals I care for, experience the very best care and life enrichment in later life.
Every day is an achievement delivering and pushing the levels of care to exceed the expectations of Barchester and myself.
Nisha Philip
My role is to support the General Manager and the whole care team and nurses at the home, I have been employed at Sutton Valence for the past 16 years, I started as a nurse clinical lead working my way up to Deputy Manager 8 years ago.
I have a bachelor's Degree in nursing and worked previously as a nursing  tutor in a hospital setting.
At Sutton Valence, we have strong leadership that makes the working environment a place I love to be able to call and value as my workplace, we have a fantastic team of nurses and carers to deliver pro-active and outstanding care to our residents.
Show More
Lisa Henderson
I came to Sutton Valence Care Home 10 years ago having worked as an NHS Medical Secretary for the previous 12 years, my role here includes overseeing all financial aspects of the home, HR and payroll. Every day is different and I love chatting with residents and relatives and being part of the fantastic team we have here.
Show More
Catherine Chanachimwe
Catherine is a fully qualified clinical nurse with 19 years nursing experience overseas. Originally from Zimbabwe and based in the UK from 2001, Catherine is lead wound management champion and supports the nursing team with all aspects of treatment, dressings and care planning to aid the recovery of wounds at the home often acquired prior to admission. Catherine is a highly skilled individual with much value to Sutton Valence.
Show More
Gill Cameron
Receptionist/Administrator
I was born in Durban, South Africa. My father served in the Royal Navy and came to Durban. I  married and lived in the UK for a short time and returned to SA.
My last employment was serving  the Royal Norwegian and Swedish Consulate for 24 years in Durban as a consular assistant.  
I arrived in the UK in 2015 and worked as a live in care. I joined SVCH in January 2016 as a carer, my new role now is on reception, supporting the Manager, office, staff, residents and families.
I really enjoy the interaction with the residents and staff, it is like an extended family.
Show More
Gemma Bhandari
Hello, my name is Gemma and I am an activities coordinator at Sutton Valence Care Home. I have worked here for over five years and I love it.
I started my employment here over five years ago as a domestic assistant, then I was given the opportunity to join the activities team and I have not looked back.
Every day is different and so rewarding. I love being part of the residents lives.
I have a diploma in social care. 
Show More
Ricky Goodhew
My name is Ricky Goodhew and I have wowrkd at Sutton Valence for four years. 
For three of these years I have been employed as an activities coordinator. I love the job and thoroughly enjoy helping to make the residents happy.  I hold a diploma in health and social care.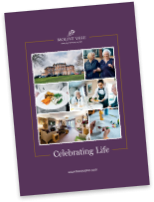 Read our brochure 'Providing great quality care and wellbeing' for more information on how we're here to help you and your loved one.
Read brochure
Food & Nutrition
Activities & Events
Care & Facilities
What happens now?
Are you ready to discuss your individual care requirements? Pick up the phone and talk to us, book a visit to our care home or come and take a look around our facilities.
Care enquiries
New care enquiry phone lines are open 8am - 8pm
01622588308
All other calls
Our fees and contract
We want to be as transparent as possible about how we charge for the different services we provide as well as what's included in our contract. Please click the links below to find out more about our fees and contract.
View typical fees
View Our Contract
Useful downloads
Here to help you make the right decision about your care requirements.
52129