Meet the South Grange Care Home team
Our staff are what hold the home together. Each one of these team members are dedicated to providing high quality care and services to those we support, and ensuring that residents enjoy all aspects of life at our home. See below to meet some of our friendly faces:
Fiona Torrie
General Manager
Hi, my name is Fiona, and I am the General Manager here at South Grange. Welcome to our website!  
Thank you for taking the time to look further into what South Grange has to offer to you or your loved one. Here is an opportunity to look at some of our staff team in the home, who all play a vital role in day-to-day life.
I have spent almost 40 years within Healthcare, working 25 years in the NHS within Mental Health Services before leaving to join Barchester in 2005 as a General Manager. Having achieved my Bachelor of nursing and a specialist qualification in care of the elderly at Dundee University, I then went on to complete my Masters in Dementia care at Stirling University. Throughout my nursing career my passion as always been on delivering high quality care to older people. 
I have continued to study throughout and have gained NEBOSH general and fire qualifications and after spending 10 years as a General Manager with Barchester I changed my role and joined the company Health & Safety team as a Divisional Manager, working for 5 years supporting homes throughout the company.  I transferred to the role of Operations Manager which brings me back to working in our homes before taking the role of General Manager here at South Grange.
Catherine Lappin
Hi, my name is Catherine and I am Deputy Manager here at South Grange.  I always try and go that extra mile with our Residents and their relatives, I maintain regular contact with families to ensure that we are delivering the highest level of care and excellent service at all times.  I look forward to meeting you when you visit our home.
Show More
Pauline Tolmie
Pauline is responsible for all the financial administration of the home.  Pauline has been in post since 2011, previously working in a Senior Payroll position. Pauline enjoys working at South Grange and finds everyone friendly and helpful. Pauline is available to speak to residents and families at any time.
Show More
Gillian Conway
Senior Activities Coordinator
Gill has worked for South Grange since 1996. Gill's role in the home is ensuring our residents enjoy a fulfilling quality of life.  The programme that Gill and her team (Sheena and Michelle) provide is stimulating, creative and varied.
Gill enjoys the time she spends with residents and families. The team welcomes any suggestions made by residents and family members in relation to activities.
Show More
Sam McLean
Hi, my name is Sam and I am the Head of Maintenance here at South Grange.   Maintenance is paramount when it comes to our residents, relatives and colleagues, and my role is to keep the home environment to the highest standards possible, ultimately creating a safe and warm place for our residents to live and my colleagues to work.  I also manage and deal with contractors, keeping records up-to-date for our audits.  
Show More
Christine Penman
Christine has worked for South Grange since 1991.  Christine is responsible for all the housekeeping and laundry staff.  She ensures that South Grangeis kept to the highest standards, co-ordinating her staff in their daily duties.  Christine has a wealth of experience which she brings to her current role and she looks forward to meeting residents and their families to ensure their rooms are as comfortable and homely as they could be.
Show More
Catherine Pasane
Hi, My name is Catherine Pasane, Head of Panmure Unit. I have worked for South Grange since 2007, to intergrade and broaden my horizon in nursing care in the United Kingdom.   I qualified in South Africa as a general nurse and midwife, Community health nurse, occupational health nurse and trauma nurse and further completed my nursing degree majoring in education and administration.
In 2003 I worked in NHS Tayside Primary Health care setting and acute health care in accidents an emergency to further utilise my clinical skills in a hospital setting. 
I joined Barchester in 2007. My journey as a nurse has empowered me with broad experience of rendering holistic, high standard, person centred care to our residents valued by both residents and their families. My compassion and care for the elderly inspired me to further empower myself and enrolled for dementia train the trainer course at Universities of Stirling.
Show More
Hannah Cargill
Hi, my name is Hannah and I am the Head of Unit on the first floor at south grange.  I began working for the company in 2012 as a care assistant.
I completed my SVQ3 in health and social care and went on to complete the care practitioner programme.  In June 2020 I became Head of Unit.
I am so grateful to work for Barchester and I am very lucky to be given the opportunity to progress in my career.
Show More
Bernard Taylor
My name is Bernard Taylor and  I am the Head chef here at South Grange.  I have worked in Europe/UK for a number of years in Hotels, Restaurants and off shore, I joined the team at South Grange in 2021.
The food and dining experience at South Grange is recognised as an integral part of the lifestyle here at the home and I am responsible for managing the catering team.
Show More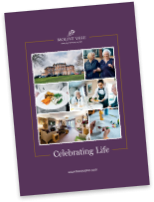 Read our brochure 'Providing great quality care and wellbeing' for more information on how we're here to help you and your loved one.
Read brochure
Food & Nutrition
Activities & Events
Care & Facilities
What happens now?
Are you ready to discuss your individual care requirements? Pick up the phone and talk to us, book a visit to our care home or come and take a look around our facilities.
Our fees and contract
We want to be as transparent as possible about how we charge for the different services we provide as well as what's included in our contract. Please click the links below to find out more about our fees and contract.
View typical fees
View Our Contract
Useful downloads
Here to help you make the right decision about your care requirements.
165