Meet the Oak Grange Care Home team
Our wonderful team comprises nurses, carers, activities coordinators, chefs, housekeepers and more. These people are here to ensure that residents enjoy their time at the home and are supported to live life to the fullest. Meet some of our staff below:
Sarah Butler
General Manager
Hi, my name is Sarah and I am the General Manager here at Oak Grange. Welcome to our website!
Thank you for taking the time to look further into what we have to offer to you or your loved one. Here is an opportunity to look at some of our staff team in the home, who all play a vital role in day-to-day life.
I qualified as a General Nurse in 2010 starting my career in the NHS before moving to the private sector in 2012, where I have worked my way to Unit Manager and eventually General Manager.
I have 10 years of experience working with the older persons and those living with Dementia and am passionate about ensuring all of our residents receive the best possible care and experience
Myself and my team look forward to welcoming you to our home.
Alison Clark
Oak Grange care home is proud to introduce Registered Nurse, Alison Clark who has recently been appointed the homes Deputy Manager. Alison brings to the team many years' experience ensuring high standards of care is delivered to our residents.  With her knowledge and in-house experience she is a tremendous asset to the team. She is an unique, responsible and popular member of the team and is a good listener and our residents love her!
Show More
Diana Foxall
I have been working for Barchester since Oak Grange opened its doors in 2012. I live very local to Oak Grange so close that I watched the building grow week on week and often said to myself I am going to work there, and here I am. I was I consider myself to be extremely privileged to work with such wonderful people, full of humour with wonderful stories to tell. I know its a cliché but we are like one big happy family, I love being here!
Show More
Simon Burns
I have worked at Oak Grange since 2020, my team provide a high standard of cuisine for our residents and believe mealtimes are a special time for our residents to socialise and have some fun, I enjoy talking to the residents every day to ensure I am up to date with their preferences.
Felma Patio
Hi, my name is Felma and I am one of the team of nurses here at Oak Grange.   I look after our residents on the Memory Lane Nursing community and enjoy my job very much.   I work within a wonderful team and like to encourage cooperation and good communication.  I strive to create an atmosphere that feels welcoming for everybody.
Show More
Anna Jefferies
I have worked at Oak Grange since 2020, I love spending time with the residents especially when they want to help me with the domestic duties, myself and my team work hard every day to ensure the residents environment is clean, tidy and a relaxed space for them to socialise.
Heather Lowndes
Hi, my name is Heather, I joined Barchester in 2008 as a carer. I then went on to join the activities team. I feel passionate about the residents having a stimulating environment to live in and to feel that this is truly their home from home. Looking into their past histories and trying to accommodate past interests.
When I am not in work I enjoy gardening, singing. I am a member of the PopVox Chior in Wrexham. Singing and music is so therapeutic and I like to sing along with the residents and give them a wide variety of music to listen to. I am also a member of Waverton Evangelical Fellowship. I took part in the Chester Mystery Play in 2018 and the Passion in Chester twice. I think it is really important to help the residents in their spiritual journey too.
Show More
Sid Nagy
Hello, my name is Szliard, but I like to be called Sid. I joined Oak Grange in 2017 as the home's gardener and maintenance assistant before moving to the role of maintenance manager in July 2019. During this period outside of work, I successfully completed a BA Hons Business degree, and have now started a Master's in Human Resource Management.
Maintenance is paramount when it comes to our residents, relatives and colleagues, and my role is to keep the home environment to the highest standards possible, ultimately creating a safe and warm place for our residents to live and my colleagues to work.
I also manage and deal with contractors, keeping records up-to-date for our audits.  
Show More
Julie Boote
Hello, my name is Julie and I have been working as a Care Practitioner since 2018 but have worked with Barchester since 2015.   I work primarily on the nursing units, supporting our nursing staff and looking after our wonderful residents.  I love working alongside the team at Oak Grange and am always here for relatives to help and support them in any way I can. 
Show More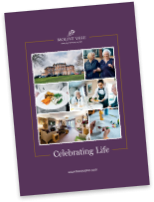 Read our brochure 'Providing great quality care and wellbeing' for more information on how we're here to help you and your loved one.
Read brochure
Food & Nutrition
Activities & Events
Care & Facilities
What happens now?
Are you ready to discuss your individual care requirements? Pick up the phone and talk to us, book a visit to our care home or come and take a look around our facilities.
Care enquiries
New care enquiry phone lines are open 8am - 8pm
01244 434 951
All other calls
Our fees and contract
We want to be as transparent as possible about how we charge for the different services we provide as well as what's included in our contract. Please click the links below to find out more about our fees and contract.
View typical fees
View Our Contract
Useful downloads
Here to help you make the right decision about your care requirements.
138