Meet the Marnel Lodge Care Home team
Our wonderful team comprises nurses, carers, activities coordinators, chefs, housekeepers and more. These people are here to ensure that residents enjoy their time at the home and are supported to live life to the fullest. Meet some of our staff below:
Diana Tatpati
General Manager
Hello, my name is Diana and I am General Manager for Marnel Lodge. Welcome to our Website!
I am privileged to have worked in Health and Social Care setting for over two decades in a variety of settings mainly with elderly and Dementia Specialist homes. Over the years I have learnt and developed my skills to listen to my residents, families and work alongside with other professionals to ensure our residents' experience in their later years is much of what they have hoped for or even better.
At Marnel Lodge, we have a very friendly and dedicated team of staff who strive to ensure our residents are safe, feel at home, and enjoy life to the fullest.
My strength has been in ensuring our home facilitates a five-star lifestyle with a very person centred approach, which will be unique to each resident.
Anju Susan Abraham
I am a highly motivated, Quality Driven RN working in Marnel since 2017, with 8+ years' working in hospital ,in-patient and out-patient clinic  settings and 6+ years in care settings. Focused on efficiency without compromising compassion. In 2019 achieved appreciation from North Hampshire Urgent Care Certificate of Commendation in recognition of the exceptional professionalism and commitment to residents advocacy . I am happy to be a leading part of Marnel team. I have got great enthusiasm , positivity and confidence to effectively lead and supervise the multi-disciplinary team to achieve the set targets.
Show More
Gemma Pitman-McGrath
Clinical Development Nurse
Hi, my name is Gemma and I am Clinical Development Nurse here at the home. My passion is to care for people and I love supporting care and nursing teams across the region to develop high quality standards in practice.
Diane Hemming
I joined the team in April 2021 and my role here at Marnel is to look after the home's finances. I have always worked in administration and I have been in finance for many years, which I really enjoy. This is my first role in a care home and I am loving getting to know the residents and their families. My door is always open and I am always happy to help.
Show More
Marek Manteufel & Theresa Connor
We both joined Marnel a while ago and we are very excited to be part of such a proactive and dedicated team. There are lots of ideas and innovations, all to enhance quality of life of our residents. Every day is different and to understand the needs of our residents, building relationship with them and keeping in touch with their families and friends, is the most important and rewarding job we could have wish for.
Show More
Berenice Merritt
Berenice is our new Head Chef who was a senior district manager for school meals. She was a Directors Chef for Glaxo- fine dining with focusing for lunch on occasions. Berenice is classically trained Chef bringing a wealth of experience in wholesome well cooked food.
Keith Stokes
I have been the Head of Maintenance at Marnel Lodge for many years and ensure that the building is maintained to the highest possible standards. I am passionate about ensuring the safety of all my care community.
Julie Willows
I have worked at Marnel Lodge since 2011 as the Head of Housekeeping. I love my job and it's my passion to keep the home clean and tidy. I love helping others; it's my great passion.
Christine Perry
Christine is our second chef at Marnel Lodge, and loves cooking classic dishes for residents at the home, including sweet and savoury desserts.
Tracey & Kayleigh
Hairdressing & Chiropodist Team
Our Hairdressing & Chiropodist Team are always happy to help residents.
Barchy
I joined the Marnel family in May 2019. My true passion is to travel with my friends. So far, I have lots of holidays booked, but if you wish to take me somewhere special, I will not refuse. Please follow me on Instagram (barchy19) to see my recent discoveries."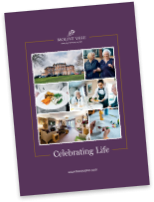 Read our brochure 'Providing great quality care and wellbeing' for more information on how we're here to help you and your loved one.
Read brochure
Food & Nutrition
Activities & Events
Care & Facilities
What happens now?
Are you ready to discuss your individual care requirements? Pick up the phone and talk to us, book a visit to our care home or come and take a look around our facilities.
Our fees and contract
We want to be as transparent as possible about how we charge for the different services we provide as well as what's included in our contract. Please click the links below to find out more about our fees and contract.
View typical fees
View Our Contract
Useful downloads
Here to help you make the right decision about your care requirements.
119