Meet the Lochduhar Care Home team
Our wonderful team comprises nurses, carers, activities coordinators, chefs, housekeepers and more. These people are here to ensure that residents enjoy their time at the home and are supported to live life to the fullest. Meet some of our staff below:
Gillian Ward
General Manager
Hi, my name is Gillian, and I am the General Manager here at Lochduhar. Welcome to our website!
I have been very fortunate to have had a career in nursing that has spanned both the NHS and the independent sector since qualifying as a registered nurse in 1989. I studied a BA in Nursing Studies in Glasgow from 1985-89 and then graduated with an MSc in Palliative Care in 2014 from Queen Margaret University in Edinburgh.
Previous roles have involved working with older people, working within an acute surgical ward and, before joining Lochduhar, I spent working in a hospice as Head of Care, leading and managing staff to deliver palliative and end of life care to patients with life-limiting illnesses, and also supporting their families and carers.
I am a dedicated, qualified nurse and my real passion lies with ensuring every resident is treated with respect and dignity and the care they receive is of the highest standard, which reflects their individual needs.
I am responsible for effectively inspiring and leading the staff team to ensure the delivery of an excellent standard of care that promotes independence and dignity and positively enhances the lives of individual residents in our care.
Kirsten Dalgarno
I started working here as a Care Assistant in 2009, leaving for a short time to concentrate on my nursing degree before I returned to the home as a Staff Nurse. Since then, I have been working my way up to my current role.
A brief spell working in an acute hospital setting confirmed my passion for working with older adults, and I'm currently undertaking a Masters Degree in Gerontology with Dementia Care. I am very passionate about providing high quality, person-centred care to those we support, ensuring we enable individuals to live their lives to the fullest.
Show More
Cheryl Beeton
I am the administrator here at Lochduhar. I deal with all aspects of the administration in the home to ensure it runs smoothly, from invoicing, ordering, recruitment, setting up contracts, to manning reception; there's never a dull day! I consider myself to be extremely privileged to work with such wonderful people, full of humour with wonderful stories to tell. I know it's a cliché, but we are like one big happy family. I love being here!
Show More
Sally Gilder
Sally has been in the care sector for 25 years, she moved to Scotland 2 years ago and joined our Lochduhar team as a care assistant. Sally is very passionate about the care she provides and the welfare of our residents. Working as a care assistant Sally was able to get to know the residents wants and needs to provide excellent person –centres care to each individual. Sally now feels that she can provide a different side of herself to promote an active and inclusive lifestyle through her new role as Head of Activities.
Show More
Margaret Murdoch
We all know that keeping active is important. We have created a wonderful culture within the home and we work together to give residents the best possible experience. We are here to ensure that residents enjoy an environment that is both stimulating and socially active. We ensure the team knows each residents' preferences, so that we can deliver a person-centered program of events and activities.
Essential to our homely feel is the strong relationships of trust we build with residents and their families and friends. The home also has its very own minibus for our numerous outings for coffee and shopping, which residents love and we are passionate about ensuring our Residents are linked to the community and we continue to develop these relationships.
Show More
Maricel Regatillo
Maricel has worked at Lochduhar since 2004 and was originally employed as a Nurse. Maricel was promoted to a Senior Nurse in 2016 and now oversees our ground floor unit.
Evelyn Paterson
Evelyn has worked at Lochduhar since 2007, originally as an Assistant Cook before being promoted to Head Chef in 2011. Prior to working at Lochduhar, she worked for the NHS catering department.
Hollie Gilder
Hi, my name is Hollie and I am the Admin Assistant here at Lochduhar, I joined the team in July 2022. I have previously worked in the care sector and within the admin team of a busy dental practice.
Although I have only worked at Lochduhar a short time, I feel like the home has a great family atmosphere and I have been made to feel very welcome, by everyone. It is great to see a fantastic team deliver the best care to our residents and I am proud to now be part of it too.
Show More
Cameron McDougall
Hi, my name is Cameron and I am the Head of Maintenance here at Lochduhar.  I started working at Lochduhar as the maintenance assistant before accepting this role.
I enjoy being able to use my practical skills and knowledge to maintain the home to the highest standard so that our residents may be comfortable and safe in their environment.
No two working days are the same which makes my role interesting and varied. I also enjoy the interaction with the residents who all have their own individual stories to tell. I feel a valued member of the wider care home team by my colleagues too.
Show More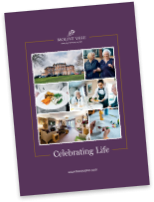 Read our brochure 'Providing great quality care and wellbeing' for more information on how we're here to help you and your loved one.
Read brochure
Food & Nutrition
Activities & Events
Care & Facilities
What happens now?
Are you ready to discuss your individual care requirements? Pick up the phone and talk to us, book a visit to our care home or come and take a look around our facilities.
Our fees and contract
We want to be as transparent as possible about how we charge for the different services we provide as well as what's included in our contract. Please click the links below to find out more about our fees and contract.
View typical fees
View Our Contract
Useful downloads
Here to help you make the right decision about your care requirements.
103