Meet the Llys-Y-Tywysog Care Home team
Our wonderful team comprises carers, activities coordinators, chefs, housekeepers and more. These people are here to ensure that residents enjoy their time at the home and are supported to live life to the fullest. Meet some of our staff below:
Michelle Bowen
General Manager
Hi, I am Michelle the General Manager of Lys-Y-Tywysog.  Welcome to our webiste!
I have worked as part of the team in Llys-Y-Tywysog for over 20 years.   Like so many of the team I have progressed during my time here.  I studied for my NVQ 2 in Health & Social Care so I could become a Care Assistant.  I then progressed to Senior Carer and completed my NVQ 3.
In 2019 I completed the QCF Level 5 in management going on to become Deputy Manager.  I am delighted as of March 2021 to be the General Manager of Llys-Y-Tywysog.  I have lived locally my whole life and continue to live in Grovesend, I very much look forward to working with the local community.   
Carole-Ann Burt
Carol-Ann is the Deputy Manager here at Llys-Y-Tywysog.  Carol-Ann started working at Llys-Y-Tywysog 10 years ago whilst at university and enjoyed the interaction with the residents so much she went on to become a care assistant.  Barchester gave her the opportunity to progress my career, being promoted to Senior Carer whilst studying for the NVQ3 in Health and Social Care.    Four years ago Carol-Ann was promoted to the Residential Unit Manager working with our residents to deliver person centered care.  Having completed NVQ Level 5 Carol-Ann is now the Deputy Manager here at Llys-Y-Tywysog.  
Show More
Dianne Pearson
Dianne manages the night team here at Llys-Y-Tywysog.  Dianne is committed to a person centred approach to residents night time routines and preferences.  Dianne also holds the QCF level 5 in Health and Social care Leadership and Management.
Claire Mitchell
Claire has been part of the team here at Llys-Y-Tywysog since 2015 working with residents as a Senior Carer.
Janet Lonsdale
Janet joined the team in 2009 and works as one of our care assistants. Janet loves working with all our residents and having worked here for so many years knows every resident's individual needs.
Kath Thomas
Kath has worked at Llys-Y-Tywysog since 1992 and is very proud of the success of Llys-Y-Tywysog and the excellent reputation held within the local community.  
Kath has achieved Level 3 in Assessing Candidates, NVQ Level 4 in Management and went on to obtain Level 5 Diploma in Health and Social Care in September 2016.  Kath was the Silver Award recipient in the 2015 Wales Care Awards. Kath manages all of the administration within the home and regularly speaks to all the families.
Show More
Lucy Raddenbury
Lucy has recently joined the team as administration assistant.  Lucy has worked in administration in another care home and looks forward to speaking to and meeting all the residents' families.  
Sarah Taylor
Sarah joined the team in 2021 as the Activities Coordinator at Llys-Y-Tywysog.  Sarah has a back ground in care and brings with her lots of new ideas for activities and events at Llys-Y-Tywysog.  Sarah is looking forward to delivering a varied programme of activities to meet the resident needs and enhance wellbeing.
Show More
Andrew White
Andy has been Head Chef at Llys-Y-Tywysog for 4 years.  Andy and his team enjoy giving residents a wide range of nutritious and delicious menus to choose from, and dining here is always a really lovely experience. 
Emma Davies
Emma is the Second Head Chef here at Llys-Y-Tywysog.
Debbie Thomas
Debbie joined the team in 2008 as part of the domestic team working in the laundry to  ensure all our resident's needs are met along with delivering their laundry.   Debbie loves talking to our residents while working around the home.  
Lorna Lazenby
Lorna joined the team in 2016, working around the home to ensure stringent hygiene procedures are in place.  Lorna enjoys talking to the residents while she works.
Lucy Raddenbury
Hi, my name is Lucy and I am the Admin Assistant here at the home.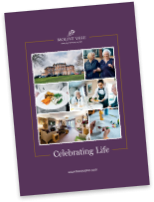 Read our brochure 'Providing great quality care and wellbeing' for more information on how we're here to help you and your loved one.
Read brochure
Food & Nutrition
Activities & Events
Care & Facilities
What happens now?
Are you ready to discuss your individual care requirements? Pick up the phone and talk to us, book a visit to our care home or come and take a look around our facilities.
Care enquiries
New care enquiry phone lines are open 8am - 8pm
01792 620437
All other calls
Our fees and contract
We want to be as transparent as possible about how we charge for the different services we provide as well as what's included in our contract. Please click the links below to find out more about our fees and contract.
View typical fees
View Our Contract
Useful downloads
Here to help you make the right decision about your care requirements.
102