Meet the Hilton Park Care Home team
From nurses and carers to chefs and housekeepers, staff in our home are here to deliver high quality care and services to those we support. Check below to meet some of the friendly faces you are likely to see when visiting our home:
Geanina Tinca
General Manager
Hello, my name is Geanina, and I am the General Manager here at Hilton Park Care Home. Welcome to our website!
I qualified as a Nurse over 14 years ago and joined Barchester as the General Manager in 2017.
Caring for frail older people has always been very close to my heart and myself, and my team are committed to ensuring that all of our residents receive the highest quality care at all times.
It is hugely rewarding to be able to support our residents and help them to lead fully enriched lives in their new home. I cannot praise my team enough and it gives me great pleasure to help mentor and develop their nursing careers with Barchester too!
I have always believed in a very "hands on" approach to running a home, as I feel that it is the best way to build relationships and get to thoroughly know our residents even more.
My door is always open to anyone, even if only for a cup of tea and a chat! If I can be of any help with your care enquiry, please do not hesitate to contact our home and I will do my upmost to assist you in whatever way I can.
Magda Ulian
Magda is our  Deputy Manager here at Hilton Park. Starting her Barchester journey back in 2019, and having previously worked on our communities as a Nurse and Unit Manager, Magda has a wealth of knowledge and experience to bring to the home.
Alina Banica
Trinity Community Manager
Alina is our nursing manager for Trinity community. With a set of knowledge and experience, Alina is able to lead Trinity with a caring and compassionate approach.
Connie Randles-Mills
Connie has been part of the Hilton Park team for many years, having worked as an Admin Assistant, Connie has many years of experience and knowledge to bring to her new role as the homes Administrator.
Lily Ashley
Lily is the first friendly face you'll see as a visitor to our home. Having previously worked as a carer at our sister home, Oaklands, we are delighted to welcome Lily to the team here at Hilton Park.
Jenelyn Szabo
Jenelyn is our head of activities here at Hilton Park. Having started her Barchester journey as a carer back in 2019, Jenelyn has gained good experience of working closely to our residents. Jenelyn then moved onto our Activities team and enjoyed working as an Activities co-ordinator, until her promotion to Activity Lead more recently.
Show More
Nadine Bailey
Nadine has been part of Hilton Park's team since 2019. Having previously worked in different sectors, Nadine has a wealth of knowledge to bring to our home. Having built strong relationships with our residents, Nadine is able to bring lots of fun to our activities.
Monika Klimiene
As our Hostess Monika serves breakfast and lunch, as well as tea, cofffee and cakes throughout the Trinity, Kings, Queens and Churchill communities at Hilton Park. Monika is renowned for her beautiful table decorations and birthday celebrations to make our residents memorable days that extra bit special!
Show More
Jester Liwag
Jester joined the company in July 2011 and worked his way up the ladder to the Head of Housekeeping by January 2016. Jester manages the housekeeping and laundry team here and, although he's only young, he is extremely ambitious and has managed to build up a strong team who have tremendous pride in their work.
Show More
Derek Beatens
Derek has worked as part of the Barchester maintenance team for the past 7 years. With previous years of knowledge and experience, Derek has built a good relationship with our residents and fellow colleagues. We are thrilled to welcome him to his new role as Head of Maintenance.
Charles Cook
Charles Cook has been the Gardener here at Hilton Park since 2009. He is a wildlife enthusiast and keen photographer. Charles created the wonderful wildlife pond in our main garden, which is a favourite place for residents and visitors. It is a beautiful, tranquil spot to rest and a lovely addition to our well-maintained garden.
Show More
Berni Thompson
Churchill Community Manager
Berni leads the Churchill team to deliver exceptional support for older people with mental health needs. Her kind and compassionate approach has helped her to build strong relationships with all the Churchill residents and she is a firm favourite of many.
Berni upholds Barchester's high standards of person-centered care and ensures that her team support each resident as an individual with unique needs and preferences.
Show More
Anthony Hopkins
Anthony is our Head Chef here at Hilton Park. Having qualified as a Chef back in 2000, he has many years of knowledge and experience behind him. During his career, Anthony has been able to share and learn different skills which now reflect in his high standard of work today.
Alin Banica
Alin has been part of the Hilton Park team since 2019, with many years of maintenance experience prior to this. Alin is a very hard working member of the team, with a good range of knowledge and is a great asset to our home.
Sony Thomas
Sony is our Clinical Lead Nurse here at Hilton Park. Having previously worked as a Nurse for us, Sony has a good range of skills in order to lead the clinical team in a safe and professional manner.
Blessy Raju
Blessy is the Unit Manager for our Kings community. Since qualifying as a Nurse, Blessy has always had a kind and caring approach. Putting our resident's needs first and leading the team in a professional manner which is reflected in her day-to-day work.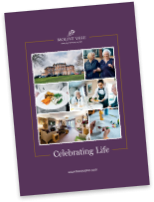 Read our brochure 'Providing great quality care and wellbeing' for more information on how we're here to help you and your loved one.
Read brochure
Food & Nutrition
Activities & Events
Care & Facilities
What happens now?
Are you ready to discuss your individual care requirements? Pick up the phone and talk to us, book a visit to our care home or come and take a look around our facilities.
Our fees and contract
We want to be as transparent as possible about how we charge for the different services we provide as well as what's included in our contract. Please click the links below to find out more about our fees and contract.
View typical fees
View Our Contract
Useful downloads
Here to help you make the right decision about your care requirements.
80