Meet the Glebefields Care Home team
From nurses and carers to chefs and housekeepers, staff in our home are here to deliver high quality care and services to those we support. Check below to meet some of the friendly faces you are likely to see when visiting our home:
Nisha Shaji
General Manager
Hi, my name is Nisha, and I am the General Manager here at Glebefields. Welcome to our website!
I have worked in the UK since 2011 and completed my masters in Nursing from John Moore's University, Liverpool.
I have worked as a nurse since 2008 in a clinical practice and teaching nursing students. I am a hard working person and enjoy the challenges of this profession. I am a person who learns and leads by experience. I believe in team work and I am dedicated to our residents and to providing the best personalised care possible.
I enjoy working with the elderly and vulnerable to meet their needs based on individualised expectations. We as a team, aim to be transparent and like to be approachable. 
Shilpa Shakuntala
I completed my nursing degree in 2012. I have worked in European countries since 2017 and in the UK since 2019. I completed my masters in Nursing and Leadership & Management from AIT in Ireland.
I have worked as a registered nurse since 2012. I have also acted as a nurse educator for a large number of nursing students. 
Knowing that my care, touch, voice, and time can help someone make it through the night is one of the most rewarding feelings. Sometimes, it's the little things that we do for our residents that make a difference. The nursing profession has opened so many doors for me. 
Working with the elderly allows me to learn about life and their experiences. I enjoy their appreciation for being with them and for taking care of them and they seem so grateful. I treat them the same way I would like to be treated and the way I would like my parents to be treated if they ever need care.
I always feel that there are times when I inspire my residents, but more often they inspire me...
Show More
Devi Balasubramaniyan
Hi, my name is Devi, I have completed my Nursing degree in 2017 and worked as Registered Nurse in a clinical practice and oncology department. I have started working in Glebefields since 2021. I am proud to be a Nurse as I get to make the residents comfortable, can care them with bucket of smiles. I like to work as a team to make difference every day. I always believe that caring elders is something big thing which I can do for myself and also for my loved ones.
Show More
Benazir Shakkir
Hi, my name is Benazir, I am very attentive to work I do and I make sure that all my residents are safe and all their needs are been fulfilled to them on time. I have completed my BSc Nursing from Mahatma Gandhi University Kerala in 2011 and worked in A.J hospital at Trivandrum in Paediatric Department, than I moved to Saudi Arabia in the Ministry of Health Hospital and worked in Level 3 NICU department and currently I am working at Glebefields from December 2020, it has been 18 months and I feel that I have spent happy time working at Glebefields.
Show More
Angie Talbot
Hi, my name is Angie, and I have worked here at Glebefields since 2014, and I have been the Head Housekeeper since 2019.
My team and I love to spend time with the residents here at Glebefields. We strive to provide a comfortable clean environment for our residents to enjoy.
My team and I believe it's the small things that we do day to day that make the biggest difference
Show More
Shyama Shakuntala Nair
Hi, My name is Shyama. Currently I am working with Glebefields as an Care Staff and Activity Assistant.  In Sep 2021 I came to UK, pursuing my higher studies in MSc Project Management from Salford University, Manchester. Earlier to this I worked in an Investment Banking Sector as an Assistant Manager handling 21 resources under me. I do carry 7 years of experience with me in Banking Sector and in that last 2 years I was managing resources to perform their work effectively and efficiently.

I am a very hardworking, learn and understand things quickly and get adapted to any situation.

I am very friendly and I love to meet new people. This would be the reason, I am here at Glebefields meeting new people and getting to know about them. I joined Glebefields on 29th March 2021. In this 3 months I have learnt so much things about caring and also how to keep our people happy. I am proud to say that I am a part of this wonderful team and I love working at Glebefields Care Home, Banbury. 
Show More
Kay Boland
Hi, my name is Kay and I'm the Activities Lead for all things 'Life Enrichment' at Glebefields care home in Drayton, Banbury.
Throughout my career within the care industry, I have thrived o the many challenges presented and developed immense satisfaction through enabling others. As an activities coordinator, I act with integrity and always ensure that I place residents at the heart of what I do. I work collaboratively within a multi-disciplinary team to help create and maintain a robust service. I am committed to my personal and professional development which aligns Health and Social Care core values, providing diversity, empowerment, equality and independence for all residents.
Making links with local groups and organisations to ensure our residents remain part of the local community is a key part of my role, if you would like to make contact with me and our residents, please feel free to call me on 01733 246840 or drop me an email Glebefields.activities@barchester.com
Show More
Esther Ndungu
Hi, myself Esther, I completed my hospitality degree from the college in Kenya in year 2009. I then worked with kids battling cancer in Kenya as a program officer before coming to the UK in the year 2020. With the call by NHS for people with transferrable skills to join the health care sector especially during the Covid 19 pandemic, I joined regal care ltd as a care staff. I enrolled myself in health care training and later joined Glebefields as a Senior Carer. I love sharing the care with the people especially the vulnerable, improving their quality of life through care.
Show More
Snobia Hussain
Hi I'm Snobia, I am a care assistant here at Glebefields. I have joined in April 2016 I really enjoy my role, providing care for our residents with dignity and respect. I love getting to know our residents, their families, their background and their likes and dislikes. I am always happy to help out in other departments, I am a bank activities assistant and bank domestic assistant.  I am passionate about making our home a happy and safe environment for our residents.
Show More
Aliyah Zulfaqar
Hi, I am Aliyah, I have completed my health and social care degree in the year 2020 from Banbury Bicester College. After finishing my studies I joined Glebefields Care home as a Care Staff in the month of Dec 2021. I love working with old age people and I feel good about the workplace and the environment.
Show More
Tracy Moore
Hi, my name is Tracy, I joined Glebefields on 7th March 2011 as a care staff and later I completed NVQ2 in the year 2012. I do carry 11 years of experience in caring.
Siju James
I am Siju, I have completed my Nursing qualification in the year 2015 from India. I started working as a Nurse in Sacred Heart Hospital in Kerala during 2015. After gaining 1 year of experience in Nursing, I made a move to UK in the year 2016. From then I started working as a care staff in different Nursing/care homes. Later I joined Glebefields as a senior care staff on 7th July 2020. This 2 years of my journey at Glebefields is very motivating and I have developed myself in many prospective areas.
Show More
Adrian Braggins
Hello, my name is Adrian and you'll usually find me tending the flower beds, pots, baskets and bushes that surround the beautiful gardens of Glebefields care home.
Ricki Whitton
I have been the Maintenance Manager here at Glebefields since 2017. It is my responsibility to ensure the environment our residents enjoy is safe and well-kept, completing all health and safety checks and repairs, making sure every little thing is perfect.
The parts of my role I enjoy most are the way the team come together to support each other, and when I spend time with residents to help them personalise their private rooms, putting up pictures and moving furniture, enjoying a cup of tea and a chat.
Show More
Andrew Gillespie
Hi, My name is Andrew Gillespie, I completed my City and Guilds qualification in catering from Oxford College in 1980. Then I started working as as Chef in few of the pubs of Banbury. I love cooking, and the passion in me brought me to a high level in the field of Catering. In November 2019 I joined Glebefields as a 2nd Head Chef.
Show More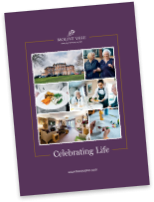 Read our brochure 'Providing great quality care and wellbeing' for more information on how we're here to help you and your loved one.
Read brochure
Food & Nutrition
Activities & Events
Care & Facilities
What happens now?
Are you ready to discuss your individual care requirements? Pick up the phone and talk to us, book a visit to our care home or come and take a look around our facilities.
Care enquiries
New care enquiry phone lines are open 8am - 8pm
01295 641811
All other calls
Our fees and contract
We want to be as transparent as possible about how we charge for the different services we provide as well as what's included in our contract. Please click the links below to find out more about our fees and contract.
View typical fees
View Our Contract
Useful downloads
Here to help you make the right decision about your care requirements.
48451