Meet the Corrina Lodge Care Home team
Our trained team of professionals work together to create the best possible experience for those living in the home, striving to deliver excellent care services in a warm, homely environment. You can find out more about some of our wonderful staff members below:
Dumitru Vazaru
General Manager
Hello, I'm Dumitru, and I'm the General Manager here at Corrina Lodge. Welcome to our website!
I am an experienced qualified nurse with a background of working in care homes and also a private clinic on ECG's audiology tests, blood tests and spirometry. I have also held a clinical lead role within a haematology ward.
As part of my professional development, I have completed a Diploma level 5 in Leadership for Health and Social Care
I have a genuine passion for people and their well-being and strive to create a home where residents can live their best life in a safe, happy and homely environment.
Mark Girdler
Hello, I'm Mark and I have been elected as Chairman of our Residents' Committee. The committee meets every two months and we make lifestyle choices for the home. 
I've lived at Corrina Lodge since 2017, and I have had so much support with activities that it has engaged my interest in all sorts of ways. My interest in art has resurfaced and I now pursue this hobby actively. I also really enjoy taking photos around the home using my iPad, which get uploaded on to our TV in the reception area and are a great talking point for visitors. 
As a spokesperson for our community, I enjoy helping others, welcoming visitors and getting involved with all aspects of life here at the home. I come from a very large family; I am one of nine siblings. My family and friends visit often and have recognised that living at Corrina Lodge has greatly enhanced my life.
Show More
Sherry Work
I have worked here since 2009. I started my career at Corrina Lodge as a Carer and then became a Senior Carer and then Ground Floor Team Leader.
In 2019, I qualified as a Care Practitioner. I am really enjoying the challenge of this role. I am proud to be part of a brilliant team and pride myself on supporting residents in a person-centred way and ensuring the well-being and happiness of those myself and my team support.
I have also built up excellent relationships with residents and loves and really appreciate the value of this.
Show More
Sharon Rickman
Hi, my name is Sharon, and I'm part of the activities team here at Corrina Lodge and have worked here for over 20 years. I thoroughly enjoy my job and have achieved an NVQ Level 3 in Activities whilst working here. During my time here, I have met some truly amazing people and I feel privileged to work in a home with such a sense of community.
Show More
Amanda Webster Robbins
Hello, my name is Amanda and I'm the Receptionist here at Corrina Lodge. I started here as a volunteer in 2013 and, after a year, I was offered the role of Receptionist. 
Previously, I spent 41 years working with the Metropolitan Police and was able to transfer my skills to the care sector.
I love being able to support others and using my person-centred counselling skills for the benefit of residents and their loved ones.
I'm proud to work here alongside my professional colleagues. I like to stay and help at fantastic events, as I can then spend more time with residents and their families. 
When I'm not at Corrina Lodge I keep myself very busy, as I am President of Camberley Diamond Women's Institute.
Show More
Michelle Llaguno
I am an RGN and Unit Manager here at Corrina Lodge. I have worked at Corrina since 2006 and love my job.
I lead an amazing team and I am passionate about the care and support we provide to our wonderful residents.
Kathleen Foster
I have worked in the care sector all of my working life. I believe I have a good understanding of our residents' needs and always do my utmost to accommodate them.
I love to make home cooked dishes from scratch and always promote a nutritional diet. I enjoy cooking traditional dishes that residents can relate to and look as good as they taste.
On the naughty but nice side, I pride myself on baking some delicious cakes and biscuits for residents to enjoy.
Nothing is too much trouble and I will always do my best to create a wonderful dining experience for the Corrina Community.
Show More
Sandip Shrestha
Sandip joined us in June 2018 as our Maintenance Engineer. Sandip is a biomedical scientist by profession and we are delighted that he has returned to work with us here at Corrina Lodge.
Jan Schab
Keeping a home clean is no small task, especially where there are 58 people living there, but Jan and her team of 6 housekeepers do a marvelous job.
Jan is passionate about the job she does and ensuring the home is clean and fresh. Shealso manages the laundry and ensures clothes are labelled, washed, ironed and returned promptly.
Jan is an engaging manager and is often seen around the home talking with residents and their loved ones.
Show More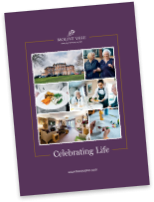 Read our brochure 'Providing great quality care and wellbeing' for more information on how we're here to help you and your loved one.
Read brochure
Food & Nutrition
Activities & Events
Care & Facilities
What happens now?
Are you ready to discuss your individual care requirements? Pick up the phone and talk to us, book a visit to our care home or come and take a look around our facilities.
Care enquiries
New care enquiry phone lines are open 8am - 8pm
01276 862 477
All other calls
Our fees and contract
We want to be as transparent as possible about how we charge for the different services we provide as well as what's included in our contract. Please click the links below to find out more about our fees and contract.
View typical fees
View Our Contract
Useful downloads
Here to help you make the right decision about your care requirements.
50