What our families say: Cookridge Court Care Home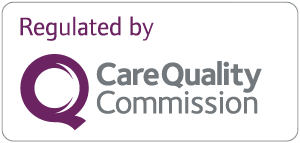 "The staff at Cookridge Court could not do enough to help. I needed lots of help with my mobility and the staff were there to help whenever I needed them. Midway through my stay, the staff worked so hard to put on a barbecue for residents and their families. They ensured that all residents who wanted to attend were given all the help they needed. My family were really impressed with the efforts each and every member of staff put in to ensure the residents enjoyed themselves. I would certainly recommend Cookridge Court to anyone needing respite care for themselves or a loved one"
D R
carehome.co.uk rating: 4.50 out of 5
"Everything about the home is fantastic. The staff are caring, attentive and always willing to help and go the extra mile for my mum. The activities which are put on for the residents are frequent and entertaining and definitely make a big difference to the lives of the residents. The rooms are great and a good size and the food is excellent. There are also morning and afternoon snacks, so Mum never goes hungry."
V R
carehome.co.uk rating: 5 out of 5
"Mum has recently returned to Cookridge Court after three months at another care home. She missed the smaller homely feel of Cookridge Court, the varied activities and social aspects as well as the enthusiastic activities team, caring staff and hands-on management team. Mum lost a dramatic amount of weight, and within a week, has already put some back on with the fabulous catering staff and monitoring of her food and drink intake. Mum can be anxious, and everyone is supportive."
Karen S
carehome.co.uk rating: 5 out of 5
"My father came to Cookridge Court after a series of falls at home and a long stay in hospital. We knew he could no longer manage at home, but he was very reluctant to agree to this and saw himself only staying at Cookridge Court for a short stay. However, he very quickly settled in and came to say he wanted to stay long-term of his own free will. The lovely staff have made him feel happy, safe and secure, and we cannot thank the manager and her staff enough. Nothing is too much trouble for them. They help Dad with his personal care yet let him retain his sense of dignity, and they encourage him to do as much for himself as he can. They have cooked him his favourite foods, which he was missing, and have bought things he has specifically asked for. We are welcome to visit at any time, and so have been able to see him very often. The manager said to me that they would help him live "his best life", and I can certainly vouch that he is."
Wanda T
carehome.co.uk rating: 5 out of 5
"Sadly my mother's care home closed down without much notice. Mum moved into Cookridge Court anxious and scared of the disruption and change. The staff and management have been kind and empathetic. Mum's room is bright and airy."
K S
carehome.co.uk rating: 4.58 out of 5
"Written while some Covid restrictions are in place. I love the staff here. They are always kind, considerate, and courteous to residents and family. If you ask a question you get a straight answer or they find out and come back to you. If you ask for something to happen, it will, if it is in their powers. The food is excellent and seems to be plenty of it. If you take your resident out and you are late back there is always something saved or available on return. The surroundings are great; more like a hotel than a care home. Rooms are nicely decorated and there is no embargo of putting pictures on the wall. General tidiness and cleaning are very good. We looked at many care homes before committing mum to Cookridge Court's care and I feel it is the only one that I was happy had passed the "Would I be happy living here myself" test. I now feel mum is safe from wandering, something that we couldn't stop when she was at her house. I would like to see more activities once Covid is over."
Keith P
carehome.co.uk rating: 4.25 out of 5
"My Mum was a resident at Cookridge Court for over seven years before sadly she passed away at the grand old age of ninety-nine at the end of June. We looked at several homes for Mum before visiting Cookridge Court and as soon as we looked round we knew we had found the right place for our lovely Mum to live. Over the years the amazing staff have looked after her with love, care and compassion, treating her with kindness and respecting her dignity. They have always been very professional in their care of her and worked with us to ensure that she was happy and comfortable and involved as much as possible in the activities of the home. During the last very sad weeks when Mum was on end-of-life care they were wonderful to her and to us, helping us through a very difficult time. We can never thank them enough for looking after Mum for us, we definitely made the right choice entrusting our lovely Mum's care to them, we will never forget them."
Carol W
carehome.co.uk rating: 4.92 out of 5
"My mom has a bad experience at her previous care home - what a difference she's having now. Staff are experienced, kind and caring. Staff are aware of her needs and treat Mom with patience and dignity. I cannot recommend them enough - thank you, everybody!"
Helen M
carehome.co.uk rating: 5 out of 5
"Pre-Covid times my father would go to Barchester Cookeridge Care Home for a week respite every six weeks. Just before lockdown, we decided to move him into the care home full time for his own safety. The service, the care, the staff were incredible. I can not fault the way they looked after my father. Coming from an Indian background they even catered to his dietary needs and even allowed me to have food delivered to him once lockdown restrictions eased a little. The communication I received from the manager and her team was amazing. They would liaise with me at every step and they really looked after my father. My father was very fond of certain staff. The team would really get my father involved in all activities to keep him active. During Covid, they provided video calls and even pod visits for me to visit which was really important as my father as a dementia patient and it was important for him to still have that familiarity and communication with his children."
Angela C
carehome.co.uk rating: 5 out of 5
"My mum moved into Cookridge Court in January this year. Although it was very difficult due to her having to isolate, she has settled in well and is well looked after. The staff encouraged her to take part in the activities which she seems to enjoy. They have enabled visiting as best as possible as covid restrictions have lifted and communication has been very good."
M D
carehome.co.uk rating: 4.42 out of 5
"Mum has been there a few months and she seems very happy and I'm happy as they look after her well, the staff are all friendly and happy to help with whatever situation occurs it's lovely and clean and the food is good my mum tells me."
Sandra R
carehome.co.uk rating: 4.25 out of 5
"Cookridge Court is a lovely care home. My Mum has been a resident there for over six years and she has always been well looked after and cared for with love and kindness. The staff are wonderful, before the virus arrived in our lives myself and my family visited two or three times a week and were always made welcome. I miss my visits, I miss my lovely Mum and I miss the staff who over the last six years have become friends. The garden visits have been great but once again in Leeds, we are in lockdown restrictions so those are on hold again. I ring regularly to check on Mum and am always given an update by the staff. I really appreciate all their kindness to Mum and to me over the years and look forward to the time we can visit again, they have been so brave through these difficult times and I can never thank them enough."
Carol W
carehome.co.uk rating: 4.67 out of 5
"Good but the distance from myself and my Dad too far when visiting under this pandemic."
Vinod P
carehome.co.uk rating: 4.5 out of 5
"I am full of praise for Cookridge Court Care Home for the safe and caring environment they provide for my mum. All the staff work so hard to provide a high level of care and support for my mum. All staff are very approachable and very friendly too!"
Amanda H
carehome.co.uk rating: 5 out of 5
"My mother has benefited from all the help even though she has wanted to be at home. Staff have been both caring and professional, very supportive to me as well as trying their best for my mum. It has been a very difficult time and I really appreciate their commitment and courage in the face of the virus."
Linda G
carehome.co.uk rating: 4.25 out of 5
"Extremely knowledgeable and caring staff. Good communication. Patience and care for my mother."
L B
carehome.co.uk rating: 5 out of 5
"Very happy with mothers care, especially as she is visually impaired and very deaf."
S H
carehome.co.uk rating: 4.75 out of 5
"During this terrible lockdown period, I feel my father has been very well looked after. The people/staff at Cookridge Court have done their absolute for all the residents, keeping them entertained."
J P
carehome.co.uk rating: 4.75 out of 5
"The care staff have been marvellous in coping with the covid19 pandemic and providing a caring and warm environment for the residents. I can't fault the care given to my father at the end of his life and the care given to my mother for weeks whilst she was seriously ill. Keep up the good work. It is an enormous comfort to know my parent have had excellent care."
J S
carehome.co.uk rating: 4.83 out of 5
"My husband has been living in Cookridge Court for almost 5 years and has always been happy. The staff are excellent but have been brilliant over the past few months. The food and activities are good. We have no complaints at all, the carers have become friends who have been much missed."
H B
carehome.co.uk rating: 4.75 out of 5
"We have been very happy with the care given to our mother."
S B
carehome.co.uk rating: 5 out of 5
"I find the care staff at Cookridge Court to be very friendly and very professional. They provide the very best of care for my mum, who often tells me she loves it here. I have a lot of confidence in the staff and really appreciate all their hard work. Thanks to all involved in caring for my mum."
M C
carehome.co.uk rating: 5 out of 5
"Cookridge Court is safe and welcoming. Care and supporting staff are friendly, caring and have a good understanding of my mother's specific care needs. The premises and rooms are maintained to a good standard and the manager, together with team leaders and seniors, are helpful and willing to work with the family to address care needs wherever possible. Prior to COVID, there were regular, well-attended events, bringing staff, residents, family and friends together, helping to build and maintain the pleasant atmosphere around the home. Since COVID, there has been good, regular contact with staff and the current visiting arrangements are much appreciated given the difficult circumstances. I feel my mother is safe, well cared for and would be extremely likely to recommend Cookridge Court to others."
K A
carehome.co.uk rating: 4.58 out of 5
"It has been a lovely experience to see my mother in the garden at Cookridge Court Care Home after 3 1/2 months of lockdown. She looked well and happy and the staff were very caring and supportive. We were absolutely delighted to be able to visit."
Sue G
carehome.co.uk rating: 5 out of 5
"Every time I have visited the home I have been so impressed with the care, attention and respect all the residents are given."
Bryan P
carehome.co.uk rating: 4.18 out of 5
"Mum was a resident of Cookridge Court, Leeds, before she sadly passed away in January. We looked at eight homes before we chose Cookridge and we feel we made the right decision. Mum was treated with respect and dignity and it was evident that all the staff at the home truly care for the residents and go above and beyond what is required of them. The staff get to know the resident and they are made to feel they are part of a family community. We felt any concerns we might have were listened to and nothing was too much trouble."
Elaine P
carehome.co.uk rating: 4.75 out of 5
"Mother has been there for eighteen months. The food is good, the staff are good. The rooms are clean. Happy."
P G
carehome.co.uk rating: 4.36 out of 5
"Very good all round. Staff seem very capable and helpful. My parent seems very happy here."
J S
carehome.co.uk rating: 4.67 out of 5
"I knew a little about Cookridge Court as my sister's mother-in-law was resident there and the family had seemed satisfied with the care she was receiving. However, my sisters and I looked at several alternatives, and for the most part were more than disappointed with what we found. Mother was therefore placed in Cookridge and I could not be more pleased with the level of care and attention she received. All of the staff, without exception, were caring and helpful and in fact became friends of the family over the twelve months Mother was resident. I have no hesitation in recommending Cookridge Court to others who have to make the difficult decision of who to entrust with their loved one's care."
Carol B
carehome.co.uk rating: 4.67 out of 5
"Things have vastly improved in my opinion over the last four months at Cookridge Court. Staff are much more helpful and I feel they have a better relationship with the residents. Activities are very good mother enjoys bingo, but participates more in other activities than she use to, she says the activity staff are very good and patient. I hope the home continues to improve because there is always room for improvement. well done."
E H
carehome.co.uk rating: 4.42 out of 5
"In my personal opinion, Cookridge Court has, without doubt, extended my mum's life. I think without her going into Cookridge Court, she would have definitely passed away in 2015. All the carers who work on Iveson do their duties with smiles on their faces. They absolutely love their jobs."
Granville W
carehome.co.uk rating: 5 out of 5
"My sister and I looked after our sick father ourselves for two years 24/7 after he had a stroke which damaged his brain and also sadly caused vascular dementia. We checked out many care homes in Leeds and Harrogate and this care home, along with its staff and residents, are the best by far. For your loved ones - who sadly need to move into residential care - please don't hesitate to visit this care home first!"
Rada
carehome.co.uk rating: 5 out of 5
"Feel there has been an improvement over the last few months. My mother seems calmer and the environment is generally quieter. The staff are always welcoming and provide an update on my mothers health etc when requested. The staff all appear very caring and always acknowledge all the residents when necessary and any changes are always reported to me. There has been quite a few changes at this home, particularly in ownership over the years my mother has been resident. I am happy that the improvement continue and that the current company remain in ownership for the foreseeable future."
C J
carehome.co.uk rating: 3.67 out of 5
"A brilliant care home in every aspect. My mother had dementia and stayed on Grange until she finished her days there. Throughout her time in Cookridge Court, the carers were fantastic. They know and understand the personalities of all the residents and sensitively address their individual needs. All the staff at the home always had time for my mother, responding to her affectionate ways and we always were greeted warmly on our visits. Mum's young grandchildren were also most welcome. All the staff - housekeeping, technicians, laundry and obviously the carers work very hard - nothing was too much trouble. We're so glad we chose Cookridge Court. A big thank you to you all - true professionals."
Cathy V
carehome.co.uk rating: 5 out of 5
"The staff here all communicate really well and are all experienced nurses. They all know what is going on which makes it easy to talk to any one member of staff. You get the sense that they do really care about the residents and their wellbeing. The residents are all really well cared for and that is clear to see. It is a very guilt-laden and worrying thing having to place your loved one in care because you struggle to be able to do it yourself, especially when they are suffering with dementia and dying before your eyes. However, we feel really comfortable with the care here and that she is fed hot meals, is clean, not lonely and most of all as happy as she can be."
Stephanie F
carehome.co.uk rating: 4.17 out of 5
"Cookridge Court has had recent investigations from CQC of which I'm sure you are aware. Since then things have changed for the better and it is now thriving. The staff are now very helpful and available when needed. My aunt has been a resident for over 4 years so I can see much improvement on all aspects of care there. The best one being a great management team and a good approachable manager who puts herself out to ensure great care for our vulnerable relatives so I can go home in the knowledge that they are being cared for and all is well. Long may it continue to be so."
Rosalie M
carehome.co.uk rating: 4 out of 5
"My husband was a resident in Cookridge Court for four weeks and settled quickly. I was completely satisfied with his care. The staff were capable and friendly and treated him with dignity and respect. They had time for one to one chats and took an interest in him and his welfare. I wholeheartedly recommend this home."
Jean G
carehome.co.uk rating: 4.75 out of 5
"My mother has been very happy since she moved in here six years ago. The management are very approachable. The care my mum receives is of a very high standard. I feel very supported by the whole team and I can always approach the senior with anything. Nothing ever feels too much trouble. Overall this is a great home and I would highly recommend."
Keith M
carehome.co.uk rating: 5 out of 5
"The staff are all very caring, helpful and encouraging. With their help I am making excellent progress with my mobility. They try to provide varied activities, exercise classes, quizzes and entertainers. The only slight downside is that the food sometimes falls below the anticipated level and I feel that our complaints are not listened to."
Hazel B
carehome.co.uk rating: 3.83 out of 5
"My mum is very happy here and really enjoys dealing with the staff. My family think the staff are delightful. A real credit to their profession."
Martin S
carehome.co.uk rating: 4.5 out of 5
"From the day my family and I came to look around Cookridge Court we were so impressed with the quality and care around the home. Everything was spotless and we received a warm welcome. After 4 months of looking around other homes to take our precious mother, I knew Cookridge Court was the one. The staff are all so caring and cater to every need of the residents."
Patricia S
carehome.co.uk rating: 5 out of 5
"My mother is reasonably well cared for in that she is kept clean, nicely dressed and has hair/nails done regularly. She does, however, spend a lot of time by herself in her room and rarely takes part in activities. Whilst I understand the need to respect her dignity and wishes, I feel more could be done to reduce her isolation. She likes to be independent but frequently has accidents and leaves smelly underwear around the room, sometimes in drawers. Staff are caring and friendly. Documentation improving."
S B
carehome.co.uk rating: 3.5 out of 5
"Lovely home, staff always pleasant and greet my aunt. Always happy to help with any requests or queries we have when we visit. My aunt seems very happy and has settled well."
Louise F
carehome.co.uk rating: 4.83 out of 5
"I highly recommend Cookridge Court both for the care provided to my mother and for the comfortable surroundings of the home. My mother is 87 years of age and has dementia, we needed a week of respite care for her as my father is her carer and was not coping. It was the first time in 67 years of marriage that they had been apart so the family were worried about how she would cope without him. All the staff at Cookridge Court were so welcoming and understanding and made her stay as comfortable as possible. I rang up nearly every day to check on her and I got put straight through to her main carer who put my mind at rest. We will definitely be arranging another respite stay for my mother when my father needs a rest."
Michelle F
carehome.co.uk rating: 5 out of 5
"My husband has always been happy at Cookridge Care Home. Although his memory is bad, he has never lost his rather "naughty" sense of humour and gets on well with the staff. His room is kept clean, his clothes are well laundered and his personal hygiene is good - apart from the occasional missed shave!"
June B
carehome.co.uk rating: 3.45 out of 5
"Very good, clean, friendly. Very good staff, excellent food and a high standard of care."
T M
carehome.co.uk rating: 5 out of 5
"My dad always enjoys coming here for his respite holidays! The food is always good and he always makes a friend or two! I know I can safely leave him here in their more than capable hands."
Helen L
carehome.co.uk rating: 4.75 out of 5
"Staff very pleasant and helpful. My aunt seems happy here."
Deborah L
carehome.co.uk rating: 4.25 out of 5
"I go most days and I'm quite happy with the situation. I know them all and they're very kind. They do their best with the available staff."
Peter L
carehome.co.uk rating: 3.75 out of 5
"Thank you. Thank you to the fabulous staff at Cookridge Court for providing respite care to the best mum in the world: mine! Everyone there is so attractive, cheerful, helpful, kind and attentive and at all times superbly professional. Cookridge Court is more like a luxury hotel than a care home. The building is impressive and the layout conducive to socialising. As soon as you enter the ambience is sophisticated and welcoming. The decor is beautiful and fragrant with fresh cut flowers. The layout is well designed and the en suite ground floor rooms set amongst greenery, foliage and lawns are fantastic. There are varied daily activities, and although my mum told me she would content herself with watching TV in her room, in fact she loved the entertainment be it singing, dancing and painting. How blessed we were to discover this outstandingly good care home."
Marsha M
carehome.co.uk rating: 4.75 out of 5
"My mum has been in Cookridge Court for 4 weeks after spending 5 weeks in hospital. Mum's mobility and mental health had rapidly deteriorated in hospital. It's incredibly the progress she has made at Cookridge Court. Me and my family can't thank the manager enough for making it an easy choice for mum to live there. Mum seems really happy. We have all found the facilities and staff brilliant. My mum has been made to feel special by the staff at every grade. To see her so happy makes us as a family feel confident that she is being well looked after."
Steven P
carehome.co.uk rating: 4.75 out of 5
"My grandad has been a resident here for over 3 years. Staff have always been very helpful, kind and caring. Grandad always seems very happy on every visit. Thank you Cookridge Court."
Stephen W
carehome.co.uk rating: 4.33 out of 5
"My mum is very settled and has been very relaxed and happy since the first day she arrived. The staff are very caring and supportive."
Jane W
carehome.co.uk rating: 5 out of 5
"The staff have been very caring and I am pleased he was so well looked after! Would recommend Cookridge Court to other people."
C P
carehome.co.uk rating: 5 out of 5
"Cookridge Court is a lovely care home. My mum has been a resident for over four and a half years. The staff are very kind and caring, they look after Mum extremely well and they treat her with understanding and respect. They keep us up to date with how Mum is when we visit and get the doctor to check her if there is the slightest concern about her health. The home is very clean and well maintained and the general atmosphere is very welcoming with coffee and cakes in reception when you visit. In my opinion, the two new managers appointed in January this year are doing a really good job leading and inspiring their lovely team of carers and staff and have now got the home back on track after some difficult times."
Carol W
carehome.co.uk rating: 4.67 out of 5
"Cookridge Court is a delightful place to stay. The staff cannot do enough to be helpful."
Julie C
carehome.co.uk rating: 5 out of 5
"I have been very pleased with the level of care given to my mother, who is partially sighted, deaf and with poor mobility. The staff are always approachable as are the management. The room is clean, and mum says there is more than enough food, she is warm. There are several sitting rooms, and she says the staff are always helpful and have time for her. I cannot review the activities as she is limited by eyesight and hearing, but there seems to be plenty going on."
S B
carehome.co.uk rating: 4.92 out of 5
"My mum has now been a resident in Cookridge Court since Sept 2017. From that very first day Staff have been Caring, Friendly and Supportive both to her and the rest of the family. Everyone, including cleaners, laundry assistants, kitchen staff, office staff, reception staff, handyman, carers and seniors have all shown my mum the dignity and respect she deserves. She is well looked after in terms of food and refreshments and entertainment and has friends amongst Staff and residents alike. Even when things aren't going so well for her at times there's always someone around to assist her and check on her regularly. My mum has had a difficult life right from being tiny but since moving into Cookridge Court she has settled well and more importantly she feels safe and well cared for. She often says she is spoilt with the care and attention she receives on a daily basis."
Margaret M
carehome.co.uk rating: 5 out of 5
"Building and facilities are good. The opportunity to spend time outside would be helpful to residents. Staff very helpful and approachable."
T J
carehome.co.uk rating: 4.58 out of 5
"We arrived in August - at short notice - and the team accommodated our requests very well. Initial assessment of dad's condition was well managed, however, after approximately 6 weeks, after a 2nd assessment, we asked for dad to be moved as his dementia is not as severe as others on his floor and this request was dealt with promptly. Dad is much happier and more settled with the welcoming of the care teams. The care teams have been consistently caring, informative, attentive and upbeat in the care of dad. We are regular visitors (4-7 times a weeks) so have a good view of what day to day life is like there. Any issues we have had have been raised and promptly dealt with."
P D
carehome.co.uk rating: 4.67 out of 5
"My first impression when I entered the care home to visit my mum for the first time was very pleasant. The receptionist was very accommodating, friendly and informative. The reception area is nicely furnished and I liked the fact that you could sit there whilst visiting your relative. I would have appreciated if there was an organisation chart of the care staff and management team on the wall in the reception area with photos and names. Adding pictures helps people associate a face with a name. Another thing that could be added in the care home, such as in the living room and corridors is perfume diffusers to give the home an overall fresh fragrance. I think each room should be provided with coat hooks for hanging up coats, or items such as dressing gowns rather than having them on the resident's bed or on their chair. The care staff were all very nice and friendly as far as my mum was concerned and took fantastic care of her."
Barbara E
carehome.co.uk rating: 3.17 out of 5
"Cookridge Court is a really lovely care home. All the rooms are very nicely decorated and very welcoming. My mum had a short stay here for respite as she has dementia and my dad needs to have a break. The staff are really caring and nothing is too much trouble. One carer I talked to was very caring towards my Dad as he got quite upset when he was visiting, she even went over her care duties to make an effort to inform me. This is one place I will definitely use again if we need to use a care home. Thank you all."
Susan C
carehome.co.uk rating: 4.92 out of 5
"Mum seems happy and is allowed to move in her section easily. She is happy with the food and her room."
A S
carehome.co.uk rating: 3.64 out of 5
"The care and kindness my mother received while she was a resident at Cookridge Court Residential home were excellent. The staff and management, even down to kitchen staff and maintenance were all kind, compassionate and caring people not only to my Mum but also to her family. We could not praise them highly enough and would definitely recommend this Care home to anyone."
Barbara L
carehome.co.uk rating: 4.58 out of 5
"My mother became a resident at Cookridge Court 12 months ago after a protracted stay in hospital (5 months). My mother's health and wellbeing have improved significantly over the cause of the past 12 months, which is due to the care and attention she is receiving from all members of staff at Cookridge Court. The premises and grounds are always kept to a very high standard and the food provision is excellent. Thank you!"
William E
carehome.co.uk rating: 4.75 out of 5
"Compared with other homes I have visited and reviewed, Cookridge Court is what I would describe as "best of breed". I am particularly impressed with the staff members who are very caring and dedicated to the work that they do."
Roger L
carehome.co.uk rating: 4.42 out of 5
"The carers are efficient, caring, kind and helpful. They treat residents with respect and friendliness. The senior carers always inform me if my mother has any health problems and how she is getting on. All the staff in the care home are polite and friendly. The carers always contact GP's or district nurses as soon as possible when necessary. My mind has been put at rest so that I do not worry about my mother when I am not with her. I know that my mother is happy because her face lights up when some of her carers come to talk with her and she says "don't send me anywhere else"."
Christine L
carehome.co.uk rating: 4.5 out of 5
"Occasionally small detail may be missed e.g cleaning spectacles, changing hearing aid battery, but overall a safe, clean comfortable environment where I am confident my family member is well cared for. All staff, whether care, laundry, cleaning, reception or other, are always kind and friendly which helps create a warm pleasant environment for both residents and visitors. Additionally staff understand residents well enabling them to respond and care on an individual level in terms of specific care needs and daily interaction on a social level."
Kris A
carehome.co.uk rating: 4.25 out of 5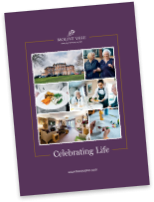 Read our brochure 'Providing great quality care and wellbeing' for more information on how we're here to help you and your loved one.
Read brochure
Food & Nutrition
Activities & Events
Care & Facilities
What happens now?
Are you ready to discuss your individual care requirements? Pick up the phone and talk to us, book a visit to our care home or come and take a look around our facilities.
Our fees and contract
We want to be as transparent as possible about how we charge for the different services we provide as well as what's included in our contract. Please click the links below to find out more about our fees and contract.
View typical fees
View Our Contract
Useful downloads
Here to help you make the right decision about your care requirements.
48470