Meet the Cookridge Court Care Home team
Our staff are what hold the home together. Each one of these team members are dedicated to providing high quality care and services to those we support, and ensuring that residents enjoy all aspects of life at our home. See below to meet some of our friendly faces:
Karen Francis
General Manager
Hi, my name is Karen, and I am the General Manager here at Cookridge Court. Welcome to our website!
I joined the home in January 2018. The first part of my career was spent with the NHS as a trauma nurse and nurse manager. I moved into the private sector in 2010 ago and have enjoyed every second since then. The provision of gold standard care to our residents is my passion and, here at Cookridge Court, we strive to deliver this every single day. I believe it is a privilege to be able to work with such a conscientious, caring and compassionate team who never fail to put the residents first.    
Vicki Foster
Hi, my name is Vicki and I have worked at Cookridge Court since October 2015, I have had a good progressive career, beginning as a care assistant and eventually progressing to a senior care assistant, team leader to my most recent post as Deputy General Manager. I love every aspect of my role, I am dedicated, hardworking  and compassionate, I believe in establishing good relationships with residents, their families and other health professionals. My Team and I are committed to delivering a high quality, person centered care ensuring excellence every day.
Show More
Gwen Whitaker
Hi my name is Gwen,  I am the receptionist here at the home.  I have worked at Cookridge Court since February 2015 and every day is different here at the home. The best part of my job is meeting new people, showing them what we provide and getting to know each person well as they move in and become part of the Cookridge Court family. I look forward to showing you round our wonderful home. 
Show More
Members of the Care Team
Hi, we are members of the care team here at Cookridge Court and offer a variety of skills and invaluable warmth and care for our residents. We bring a wealth of experience to our roles and continue to develop our expertise in order to provide the best possible care to our residents. We each bring a wealth of knowledge to the team and help and encourage others every day as well as thrive on their unique relationships with our residents.
Show More
Sinead Ruddock
Hi, my name is Sinead, I am the Head Chef here at Cookridge Court. I started out as a catering assistant in 2016 before I worked my way up to assistant chef, then to Second Chef and in 2019 I became Head Chef at the home.
I have a passion for food and love creating new dishes for our residents to enjoy.
Show More
Tim Green
Hi, my name is Tim and I have worked at Cookridge Court since 2015. I started as a Maintenance Assistant and have recently been promoted to Maintenance Manager. I am always happy to help and love having a chat with the residents.
Laura Marshall
Head Activities Coordinator
My name is Laura and I am the Head Activities Coordinator here at Cookridge Court. I have worked in care since 2014 and get so much satisfaction out of knowing I have made a difference to people's days and have filled the home with a sense of community and happiness. We have created a wonderful culture within our home and we work together to give residents the best possible experience. We are here to ensure that residents enjoy an environment that is both stimulating and socially active and ensure we all know each residents' preferences so that we can deliver a person-centered program of events and activities. The strong relationships we build with our residents, their families and friends is essential to our homely feel.
Show More
Su-Ellen Iley
Hi, my name is Su-Ellen and I am a Senior Care Assistant. I started at Cookridge Court in 2017 as a care assistant. I am driven by my passion for giving high quality Dementia care and consider the residents of Cookridge Court to be my extended family. Nothing gives me a better sense of achievement than knowing I have helped to brighten someone's day by going that extra mile. I'm also incredibly proud of the team I work with, the love and dedication they show for the people we care for, especially in this past year, has been nothing short of incredible.
Show More
Resident Ambassador
Introducing Cookridge Court's Resident Ambassador, Florence.   Florence has been residing here since 2020 and contributes a positive attitude amongst the residents. Florence told the team...
"I am pleased to have been chosen to represent my fellow peers as I am always willing to help other residents with any issues they may have and love to partake in all the activities. I also enjoy encouraging others to come and take part. I am always welcoming any questions, about life at Cookridge Court, especially if you are considering living here yourself."
Show More
Anna Hanlon
Hi, my name is Anna and I have worked at Cookridge Court since 2018. I initially started as team line manager and in-house trainer but have recently started my new role as Home Administrator. This role involves managing enquiries, recruitment and the financial running of the home whilst supporting our staff, residents and families.
I am very passionate about making our home a safe and happy environment for our residents and staff and look forward to settling in to my new role. 
Show More
Sharna Neal
Sharna joined the team in September 2021.
Sharna has over 4 years experience in the care industry, mainly specialising in Dementia care. Sharna has undergone a variety of different Dementia training and has a strong passion for supporting those living with Dementia. 
Sharna is delighted to be part of the team at Cookridge Court to provide the best care and support for our residents and families. 
Show More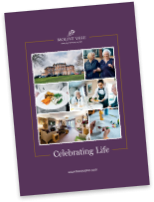 Read our brochure 'Providing great quality care and wellbeing' for more information on how we're here to help you and your loved one.
Read brochure
Food & Nutrition
Activities & Events
Care & Facilities
What happens now?
Are you ready to discuss your individual care requirements? Pick up the phone and talk to us, book a visit to our care home or come and take a look around our facilities.
Care enquiries
New care enquiry phone lines are open 8am - 8pm
0113 213 6395
All other calls
Our fees and contract
We want to be as transparent as possible about how we charge for the different services we provide as well as what's included in our contract. Please click the links below to find out more about our fees and contract.
View typical fees
View Our Contract
Useful downloads
Here to help you make the right decision about your care requirements.
48470