Meet the Claremont Parkway Care Home team
From nurses and carers to chefs and housekeepers, staff in our home are here to deliver high quality care and services to those we support. Check below to meet some of the friendly faces you are likely to see when visiting our home:
Natalie Maxwell
General Manager
Hello. I am Natalie and I am the General Manager at Claremont Parkway Care Home.
I qualified as a Registered General Nurse in 2003 and began my career working on a hospital respiratory ward. I then gained broad nursing experience working in a prison, followed by some time in a care home supporting people with neurological conditions.
I am a naturally caring person and enjoy ensuring that our residents have all their daily needs met including personal care, medical support, social contact, meaningful activities and good nutrition. As a team we all seek to make residents lives happy and comfortable.
As a manager I am always developing team members' skills and qualifications to ensure our home meets and exceeds Barchester's high standards in every aspect.
I love Claremont Parkway's friendly, welcoming atmosphere and I enjoy getting to know their families and friends too.
In my spare time I like watching my young sons play football.
Amancita Palero
Hello. I'm Amancita and I was delighted to return to the Claremont Parkway team in 2022 having worked here for three years previously. I completed my BSc Nursing degree in The Philippines and am pleased to have had a wide range of career experience since then. I spent 14 years working in an Intensive Care Unit in Kuwait, then I was a Manager in a rehabilitation centre in Northampton, and I have also had roles as Clinical Lead and Deputy Manager in a number of care homes. My colleagues say I am always happy. If I ever feel any stress I sing! I get to know residents really well and like to brighten their days. In my spare time I play the ukulele and guitar, especially to entertain my grandchildren.
Show More
John Windhaber
Hello. I am John and I joined the Claremont Parkway team in 2013. I am a Nurse and I work days as I like helping people to enjoy their day by giving them all the medical support they need. My role in the nursing community includes issuing and reviewing medication, treating any conditions residents may have, monitoring nutrition and hydration, liaising with other healthcare professionals such as Doctors and therapists, and working with our own team of carers and activities team members to make every day fulfilling. I enjoy getting to know families so that I can put their minds at ease regarding the wellbeing of their loved one.
Show More
Elena Toma
Hello. I am Elena and I joined the Claremont Parkway team in 2015. I am a Nurse and I work at night which I love doing. I feel it is important to support residents with their evening routines whether that is relaxing in their rooms or spending time with other residents. I make sure evening and morning medication is taken on time and I check residents are as comfortable as possible when they go to bed. The Nurse team also makes sure everyone has a bed and mattress that are comfortable and safe for them. During the night I monitor residents in our nursing community and respond to any medical needs. The night team of nurses and carers is vital for ensuring residents get as much sleep as they need and I look forward to helping people begin the new day feeling as well as they can. I am always happy to tell families more about how we support night-time routines and answer any questions.
Show More
Barbara Head
Care Home Assistant Practitioner
Hello. I am Barbara, a Care Home Assistant Practitioner here at Claremont Parkway.
My role is to support the work of the Nurses so I help with medication rounds and wound dressings, as well as working as a Senior Carer. I have worked in the home since 2012 and I love what I do. Every day is different and I enjoy being able to make residents feel as comfortable, supported and healthy as possible.
Show More
Jess Board & Chloe Cunningham
Hello. We are Jess and Chloe, and we are Senior Care Assistants at Claremont Parkway.
On a daily basis we help residents to get up in the morning, check how they have slept and support them to get ready for the day. We make sure they feel good about themselves, and help them to take part in what they want to do that day. We monitor weight, nutrition and hydration, too, and respond to their needs throughout the day until they are ready for bed. We love getting to know families too when they visit.
Show More
Care Team
Hello. We are all Carers at Claremont Parkway.
We enjoy looking after residents and making sure every day is as good as it can be for them. We get to know residents as individuals so that we can provide the care and activities that they enjoy. Please talk to us about your loved one when you see us.
Show More
Kelly Bradbury
Hi. I'm Kelly and I am the Activities Coordinator at Claremont Parkway. I joined the team here in 2013, in my first care job, and in 2015 I was encouraged to go on a Train the Trainer Course, to become the In-home Trainer. I am so glad I did this as it helped me to develop my skills and build my confidence.
I became Activities Coordinator in 2020 as I love getting residents involved in crafts, baking, exercise, mental activities and social events to meet all their esteem needs.
The team at Claremont Parkway believes activities are an important part of residents' days and I look forward to introducing new and exciting activities, as well as enjoying old favourites. Residents can choose to join a group activity or have some one-to-one time with me in their rooms.
Show More
Elain Carey
Hi. My name is Elain and I joined Claremont Parkway in 2017 as a night Carer. In 2020, I applied for the position of Activities Assistant and was delighted to be appointed to the role. I support the Activities Coordinator to deliver a full programme to entertain, stimulate and keep residents busy. Activities include crafts, baking, exercise, outings, worship, sensory treatments and lots of social occasions as there is always a birthday to celebrate. I like to see residents making friends and chatting with each other too.  I have a background in dance, music and acting, and I am also a qualified Zumba instructor, so I love it when we have entertainers in the home. We also have therapy pets visit every week with their owners, which residents find very relaxing.
Show More
Emma McMillan
Hello. I am Emma, the Home Administrator at Claremont Parkway.
I joined the home in 2012 as a part-time Care Assistant and have taking every opportunity for training that the company has given me. I have been promoted several times during my time here and was Deputy Manager for two years, before I decided to take on a different role and the Home Administrator. I support the work of our Manager and I help residents and families with paperwork and financial matters.
I have a Level 4 qualification in Management and was recognised with an award from Qube Learning as 'Outstanding Achiever of the Year 2019'. I am very proud of the experience and knowledge I have built up in my time here and have put them to good use during my work which can sometimes have its challenges. We have an amazing team here at Claremont Parkway and I like to see younger members of the team progress and grow in their roles.
Show More
Becca Nolan
Hi. My name is Becca and I am the Head of Housekeeping at Claremont Parkway.
I joined the team here in 2015 as a Healthcare Assistant working day and night shifts. I have now taken on a new exciting role as Head of Housekeeping, which is vital to the safe and comfortable running of our home.
I work with members of the Housekeeping team to keep all areas clean, homely and safe for residents, staff and visitors. We have high standards, especially for infection prevention. I love being part of residents' day-to-day routines and I enjoy hearing stories of their lives. I try to find out exactly how they like things to be done and I make sure their rooms are just how they like them.
Show More
Jorge Miranda
Hi. My name is Jorge and I am the Head Chef at Claremont Parkway. I joined the team in 2021 and I enjoy providing delicious, nutritious menus every day, with new foods and residents' favourites. Food is freshly cooked in our own kitchen and there is always a choice of meals. We can blend or thicken food and drinks for residents who require some support with swallowing. We also have Dining Hosts to provide assistance with eating if required. There are also social events and celebrations so the Kitchen Team and I make lots of cakes and treats, too.
Show More
Steve White
Hello. I'm Steve, Head of Maintenance.
I joined the Claremont Parkway team in 2020, transferring from another Barchester home where I worked for four years.
I enjoy all aspects of my role including regular maintenance, assembling equipment and furniture, reactive maintenance if something is not working properly, and carrying out routine inspections to make sure everything is safe.
I enjoy keeping the home attractive and welcoming for residents, their families and other visitors. I particularly like helping residents to arrange their rooms exactly as they like them, so it is a real home from home.
Show More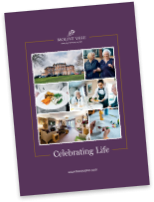 Read our brochure 'Providing great quality care and wellbeing' for more information on how we're here to help you and your loved one.
Read brochure
Food & Nutrition
Activities & Events
Care & Facilities
What happens now?
Are you ready to discuss your individual care requirements? Pick up the phone and talk to us, book a visit to our care home or come and take a look around our facilities.
Care enquiries
New care enquiry phone lines are open 8am - 8pm
01536 439255
All other calls
Our fees and contract
We want to be as transparent as possible about how we charge for the different services we provide as well as what's included in our contract. Please click the links below to find out more about our fees and contract.
View typical fees
View Our Contract
Useful downloads
Here to help you make the right decision about your care requirements.
48449