Meet the Chater Lodge Care Home team
Our trained team of professionals work together to create the best possible experience for those living in the home, striving to deliver excellent care services in a warm, homely environment. You can find out more about some of our wonderful staff members below:
Zoe Postgate
General Manager
Hello. My name is Zoe and I am the General Manager at Chater Lodge Care Home. I have worked in care settings since leaving school and have worked my way up from apprentice to my current management position. I joined Chater House in 2012 and was soon promoted to Deputy Manager, and then again to General Manager in 2017. I have nearly completed an NVQ Level 5 in Leadership and Management. I take pride in ensuring the whole team provides high quality care to all our residents and I enjoy making people laugh and feeling loved. I like taking on new challenges and learning all the time through new experiences and training. Outside of work I like to spend my time keeping fit, walking my dogs and sitting in front of a fire reading about my favourite subject - Greek myths.
Mandy Myciuk
Hello. I am Mandy and 1 have worked in healthcare since 2000, gaining a wide range of care and nursing experience.
I joined Barchester in 2017, working at a home in Grantham as a Care Practitioner. In 2022 I transferred to Chater Lodge to become Deputy Manager and I am currently studying for a Level 5 Management qualification.
I love getting to know residents so I can make their days at our home as happy and comfortable as they can be.
Outside of work my interests are cycling, keeping fit and spending time with my family.
Show More
Anna Matusiewicz
Hello. I am Anna and I am a Senior Carer at Chater Lodge. I joined the Chater Lodge team in 2006 and I love working here. I support people in our residential and dementia communities and I have received lots of training during my years here. I was a trained nurse in Poland so I have had care at the heart of my work for many, many years. I enjoy working closely with residents, getting to know them well, treating everyone as an individual and making sure they feel their best. I like doing the little extras that make residents feel happy, such as doing their hair nicely for them, or putting up Christmas decorations. I believe we should treat residents as we would expect our own families to be treated, and that is what I expect of my team. I love getting to know residents' families, too, so that I can allay any worries they might have about their loved ones. Please say 'Hello' if you see me.
Show More
Maria Durrant
Hello. I am Maria and I have lived in Ketton for most of my life. I worked at the local primary school before joining Chater Lodge in 2019. My first role here was as a Dining Host and have now found my passion in creating an interesting and inclusive programme of activities for all our residents. I like having fun with residents, dressing up, singing songs and celebrating special events. I love being a part of the team here and my career change to Activities Coordinator is the best thing I have ever done.
Show More
Nina
Hello. I am Nina, the Head Chef at Chater Lodge. We have a great kitchen team here, preparing a tasty choice of home-cooked food three times a day, as well as refreshments, snacks and treats in between. Our menus incorporate everyone's nutritional needs and food preferences. We have Dining Hosts too who help residents to make their food choices and can assist with feeding if required.
Show More
Donna Pryor
Hello. I am Donna, the Administrator at Chater House. I joined the team in 2009 as Administration Assistant and was promoted to Administrator in 2016. I have previously had positions with a customer focus, including working for a large supermarket group and also in a bookshop. My administrative experience includes data analysis, sales, finance and staff recruitment. I have an NVQ2 in Business Administration. I like getting to know residents and hearing their life stories, as well as getting to know their families and I do my best to help people with their move to our home. I am an energetic person, always have a smile and I like to make people laugh. When I am not at work I love to be outside, either in the garden or taking my dog for a walk.
Show More
Toni and Julie
Hello. We are Toni and Julie, members of the Housekeeping Team at Chater Lodge. We have known each other a long time as we worked together at Tesco and are pleased to be working together again. Toni joined Chater Lodge in 2020 and Julie in 2019. Toni tends to do more of the cleaning and infection control work around the home and Julie tends to do more laundry work but we both do whatever is the priority. We work hard to maintain high standards of hygiene, following all the required procedures and Chater Lodge cleaning schedules. We like the home to be comfortable and tidy so residents feel it is their own home. We respect people's private space and get to know how they like their own rooms and special belongings as everyone has their own preferences. We enjoy listening to residents' stories and seeing photos of their families. Toni enjoys walking in her spare time, and horse-riding which she did as a child and took up again a few years ago. In this photo our colleagues have presented us with chocolates to mark national housekeeping day.
Show More
Aaron Speechley
Hello. I am Aaron, Head of Maintenance at Chater Lodge. I am here to make sure all of our residents and staff have a safe and comfortable environment to live and work in. My role involves all the planned inspections and maintenance of our equipment and premises. I also respond to anything that breaks or needs replacing, and I have a plan of decorative work to ensure the home always looks nice. I am pleased to be part of such a friendly team here at Chater Lodge and I also get involved in our community activities, connecting residents with the wider community.
Show More
Matthew Cuttforth
Hello. I am Matthew and I am a Dining Host at Chater Lodge. I support the Kitchen Team by making sure their cooking is served to residents in an attractive and timely manner. I get to know each resident's food preferences and I assist people who need a little help with their meals. I also bring round the trolley with tea, coffee, biscuits and cakes twice a day, and I have a smile for everyone as I serve them. I have a background in retail but I love my role at Chater Lodge. I have also taken on the role of Gardener at Chater Lodge and enjoy keeping the grounds green and tidy. I also support residents to plant up hanging baskets and patio pots. In my spare time I am an artist, producing greeting cards and portraits of the natural world.
Show More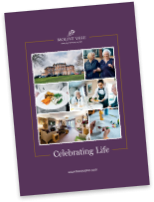 Read our brochure 'Providing great quality care and wellbeing' for more information on how we're here to help you and your loved one.
Read brochure
Food & Nutrition
Activities & Events
Care & Facilities
What happens now?
Are you ready to discuss your individual care requirements? Pick up the phone and talk to us, book a visit to our care home or come and take a look around our facilities.
Care enquiries
New care enquiry phone lines are open 8am - 8pm
01780 778 440
All other calls
Our fees and contract
We want to be as transparent as possible about how we charge for the different services we provide as well as what's included in our contract. Please click the links below to find out more about our fees and contract.
View typical fees
View Our Contract
Useful downloads
Here to help you make the right decision about your care requirements.
42