Reviews for Cepen Lodge Care Home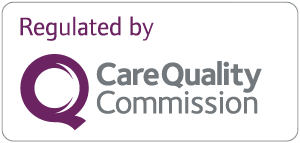 What our families say on carehome.co.uk
"Visited the home to take in my police dog to show the residents. Warm, friendly environment with lots of smiling faces, lots of people interested in the dog (springer) they were able to engage with the dog and lots of comments of remembering dogs they have had. Great to see the reaction to the dog and hopefully was a highlight for people. Will drop back in again soon."
Chris P
carehome.co.uk rating: 4.58 out of 5
"Most of the staff are excellent nearly 75% of them. It's now my husband's family because of dementia. I could not have chosen a better home. It feels like a home from home. I would rate this home the best locally, excellent all around with staff and residents."
Maureen B
carehome.co.uk rating: 4.67 out of 5
"A lovely home, with lovely people who really care. Mum is very happy here. The events coordinator is great, she really knows how to engage the residents and comes up with some fantastic ideas for them. Always some sort of entertainment going on. Would highly recommend this home."
Gillian R
carehome.co.uk rating: 4.50 out of 5
"My Mum is currently in Cepen Lodge and has been at the facility for a number of months now. She resides on 'Memory Lane' where the care is centred around dementia care. Unfortunately, the nature of her dementia means that she can be quite challenging at times, with family, and carers alike. In conjunction with the Social Work department, we examined the opportunities in over 60 care homes within the area and Cepen Lodge represented the best facilities for stimulation and the appropriate security for Mum as her illness had worsened and it deemed necessary for her to have a permanent placement. When visiting and by frequent phone contact, the staff are always polite and in conversation, it is easy to see that they have got to Mum as an individual. The rooms are always tidy and Mum is always clean and presentable in appropriate clothes for her. The food appears appetising and is served at a dining area if desired. The range of stimulus available to Mum at the home is second to none. I would like to concentrate on the staff at Cepen Lodge. I am aware that no names should be included, but by reading this submission, the staff concerned will know who they are - and in what high regard they are held. The staff, without exception, are all kind and polite and personally informative on the phone (you know they have got to know Mum), but more importantly, there is never a question of anyone being judgemental about family members, despite circumstances. I am a senior health care provider in the NHS and can view 'care' with an objective viewpoint, however, it is delivered. I have been and remain singularly impressed with the training behind what has produced a focused and caring group of staff. I am impressed with the interviewing techniques that have chosen the right staff who care and moreover, I hold the staff who look after my Mum on a regular basis in high regard."
Adrian W
carehome.co.uk rating: 4.92 out of 5
"Generally excellent - rooms are showing the need to be decorated. I was disturbed a couple of times by work going on."
P H
carehome.co.uk rating: 4.58 out of 5
"My auntie was in Cepen Lodge for a period of respite, and we cannot rate it highly enough. From the kindness of the staff to the facilities to the activities and the food, not only was the team so amazing to my auntie, but they were also so supportive and helpful to me and my family - nothing was too much hassle, and we couldn't have gotten through this time without you."
Joanne M
carehome.co.uk rating: 5.00 out of 5
"My dad has been a resident for a few months and has settled very well. The home has a warm, homely and welcoming environment. Thank you to the wonderful team, for the excellent care that is given. The home is always spotless and tidy. Dad enjoys the meals which are served in a lovely dining room. The activities team provide fun and varied entertainment, taking into account all the resident's personal likes and wishes. Really good communication between the staff relating to Dad and his care. We visit almost daily and always receive a warm welcome and feel like we are visiting an extended family. As we leave, we know Dad is happy, well cared for and safe, which means so much. All the staff's hard work is much appreciated."
Glenys P
carehome.co.uk rating: 5.00 out of 5
"My husband is in this beautiful home, the service is very good and the staff is always welcoming and friendly to each other, and the residents, I don't call this care home, it's more like a hotel, why don't you try it,?it's great. The staff are always available if you need a chat,"
Maureen B
carehome.co.uk rating: 5.00 out of 5
"Mum has been in the home for almost a year, and she is very content. I know she has dementia, but she always says how "lovely" it is in the home."
Christine W
carehome.co.uk rating: 4.92 out of 5
"My husband joined Cepen Lodge on the 20th of September 2022. He is currently in an emergency respite bed, and it's his first time away from our home. He settled into the amazing Memory Lane community like he's been here for years. The staff are amazing, the place is amazing, and my husband's care is second to none! All the staff are angels."
Dawn J
carehome.co.uk rating: 5.00 out of 5
"Mum has been in Cepen Lodge for over two years. She is happy and well cared for."
Pamela P
carehome.co.uk rating: 4.83 out of 5
"Considerate staff who do their best to ensure the residents are happy and safe. A special mention to one particular lady."
Kevin S
carehome.co.uk rating: 4.08 out of 5
"Helpful staff and a friendly team. Caring and treats residents as individuals. My nan is always treated with respect. Staff check on residents to make sure they are happy and safe."
Charlotte S
carehome.co.uk rating: 3.83 out of 5
"Very caring members of staff. All residents are treated with dignity and respect. When greeted at reception, staff members are always welcoming. Care staff always explain how my mother-in-law has been throughout the day. Staff always helpful and happy to answer questions."
Gina S
carehome.co.uk rating: 4.17 out of 5
"On the whole, my son (who has my sister's power of attorney) and I had a good review about my sister's care and support. When she could still communicate with us, we knew she was very happy at Cepen Lodge."
Eileen H
carehome.co.uk rating: 4.17 out of 5
"Generally excellent and now there's an active activities coordinator I hope to have Mum more engaged during the daytime."
Paul H
carehome.co.uk rating: 4.50 out of 5
"First visit to the care home to enquire about a service user who had recently been admitted. The receptionist was very pleasant, helpful and approachable with my query and was able to quickly get me to a member of staff who could deal with my enquiry. The nurse in charge was equally helpful and took the time to resolve my query."
Philip I
carehome.co.uk rating: 4.17 out of 5
"I have been here for six months and I have been treated with respect and care always. I only have to ring my bell and someone would come to help me, as I am disabled. I love to go into the garden and someone would put me out in the shade and keep an eye on me. Everyone is so kind and thoughtful."
Iris C
carehome.co.uk rating: 4.67 out of 5
"My husband has early onset Alzheimer's he has just turned 59. He's been at Cepen Lodge for 7 weeks and has settled well thanks to the staff on the ground floor and the activities coordinator. It's a vocation not a job to the lovely girls (and mand) on the ground floor. I knew finding the night here for my husband would be a challenge but Cepen Lodge has exceeded my expectations and that is down to the staff from the minute you enter the reception, nothing is too much trouble."
S I
carehome.co.uk rating: 4.33 out of 5
"The care that my brother received in the last two and a half years was amazing. Towards the end, everyone was so caring; it was as though my brother was the only one in the home. "Thank you" to all the staff just doesn't seem enough, but thank you. I could recommend Cepen Lodge to anyone without any hesitation."
A D
carehome.co.uk rating: 5 out of 5
"I don't need 200 words, a mere handful will do. Amazing, stunning and perfect. The care and compassion offered to my parents were truly humbling. The staff at Cepen Lodge deserve every accolade, honour and reward imaginable. These people really are saints, and we will never forget them."
David H
carehome.co.uk rating: 5 out of 5
"Such a lovely care home, newly decorated with a warm atmosphere. The staff are caring and considerate. I would like to give two of the front of house receptionists a mention as they were so friendly and welcoming on all my visits."
B D
carehome.co.uk rating: 4.08 out of 5
"The staff are very professional, caring and compassionate. The food, facilities and cleanliness are also excellent. The management and reception staff excelled in their roles. Thank you for taking good care of my mum. Sadly mum was only with Barchester Cepen Lodge for five and a half weeks and was too ill to participate or to take part in the activities."
J F
carehome.co.uk rating: 5 out of 5
"My mother-in-law has been living at Cepen Lodge for 4 years, during that time she has been looked after exceptionally well. She is always well dressed and her room is very clean and tidy. The staff are always very helpful and caring, this must have been very difficult for the past two years during the pandemic."
Martyn S
carehome.co.uk rating: 4.75 out of 5
"Friendly and helpful staff. Always happy to help and answer questions. Always keep me informed on my mother's care needs and any action required. The room and communal areas are always clean. Overall a very positive experience on all levels."
C P
carehome.co.uk rating: 4.33 out of 5
"In Cepen Lodge for respite everything excellent."
T W
carehome.co.uk rating: 5 out of 5
"Excellent care, support and attention is provided for my dad and also myself. I live in Cornwall and am offered consideration and support whenever I call for updates etc. My dad can be quite challenging as a dementia sufferer and the consideration offered to him by all the staff is exemplary."
M H
carehome.co.uk rating: 4.92 out of 5
"My friend has been in Cepen Lodge for 9 years and has been very happy there. She always seems smart, well-fed and content. The staff are friendly and helpful. I only visit about once a month so have limited knowledge."
W C
carehome.co.uk rating: 3.2 out of 5
"In the past 12 months, I have noticed a lot of things you have put in to help us with gaining information. Thanks to all of the staff for all their hard work through this covid time. I can't believe how good, they have always been with a smile. Thank you."
R H
carehome.co.uk rating: 4 out of 5
"Mum went to Cepen Lodge for respite care for two weeks. Mum was diagnosed with dementia about three years ago. She loved Cepen Lodge; the staff were caring and always on hand to help. The home was very clean and welcoming. The food was fantastic. Mum loved her stay here and would be happy to go back."
Gillian R
carehome.co.uk rating: 4.83 out of 5
"My mother has been a resident in Cepen Lodge since shortly before the first lockdown. It's a lovely care home with wonderful staff. Mum is so well looked after. All the family are very impressed with the standard of care she receives. She has a lovely room there. Very warm and welcoming. We often joke that she now resides in a 5-star hotel. Myself and my family would thoroughly recommend this lovely home."
M R
carehome.co.uk rating: 4.83 out of 5
"I have been a resident of Cepen Lodge for the past month. I am very pleased with my stay here. The staff are just excellent and will anything for you. The accommodation is first class and living here for the foreseeable future is going to be just great."
K W
carehome.co.uk rating: 4.5 out of 5
"Mum has been at Cepen Lodge since December 2017. Throughout that time I have felt that the staff have been supportive and genuinely caring towards mum and my family. They always try their best to make mum comfortable and keep her spirits up. They keep me informed of anything I need to be aware of and I never feel that mum is being neglected or worry about her health or wellbeing. There are a couple of members of staff who feel part of our extended family and I am very grateful to know that they are there."
Dawn J
carehome.co.uk rating: 4.5 out of 5
"I would like to thank the manager and her wonderful team of dedicated carers for looking after, not only brother but all the residents at Cepen Lodge. They have been a huge support in these difficult and challenging times. They truly are an amazing team."
A D
carehome.co.uk rating: 5 out of 5
"My sister-in-law has been a resident for four years at Cepen Lodge. The standard of care during that time has been excellent. There is great emphasis on making residents feel at home and being part of a community, albeit a small one. The level of personal attention is very pronounced and the staff can be seen to offer a lot of time chatting to residents and tending to their every need. As an outsider, I find these qualities very comforting and vitally important, helping to remove a lot of the anxiety which relatives feel when their loved ones are in care homes. The management also display a friendly outlook to residents and members of staff producing a wonderful working atmosphere. There are many examples of very good management principles and I have every confidence in their ability to run the home as it should be. It is a delightful place to be in and I would recommend it to any individual considering the finding of a suitable place in which to place a relative."
Mark B
carehome.co.uk rating: 4.92 out of 5
"The manager conducted the initial assessment with Mum and myself and treated Mum with dignity and respect, reassuring her throughout the process. The home is beautifully decorated and kept clean and tidy with a homely feel. Her room is a good size with an ensuite large enough for the staff to assist Mum safely and they maintain Mum's personal care sensitively. Refreshments are available for both residents and their visitors anytime with visitors being warmly welcomed to join mealtimes. Staff are wonderful and communication between us has been brilliant. The staff have adapted to Mum's evolving needs and I have been consistently updated. In fact, Mum's health and well being have improved dramatically in the time she has lived there. She loves it when I bring the dog for cuddles! Activities are planned and implemented to keep residents stimulated and visitors are invited to many events. The staff have been encouraging video calls during lockdown which Mum has found comforting."
Na H
carehome.co.uk rating: 4.92 out of 5
"A wonderful home - the staff are very caring and alert to the needs of the residents they are looking after. Always clean and bright, it has a nice feel and I am sure the residents are all very happy at this home. Over the lockdown period, the staff have gone out of their way to keep us informed with what is happening, any needs or requirements have been dealt with very quickly. They have provided contact with loved ones via Skype or Zoom plus I have received regular emails with pictures. I can recommend this home as top-class with wonderful caring staff."
Chris M
carehome.co.uk rating: 4.75 out of 5
"Cepen Lodge is a very caring, well-run care home. The home has exceeded my expectations and I am very happy with everything that is being done for my mum. So many times the manager and staff have gone the extra mile and I can't thank them enough."
Gill T
carehome.co.uk rating: 5 out of 5
"Dad has been a resident at Cepen Lodge since February 2019. He had been hospitalised previously and was initially rather unwilling to stay, but he quickly settled in made friends both with other residents and the staff, and is now a different person, far happier and more confident. This is in large part down to the care and dedication of those who work with and look after him. We are delighted - the home has a lovely atmosphere, all the staff are cheerful and welcoming from reception right through to those "on the front line". We have been particularly pleased to be able to get the whole family together for lunch in one of the lounges, for his birthday and at Christmas. The home provides a range of activities some of which he had never tried before. Occasionally he complains that some of his clothes go missing but they usually turn up from the laundry before too long! In summary, we feel we couldn't have made a better choice for Dad at what was a very difficult time."
Chris M
carehome.co.uk rating: 4.83 out of 5
"The entire team at Cepen Lodge are thoughtful, caring and respectful. They have made this tough time so much easier with their positive support. It feels like a family, and I am so pleased my mum is being cared for by them. Every Thursday I am clapping for the team at Cepen Lodge."
Sarah S
carehome.co.uk rating: 4.92 out of 5
"I just wanted to say a big 'thank you' to all the staff at Cepen Lodge for everything they are doing during this difficult time. I have just had a great video conversation with my dad on what is his 65th wedding anniversary. Sadly my mum cannot visit him at the present time, but I know they have spoken to one another today and have happy memories of that special day many years ago. Dad did make me laugh because he can vividly remember his wedding day down to the finest detail, but struggled to tell me what he had had for lunch..! It is reassuring to Mum and all of our family, to know he is being well looked after and cared for, and I hope that it will not be too long before we can all get together again for a little celebration. In the meanwhile, please all stay safe and thank you for your kindness shown to my dad."
Ian C
carehome.co.uk rating: 4.83 out of 5
"My mother-in-law has been at Cepen Lodge for nearly two years, and over that time, has always been cared for extremely well. All the staff treat her with respect and spend time with her. She is always well dressed and tidy. I would highly recommend Cepen Lodge as a high quality and safe care home."
M S
carehome.co.uk rating: 4.5 out of 5
"Cepen Lodge Care Home made my mother with dementia extremely welcome. She was understandably very confused at the onset but with their care and patience with her she has now settled and is very happy and content. After 2 and a half weeks it is like I have got my real mother back, not a frightened withdrawn and depressed lady that she had become living on her own. I can't thank Cepen Lodge Care Home enough."
Dianne P
carehome.co.uk rating: 5 out of 5
"My mum was treated with care and respect the day she arrived. Her room was tastefully decorated and very comfortable. All the staff were wonderful very cheerful, especially the entertainments staff - very valuable. Even with a Flu breakout, they worked extremely hard, looking out for the residents' wellbeing and keeping everyone safe. The food is second to none."
J H
carehome.co.uk rating: 4.17 out of 5
"Most importantly my father-in-law enjoys living at Cepen Lodge. He enjoys a range of activities including guest singers and dominos club. The carers at Cepen Lodge do an amazing job and father-in-law is extremely happy with his care. My husband and I both feel that he could not be anywhere better. The staff are so friendly and keep us informed as to how he is doing. We visit him daily and know everyone very well. In my opinion, the care home far exceeds our expectations."
Susan M
carehome.co.uk rating: 4.58 out of 5
"My father was resident in Cepen Lodge for 18 months until he sadly passed away very recently. During his stay there he received excellent care from the staff, even towards the end of his life when things got very difficult. I cannot praise the staff enough, they looked after my father in a warm, helpful and very caring way at all times. The facilities are excellent, each room is comfortably furnished and has en-suite toilet facilities and shower. It feels more like a hotel rather than a care home. Activities are arranged every day inside the home and there are frequent visits to nearby places outside the home. My father was always complimentary about the care he received and that gave me peace of mind because I know he was happy in his new home. Cepen Lodge has many benefits and qualities but if I have to pick one it would be the level of care my dad received during his stay... It was fantastic. The staff were just wonderful and I sincerely thank them all."
Janet S
carehome.co.uk rating: 4.75 out of 5
"Good"
Richard B
carehome.co.uk rating: 4.67 out of 5
"My mother celebrated her 90th Birthday last week and we invited around 14 relatives to a buffet at Cepen Lodge, managed by the staff. Not only was the service and standard of food excellent but the staff went out of their way to make the day really special. I would like to thank everyone at Cepen Lodge for their hard work and for the high standard of care they provide all year round."
Alan S
carehome.co.uk rating: 4.67 out of 5
"We are highly delighted with the choice of care home we made for our mother. She has settled in well with the help and support of the experienced and professional staff, nothing is too much trouble. Cepen Lodge Care Home made a very difficult decision easier to accept for both mother and ourselves."
Andrew
carehome.co.uk rating: 4.33 out of 5
"My mother stayed two nights in order to visit a friend who is a resident. She was pleased with the care provided and the facilities. She was, however, disappointed with the food and found the bed uncomfortable. I noticed that when I collected her she was still wearing the same clothes as when she arrived and had only changed her underwear once. I thought staff might have encouraged her to put on fresh clothes. Overall she and I were satisfied with the experience. I found the staff welcoming and attentive to my mother. I think it would be inappropriate to recommend or otherwise as we live so far away from the provider."
P R
carehome.co.uk rating: 3.67 out of 5
"My sister has been a resident for 7 years and has always seemed happy in the home. After seeming to go downhill last year, she has improved this year with more interest and is eating well again."
E H
carehome.co.uk rating: 4.25 out of 5
"The staff are friendly and helpful and my mother is well settled at Cepen Lodge Care Home. Mummy has a good rapport with her carers and definitely has her particular favourites. The hairdressing facilities do not match what would be the case in a salon and are in need of improvement eg. No back wash basin, no capes, no electric clippers and no setting lotion. I must say that there are occasions when the phone is not answered, particularly at weekends and often when I take my mother back home in the evenings. The home appears to be very short staffed."
Jane F
carehome.co.uk rating: 4.25 out of 5
"My mother has been a resident for over 18 months and I cannot praise enough the care she is given, great attention to her personal needs and quirks. The staff all cannot do enough for her, the food is excellent. I have visited at all different times of the day and night and the care is always the same. Great care taken over her medication needs and liaison with her own doctor."
David L
carehome.co.uk rating: 5 out of 5
"Very clean and tidy. Nice good size room and en-suite. Staff very friendly and helpful. Food very good quality and presentation. Portions slightly small but plenty of snacks available 24/7."
W T
carehome.co.uk rating: 4.58 out of 5
"The staff at Ceper Lodge are always kind, considerate and most helpful. They treat my mother with respect and she is also treated with the utmost dignity. Their care of my mother has been excellent and the communication with the family is excellent. they have helped me sort out my mother's affairs with patience and their knowledge has been a life saver for me. I can't thank them all enough for their care and support. A brilliant hard working team."
Aileen R
carehome.co.uk rating: 4.92 out of 5
"Can't thank them enough for taking good care of my Nan right up to the day sadly she passed only a short while after being diagnosed with cancer. She loved living there and was very happy, only had good things to say. They were always happy to chat if we needed to and during her final weeks kept us up to date as much as possible."
Fiona S
carehome.co.uk rating: 4.58 out of 5
"Did not like the room being by car park because of fumes. Request to replace light bulb over the mirror in the en suite was not adhered to in the whole of the two-week stay. Staff very friendly and helpful."
F W
carehome.co.uk rating: 3.67 out of 5
"Absolutely delighted with the care and attention that was given to mum for her week of respite care. Nothing was too much trouble. Mum looks happier and healthier than she has done for a long time. Thank you."
Pauline B
carehome.co.uk rating: 5 out of 5
"I have been in this home for 4 year plus now and I am completely satisfied with all I have ticked, really happy."
M.W.
carehome.co.uk rating: 4.25 out of 5
"My husband has had dementia for over 4 years and I was finding it increasingly difficult to look after him at home. Initially I was looking for a placement for 2 weeks respite, mainly for his welfare, as I realised I was unable to provide the level of care needed. My friend and I arrived at Cepen Lodge one Friday evening without an appointment and we were greeted warmly by the manager. She talked through all our needs and expectations sympathetically. We were then shown the dementia floor - all rooms were light and airy, pleasantly decorated with en suit facilities and a major bonus - a resident cat! I subsequently returned with my husband for an assessment and we decided Cepen Lodge would be an ideal home for him. He settled in really quickly and has never asked to leave. All the staff are helpful, kind, encouraging, treat him with dignity and go the extra mile. The manager and her assistant are exemplary, they have helped me through several crises and concerns. They are always willing to discuss our point of view, to arrive at a satisfactory outcome for all parties, nothing is too much trouble. A recent trip to the zoo was a great success. I feel confident all my husbands needs will be met at Cepen Lodge - he is happy and settled."
Diane B
carehome.co.uk rating: 5 out of 5
"I get looked after very well, in all areas."
Geoff P
carehome.co.uk rating: 5 out of 5
"I am so glad my mum has spent the last 6 months of her life with you. Her last days of care were made so much better with the care an attention given by the amazing staff I cant say enough thank yous to them."
Sandra P
carehome.co.uk rating: 5 out of 5
"Mum has been in Cepen Lodge for three years. With the patience and care from the staff she accepts it as her home and feels settled and secure. She suffers from dementia and remembers four of the carers who look after her but is continually amazed at how kind the "unknown" people are always friendly and willing to help when she becomes confused. The staff keep me fully informed on health issues and are quick to call in a doctor if they are worried. I leave mum at the end of the day knowing that she is well looked after with plenty to occupy her until my next visit."
P J
carehome.co.uk rating: 4.25 out of 5
"I have been very impressed by the very caring staff who worked so hard to ensure that I was so well looked after during my stay in Cepen Lodge. Without fail they were only too happy to do anything for you, no matter how busy they were and they certainly have to work very hard!"
C H
carehome.co.uk rating: 4.42 out of 5
"For the last week, I have been in the care of your staff at Cepen Lodge recovering from an abdominal operation. The care I have received has been second to none. The team you have here are the kindest, considerate, hard-working people I have had the pleasure to meet. The service, food, cleanliness and help is as good as any 5-star hotel. There's nothing I can fault with the home. It's so good I do not want to leave but must to get back to normal. Thank you Cepen Lodge."
T W
carehome.co.uk rating: 5 out of 5
"My father-in-law recently passed away at this care home. The care he received from the staff during the 2 years he was there, was personal, caring and dignified. The staff treated him as an individual and made sure he always had the things that made him happy. We are delighted that we chose Cepen Lodge for him."
Emma Q
carehome.co.uk rating: 5 out of 5
"My mum has been here for over 5 years: her dementia is progressing but she still recognises most of her visitors. Initially, she was very difficult but is now stable. It took a while to sort her medication, but now this runs very smoothly. She likes the food, which seems to be varied and of a good standard. Her room has its own toilet and shower, together with functional furniture. It is always clean. It took a year for her to join in the activities offered, but now she goes to most of them, and has even been teaching other residents to knit! She has gone out on a few trips as well - local abbey, butterfly farm, etc. At the last review, I had with the manager, I was asked if I thought mum felt 'safe': I said yes. Mum feels safe, she is 'safe and secure' in a stable environment where the staff are pretty good (staff turnover seems very low to me) and they all take care of mum, from the Manager through to the housekeeping staff. The only downside is the cost: it's not cheap."
Carolyn
carehome.co.uk rating: 4.5 out of 5
"Really good care provided and Mom enjoys the food and the activities. The staff are very kind and always cheerful."
Claire W
carehome.co.uk rating: 5 out of 5
"My mother has been in Cepen Lodge Care Home since December 2017. She has complex mental and physical needs and she moved into Cepen Lodge having just moved from Kent to Wiltshire, so she was very anxious and disorientated. From the first day, the staff and Manager made a real effort to make her feel comfortable, safe and welcome. The Carers and Activity Co-ordinators are genuinely caring people who go out of their way to be kind and reassuring to mum. Since living at Cepen Lodge mum's physical health has improved significantly and although she now has signs of dementia, she is always treated kindly and given reassurance when she is upset. I feel very comfortable that she is now safe and very well looked after."
Dawn J
carehome.co.uk rating: 4.33 out of 5
"My Father has been a resident at Cepen Lodge for over 3 years now and, as his faculties and mobility have steadily declined, we are very impressed with the care he has received. It was always going to be a challenge to persuade him to join in with activities in Cepen Lodge, but the staff never give up trying. The 'Boys Day Out' to bowling and a pub meal was a great success. The very low turnover of staff, I am sure, makes a huge difference to the running of the home and the care given. Dad has had the same staff looking after him since he moved there. Very happy with our choice of Cepen Lodge."
J K
carehome.co.uk rating: 4.58 out of 5
"My mother-in-law is receiving first-class care. She is always washed and well dressed, and left in a safe position. She is very well fed and the food standard is high."
Martyn S
carehome.co.uk rating: 4.33 out of 5
"The care home is absolutely superb - just couldn't be bettered. My father settled in really quickly and is given excellent care. Every single member of staff is friendly and welcoming. Nothing is too much trouble."
Carol B
carehome.co.uk rating: 5 out of 5
"My father has advanced dementia. I feel lucky to have found Cepen Lodge as the next step in his care. The manager is intelligent, caring and attuned to the needs of individual residents. Medical decisions are approached as a team effort of staff, relatives and medical professionals. The care staff are competent, sympathetic and caring with a great sense of humour. Would I recommend Cepen Lodge? Absolutely!"
S M
carehome.co.uk rating: 4.42 out of 5
"The home is always friendly as are the staff. It always appears clean with no smells. The care seems to be pretty good. A shame the staff turnover is so high and the manager has changed a number of times. Recently room cleanliness has not been so good and the residents nails have not been cut. There has also been a lack of encouragement to join in activities due to lack of activity staff. Overall fairly good and I am always informed of any issues."
Susan R
carehome.co.uk rating: 3.27 out of 5
"I was a bit apprehensive on leaving my brother but I needn't have worried because he had a good time. Hopefully, I will be able to leave him again."
A D
carehome.co.uk rating: 5 out of 5
"My mother has been with Cepen Lodge for only a short time and already I can see a positive impact her new surroundings have had. I look forward to seeing her each time I visit as I know she will have something good to tell me about the activities she has been participating in and what lovely food she has been having, especially cake! Mum is a little under confident but knowing this, she has been helped by the wonderful staff who know how to get the best from her, which is far more than I ever could. I was unsure how she would settle in, but knowing her needs are met and she is safe and warm really gives me peace of mind. Some of the entertainments which have been on within the home are amazing. Mum loves animals, especially dogs and really enjoys the pets as therapy visits. Live music is also a regular theme. The whole team should be extremely proud of what they do on a day to day basis, as I imagine it cannot be easy. I thank you all very much for giving my mum a new outlook on life."
Jane S
carehome.co.uk rating: 5 out of 5
"The staff at Cepen Lodge were immensely caring to my mother in her final weeks and so supportive to me and the family. Their encouragement, skill and kindness were deeply appreciated both by my mother and myself. The atmosphere at Cepen Lodge was always bright, cheerful and welcoming. Nothing seemed to be too much trouble to the staff. There were little touches which I shall never forget. When my mother started reverting to the language of her childhood - German - they found some German music for her to listen to. on her birthday a smiley group of carers came to her with a big birthday cake with candles and sang happy birthday. It made her feel so special. I knew my mother was in safe hands and that made all the difference."
Catherine C
carehome.co.uk rating: 5 out of 5
"Unfortunately, my mother was only a resident at the home for seven weeks but within that short time she was made to feel at home, supported whilst settling in, and given the care tailor-made for her own welfare. Everything my mum and I asked for, the staff tried to satisfy. During her latter days, all treated her with compassion and dignity and they helped support me."
T A
carehome.co.uk rating: 4.42 out of 5
"When visiting my Nan, she always appears to be well looked after and the staff are always very friendly and accommodating. There is a happy atmosphere and always something going on for the residents to get involved in if they wish. These are often topical activities which require a lot of thought and effort from the activities team. Nan is encouraged to take part in these activities and always enjoys it. I welcome the opportunity to participate in events such as the Christmas carol service and summer fete. It's reassuring to know that Nan is happy and well looked after."
Sam R
carehome.co.uk rating: 4.33 out of 5
"As always they really take so much care looking after my mum. Nothing is to much trouble staff always willing to talk and explain what mum has been up to. The activities at Cepen Lodge Care Home are great the staff encourage mum to join in this makes me very happy as I know my mum would not do this voluntary. Carry on the good work you should all be extremely proud of the great team you have at Cepen Lodge. Thank you for taking such great care of my mum I am so grateful."
Aileen R
carehome.co.uk rating: 4.67 out of 5
"My mother has been in Cepen Lodge for just over a year and I am very pleased with the care she is receiving. Her room is clean and bright and airy with an ensuite wet room. The staff are very kind and there are always activities going on. Relatives can make tea and coffee in the dining room/kitchen. The staff are always kind and attentive and very patient. I am very happy with Cepen Lodge."
Jacqueline J
carehome.co.uk rating: 4.92 out of 5
"I find this Care Home to be an excellent example of the kind of care expected by residents. The premises are a delight to enter, no odours; pleasant decor; excellent furnishings; and plenty of spaces for residents to relax in outside of their rooms. My relative is more than satisfied with her situation. The staff are noted for their attention to the needs of residents, in particular, the personal one to one sessions. Overall, excellent."
Mark B
carehome.co.uk rating: 4.92 out of 5
"So grateful I found Cepen Lodge. After my initial visit, I didn't bother to look anywhere else as I realised this was The One. Myself, my brothers and our extended family are full of praise and so appreciative for the sensitive quality of care your excellent staff provide. We all feel confident that my mother is safe and you will do your best to provide for her needs. That means a lot when many of us live so far away. I'm very pleased that she is taken to Malmesbury Abbey regularly for Communion as she is a committed Christian. She enjoys her lunchtime glass of wine and I thought the the G & T event was just up her street. She is visited regularly by her Vicar from Marshfield and Mother says would be interested in offering regular Communion for your residents. Something well worth considering?"
Elizabeth P
carehome.co.uk rating: 4.58 out of 5
Useful Guides and Information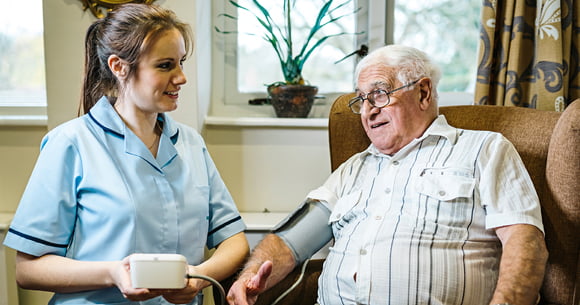 Care & Facilities
Our facilities are designed to the highest standards and the care we provide is delivered by passionate and highly-trained professionals.
Find out more about our care and facilities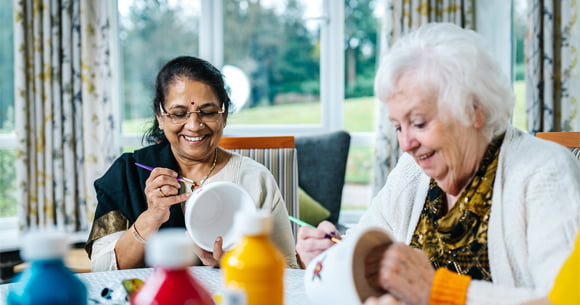 Activities & Events
Our activities programme is planned with individual tastes in mind, and residents always have the opportunity to try new and exciting things.
Find out more about our activities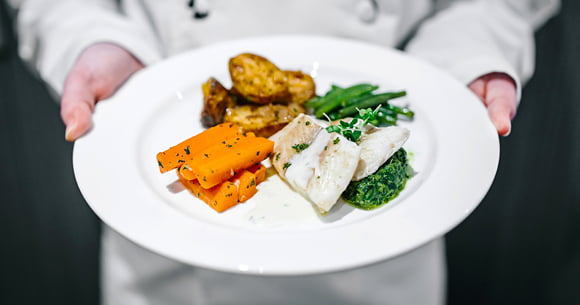 Food & Nutrition
We offer a constantly evolving menu that caters to the tastes and dietary requirements of those we support.
Find out more about our food & nutrition
Your next steps to finding care
Our team are here to help you when you are ready to talk about the care and support you need. Please call our team to arrange a visit and come and take a look around our home.
Call our team
Call our team for more information about our care home and to arrange a visit. Phone lines are open Monday to Friday from 9am – 6pm and on Saturday from 9am-5pm.
Send a message
We'll be happy to answer your questions about the next steps for moving into our care home. Send us a message online
Contact us
Download a brochure
Download our brochure to find out more about life in our care home
Download brochure
Frequently Asked Questions
What types of care does Cepen Lodge Care Home offer?

Cepen Lodge Care Home offers Residential care, Dementia care, Respite / Short stay.
48479