Meet the Brampton View Care Home team
Our staff are what hold the home together. Each one of these team members are dedicated to providing high quality care and services to those we support, and ensuring that residents enjoy all aspects of life at our home. See below to meet some of our friendly faces:
Jessica Pateman
Senior General Manager
Hello. My name is Jessica and I am the Senior General Manager at Brampton View.
My aim is to ensure residents, staff, families and visitors all feel they are in a welcoming environment and being supported by every member of our team. I have always had a passion to care for others due to personal experiences in my early life. I make an effort to stay in regular contact with residents' relatives, to make sure families receive support and information from us, and so we can answer any queries as quickly as possible.
I began my career as a Carer and have gained experience and qualifications to progress to my current role. I have worked in other Barchester homes, so I fully understand the high standard of care and superior lifestyle delivered throughout the company.
Please scroll through this page to meet other members of the wonderful team here at Brampton View.
Sophie Vickery
Hello. I'm Sophie, Deputy Manager at Brampton View. I have always worked in elderly care and have a Health & Social Care Level 3 qualification. I have previously been Deputy Manager of a smaller home, so I understand all aspects of care homes. Our residents are lovely and I get a lot of pleasure from helping them at the time of life when they need it. I enjoy being busy but I also value the time I spend interacting with residents. Moving to a care home is a worrying time for residents and their families, so I like to make the process as smooth and welcoming as possible. We are a close team and everyone does whatever is asked of them to ensure we provide high-quality care. I like to get to know families and often speak with them to provide updates on their loved ones' well being. In my spare time, I enjoy reading, sewing and embroidery.
Show More
Nadia King
Hello, my name is Nadia and I the Clinical Deputy Manager at Brampton View Care Home. I have been in England working as a registered nurse since 2013. I have worked for the NHS as a staff nurse however found an immense passion for delivering person centred nursing care to the elderly. Following this I began my career within a Nursing home where I was able to communicate effectively with families, friends and residents within the setting. I have a passion for ensuring that our residents receive the highest quality of care and are living the most fulfilling life, as life only begins once you find your perfect home. I am proactively leading a very dynamic and creating nursing team whilst supporting our Senior General Manager.
Show More
Carina Belo
Hello, My name is Carina and I am the Clinical Lead for Brampton View Care Home. I have been a registered nurse for 8 years and moved to the UK back in 2015 from Portugal. I began my career in the UK working in a local care home where I was able to share my clinical knowledge and skills with the team. I am passionate about ensuring we provide the best quality of nursing care and no matter our residents clinical conditions we always find ways to ensure our residents are living their best life. I am privileged to be leading our nursing team here at Brampton View and we are thriving on knowing our clinical skills are to the highest standard. I look forward to welcoming new residents whistle ensuring our current residents are cared for, support and prompted to achieve personal goals and ambitions. As a Clinical Lead I am focused on ensuring your loved ones care plans are personalised whilst involving both residents and their families!
Show More
Elaine Abbott
Hello, my name is Elaine, and I am the Receptionist for Brampton View Care Home. Having worked for the Met Police for 30 years, as a Station Officer, and then a funeral arranger, I thought I would take on an easier task of working, as a receptionist in a care home. How wrong was I to think this would be less exciting.
However, having done this type of work for 8 years I can honestly say that this job is just as, if not more, rewarding. I have got to know many wonderful residents, and their families, during this time and they have often enriched my life in some way. I enjoy welcoming new residents into our home, showing everyone our creative and exciting home ensuring you receive the best customer service. I ensure that your loved one is settled and loving our homely environment.
Show More
Inese Locmele
Hello. I am Inese and I lead the Activities Team at Brampton View Care Home. I have previously worked as an activities coordinator for other services whereby I ensured everyone's values and their wishes came true! I love providing a range of activities, exercise and social occasions for residents to choose from every day. A typical week will include crafts, baking, walks in the garden, an outing in the minibus, food tasting, indoor exercise, table-top games, a quiz, a virtual visit to a place of interest and a birthday celebration or other special occasion.
I also love networking with the community, to take our residents out on adventures and really be able to make a difference to all our residents living in Brampton View. I am always looking for new creative and innovative ideas to bring our residents together, support our local community and also to get our team involved focusing on mind, body and soul.
Show More
Glenn Coombs
Hello, my name is Glenn, and I am Head Chef for Brampton View Care Home.  I have worked as a chef for 35 years with culinary experience with the vast knowledge taking to the island of Bermuda for 10 years and Scotland 8 years, running my own restaurants. I have been in the care sector for over 8 years and enjoy being part of a team that works together in providing great hospitality service which covers from mealtimes dining experience, special events, personalised meal plans and menu's ensuring we cater for everybody needs. I myself am vegan and ensure no matter your interest of food I am able to create an alternative of your choice, your preference and choices are every important to myself and my team therefore if you require a particular diet plan then we for sure can create this. I have great pleasure interacting with all residents within Brampton view and caring for their culinary needs at any given time.
Show More
Anne Slater
Hello. I am Anne, one of the Care Assistants at Brampton View. I love supporting our residents in any way I can, whether that is helping them get to the activities on offer every day, taking the time to have a chat with them, or doing something practical to make their day more comfortable.
Kimberly Chapman
Hello, my name is Kim, and I am the Head housekeeper for Brampton View Care Home. I began my career in 2015 as an activity assistant and then I was soon promoted to Activity Coordinator. I grew a passion for ensuring the homes environment was always looking its finest, regularly supporting the housekeeping team when not providing premium activities. In 2018 I had the opportunity to become the Head Housekeeper at Brampton View and took the opportunity to grow my own team. Over the last 4 and a half years we have created a diverse housekeeping team who all ensure that the residents' environment is clean, tidy and personalised. I thrive on ensuring that both mine and my team's performance is to the highest standard ensuring the environment is spotless! We also ensure the residents have a hot drink when cleaning the rooms or even a fresh cake from the kitchen, our purpose is to support all our residents and staff with the daily running of our beautiful home.
Show More
Sarah McAlinden
Hello. I'm Sarah and I have been the hairdresser at Brampton View for a few years. I visit the home several times a week to help our ladies and gents look and feel their best, especially at certain times of the year like Christmas. I get to know residents really well and love hearing about their lives.
Show More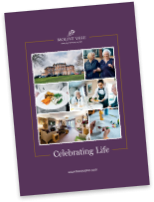 Read our brochure 'Providing great quality care and wellbeing' for more information on how we're here to help you and your loved one.
Read brochure
Food & Nutrition
Activities & Events
Care & Facilities
What happens now?
Are you ready to discuss your individual care requirements? Pick up the phone and talk to us, book a visit to our care home or come and take a look around our facilities.
Our fees and contract
We want to be as transparent as possible about how we charge for the different services we provide as well as what's included in our contract. Please click the links below to find out more about our fees and contract.
View typical fees
View Our Contract
Useful downloads
Here to help you make the right decision about your care requirements.
48431