Meet the Bedewell Grange Care Home team
Our trained team of professionals work together to create the best possible experience for those living in the home, striving to deliver excellent care services in a warm, homely environment. You can find out more about some of our wonderful staff members below:
Rebecca Travis
Senior General Manager
Hi, my name is Rebecca, and I am Senior General Manager here at Bedewell Grange. Welcome to our website!
Thank you for taking the time to look further into what Bedewell Grange has to offer to you or your loved one. Here is an opportunity to look at some of our staff team in the home, who all play a vital role in day-to-day life. I have worked for the healthcare sector for approximately 10 years as a registered manager, in a wide variety of service. My back ground is nursing and I am a qualified learning disabilities nurse and I have had the opportunity to work alongside a wealth of experienced healthcare professionals.
I love my role and what I do. I feel we are honoured to work with you or your loved ones and look forward to getting to you know should you choose to come and stay at Bedewell Grange. I am lucky to be supported by an experienced team that demonstrate a nurturing warm and compassionate approach.
The homes core objective is to promote a quality ethos centred on England's Health and social care standards.
Denise Buckley
My name is Denise, I am the Deputy Manager of Bedewell Grange care home. I joined Bedewell Grange in January 2022 and bring a wealth of experience to the role, having worked in the health care for over 10 years. My passion is to help people, which is why I have developed my career within this sector. My personality is very approachable, so if you have any concerns, or just need a general chit chat, come and say hello!
I support the delivery of the quality care and work closely with the General Manager - taking on leadership duties in their absence. I help with everything from ensuring care standards to motivating my team.
I am thoroughly enjoying this chapter in my career with Barchester, and looking forward to continuing to support our lovely residents and staff in the home.
Show More
Miranda Robertson
Hi, my name is Miranda and I am the homes administrator here at Bedewell Grange. I have been working for Barchester since August 2021. I deal with all aspects of the administration of the home to ensure it runs smoothly, from invoicing, ordering, recruitment, setting up contracts, to manning reception; there's never a dull day!
I bring a wealth of administrative experience to the role having worked in construction for 30-years and I love this new role as every day is a school day.  Outside of work I live locally and it's a privilege getting to know our residents, their backgrounds, humour and life experiences, they have many a tale to tell!
Show More
Tony Daglish
I have been with Barchester since 2015 as the Maintenance Manager here at Bedewell Grange. My background is in IT hardware, which is probably why I enjoy fixing electronic items. I also love the variety that this role brings, from changing a light bulb to re-decorating one of the lovely rooms here at the home.
Show More
Donna McCarthy
Hello, my name is Donna McCarthy and I have worked for Barchester since 2016. I am one of the housekeepers here at Bedewell Grange and I work alongside a brilliant team of domestics and other staff. I love my job and the residents make everyday a wonderful new experience. I would definitely recommend Barchester to anyone wanting to work in the care sector.
Show More
Jilto Vellachel Jose
Hi my name is Jilto. I am one of the senior carers at Bedewell Grange. I started my career with Barchester in August 2021, and so far have thoroughly enjoyed my job and every aspect of it.
I am originally from India, which is where I finished my BSc in Nursing. After that I completed my post-graduation in Masters of Social Work, which I specialised in Psychiatry. Before I came to the UK, I worked on an important project within NACO (National AIDS Control Organisation) in India.
Outside of work I love to travel and explore. My favourite place to visit was Nepal, and I have also travelled to base camp of Manali.
I am looking forward to a great career with Barchester!
Show More
Donna Brooks
My Name is Donna. I am the activities co-ordinator at Bedewell Grange care home Hebburn. I joined Bedewell Grange in April 2022 and I bring lots of new exciting ideas to the role, having worked in the health and social care sector for the last 15 years. I am passionate about my role within the home and aim to bring a smile to all our residents faces through different types of activities. My personality is bright and bubbly so aim to share this each day at work. I have experience in supporting our residents who are more able as well as doing sensory Namaste sessions with our residents who are less able. As I gather the residents likes and dislikes if you would like to come and chat with me about your family member please contact the home to arrange.
Show More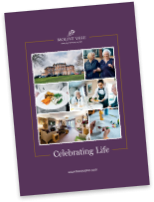 Read our brochure 'Providing great quality care and wellbeing' for more information on how we're here to help you and your loved one.
Read brochure
Food & Nutrition
Activities & Events
Care & Facilities
What happens now?
Are you ready to discuss your individual care requirements? Pick up the phone and talk to us, book a visit to our care home or come and take a look around our facilities.
Our fees and contract
We want to be as transparent as possible about how we charge for the different services we provide as well as what's included in our contract. Please click the links below to find out more about our fees and contract.
View typical fees
View Our Contract
Useful downloads
Here to help you make the right decision about your care requirements.
23