Meet the Archview Lodge Care Home team
Our trained team of professionals work together to create the best possible experience for those living in the home, striving to deliver excellent care services in a warm, homely environment. You can find out more about some of our wonderful staff members below:
Sarah Thomson
General Manager
Hi, my name is Sarah and I am the General Manager here at Archview Lodge. Welcome to our website!
Here you will have the opportunity to look further into what Archview Lodge can offer you and your loved one.  You will also be able to familiarise yourself with the team who all assist in delivering quality person centred care on a daily basis.
I have over 30 years nursing experience; I trained and worked in London teaching hospitals before living abroad and then moving back to Scotland to be nearer to family.  I love being a nurse and particularly enjoy looking after older adults, who I feel can offer us new insights into life. I find this area of nursing very rewarding and an it's privilege to work with the team at Archview.
Kaysha Minto
I was inspired to become a nurse by my mother, who was also a nurse at Archview Lodge many years ago.
I successfully joined Archview as a Nurse with the support of the staff. I can truly say that I was mentored well by the Senior Nurse and have developed many skills attributed to high quality care. I am now proud to be the Deputy Home Manager after a period leading the ground floor unit and I strive to inspire others to become positive leaders who deliver a high standard of care to residents.
Show More
Alexis Moore
Alexis has worked at Archview for many years. She is originally from Guyane in the Caribbean, and now lives locally with her husband and 2 children. Alex was nominated for and won the 'Nurse of the Year' award at the National Care Awards.
James Steedman
James is the Administrator at Archview Lodge, and his responsibilities include managing administrative and financial systems within the home.
James has a good knowledge of the local area, being brought up in Dalkeith, and still lives locally with his family.
James has worked at Archview for over 10 years.
Show More
Karen Colvin
I've worked at Archview from August 1997. I am married and have 3 children and 2 granddaughters. My ambition in life is to enjoy every day and make people smile.
Kasia Cyrnal
Hi, my name is Kasia and I have been an Admin Assistant at Archview Lodge since 2014. I am originally from Poland, but have lived in Scotland since 2006. I find Scotland such a friendly and welcoming country to live in.
Michael Hollinshead
I have been at Archview Lodge since May 2018. I have been in the property maintenance industry for over 25 years. My role here is to ensure that the property and grounds are maintained to a high standard. An equally important part of my role is the very good relationship I have with the residents, relatives and the  staff.
Show More
Patsy Munro
Hi, my name is Patsy and I am a Care Practitioner at Archview Lodge.  In 2016 I was names as a Divisional Winner for Dementia Unit Champion in the Barchester Care Awards.
Michelle Gibson
Head of Unit - Memory Lane
Hi, My name is Michelle Gibson and I have worked at Archview since 2018 and I am a qualified nurse.  I am proud to work as Head of the homes Memory Lane Community and work alongside a fantastic team providing high standards of individualised care to our residents. I love being nurse here at Archview and making a difference in people's daily life, it is such a rewarding experience.
Show More
Diane Wood
Hi, my name is Diane and  I am Head of Activities here at Archview.  I have worked in the homes since 2009.
I strongly believe in creating moments for our residents and embracing their individuality with tailor made activities, whilst remaining person centred and respecting resident's preferences. Every day I like to ensure the residents on memory lane can enjoy themselves and have a good time whilst forming bonds with each other and the staff around them.
Outside of work,  I have a 23 years old son and a wee dog called Hugo and my ambition is to make people smile and be happy.
Show More
Ahmett Akkur
Hi, My name is Ahmett, I am the Chef here at Archview.  I am originally from Turkey. I am married with two teenage children and I joined Barchester in June 2005 shortly after I arrived in Scotland.
My first role was a kitchen porter and I completed my training at the Chef's Academy in 2-years.  I later became a trainer for the Chef's Academy and trained many chefs. 
Taking care of nutrition, modified diets and creating meals which are delicious and appetising for our residents is always my first priority. I love to get our residents involved with food and we enjoy a Chef's afternoon together making scones, pizzas, bread and its always the residents choice each time.  Getting involved with the activities is great and I enjoy the laughter it brings, our residents always make me smile.
Show More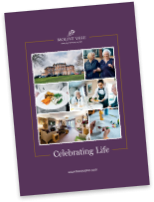 Read our brochure 'Providing great quality care and wellbeing' for more information on how we're here to help you and your loved one.
Read brochure
Food & Nutrition
Activities & Events
Care & Facilities
What happens now?
Are you ready to discuss your individual care requirements? Pick up the phone and talk to us, book a visit to our care home or come and take a look around our facilities.
Our fees and contract
We want to be as transparent as possible about how we charge for the different services we provide as well as what's included in our contract. Please click the links below to find out more about our fees and contract.
View typical fees
View Our Contract
Useful downloads
Here to help you make the right decision about your care requirements.
9