Meet the Rose Lodge Care Home team
Our wonderful team comprises nurses, carers, activities coordinators, chefs, housekeepers and more. These people are here to ensure that residents enjoy their time at the home and are supported to live life to the fullest. Meet some of our staff below:
Megan Jones
General Manager
Hi, my name is Meg, and I am the General Manager here at Rose Lodge. I hope you find what you're looking for on our website.
I have been a part of the team here since 2005. I joined as a newly qualified Nurse, wanting to work with the elderly and improve the care and services they receive. I was promoted to Floor Sister in 2010 and then to Deputy Manager in 2015, becoming General Manager in 2017. I am so proud to be leading a wonderful team and feel genuinely blessed to be surrounded by all of them.
Please do pop in to see us, we would love to meet with you and show you around Rose Lodge.
Viktorija Tume
Hi, my name is Vike and I have worked at Rose Lodge since 2015, and was promoted to Unit Manager in 2018. I really enjoy caring for people and being able to support the team to deliver high quality care to those living at the home. Please do come and see me, as I would love to talk with you about how we can help.
Show More
Loida Natividad
Hi, I am Loida and I have been at Rose Lodge since 2003. Since joining, I have been internally promoted to Clinical Lead and I have vast experience in caring for elderly people and those living with dementia. I am dedicated to providing high quality care for residents and offering support to loved ones.
Please feel free to come and meet with me, as I would love to to say hello.
Show More
Rose Reeve
As the Administrator, a large part of my role involves supporting the General Manager by maintaining the administrative and financial systems within the home. Please  drop in for a chat over a coffee; I would love to meet you!
Jane Ritchie
Hi, I am Jane and I am the Head of Activities here at Rose Lodge and have worked here since 2010. I love spending time with residents and their loved ones and getting to know them all.
I am always interested in learning about residents' likes and dislikes and will support then to remain engaged and active.
I would love to meet you and discuss what we can offer at Rose Lodge
Show More
Dianne Lilley
Hi, I am Dianne and I am the Head Chef here at Rose Lodge. I have been working here since it opened in 1993 and I love my job. I enjoy cooking and baking for the residents as well as working with my dedicated catering team. Please do come and say hello!
Don Harmer
Hi, I am Don and I have been at Rose Lodge since 2010 as the Head of Maintenance. I like to make sure that residents and visitors have a pleasant and safe environment to live and work in. I always love to have a chat, so please feel free to come and say hello.
Graham Howard
Hi, I am Graham, and I have been at Rose Lodge since 2004. I love the gardens here and have a passion for what I do. I am proud to say that our home won the 'Garden of the year'  category at the Barchester Care Awards in 2012 and was also a finalist in in 2017. Please do come and look at our beautiful outside spaces. You will often see me about and I love to have a chat with people.
Show More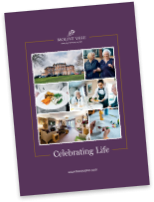 Read our brochure 'Providing great quality care and wellbeing' for more information on how we're here to help you and your loved one.
Read brochure
Food & Nutrition
Activities & Events
Care & Facilities
What happens now?
Are you ready to discuss your individual care requirements? Pick up the phone and talk to us, book a visit to our care home or come and take a look around our facilities.
Care enquiries
New care enquiry phone lines are open 8am - 8pm
01945 223137
All other calls
Our fees and contract
We want to be as transparent as possible about how we charge for the different services we provide as well as what's included in our contract. Please click the links below to find out more about our fees and contract.
View typical fees
View Our Contract
Useful downloads
Here to help you make the right decision about your care requirements.
158