Meet the Lawton Rise Care Home team
Our wonderful team comprises nurses, carers, activities coordinators, chefs, housekeepers and more. These people are here to ensure that residents enjoy their time at the home and are supported to live life to the fullest. Meet some of our staff below:
Clare Dudley
acting General Manager
Hi, my name is Clare and I am the acting General Manager here at Lawton Rise. Welcome to our website!
I have always worked with people living with dementia from the age of 18, as a Care Assistant and Senior Care Assistant which inspired me to undertake my Mental Health Nursing Degree.
I graduated as a Mental Health Nurse in 2010 and completed my Level 5 NVQ leadership qualification in 2012. I have extensive experience in Residential and Nursing Home Sector and have previously undertaken the roles of Deputy Manager and Home Manager in other locations.
I began my career at Lawton Rise in January 2018 as a Bank Nurse, I then progressed to Clinical Lead and then Deputy Manager in October 2019.
I feel that I am presently in the correct environment, with the support of the team, and feel passionate about my role and delivering care and supporting relatives for those living with dementia.
Julie Gillooley
Hello, my name is Julie and I am a Home Administrator at Lawton Rise.   I have worked here since January 2018, however have experience within the care sector of 5 years. I am often the first face that visitors see upon entering the home and I strive to always give an extremely warm welcome. My responsibilities include payroll, recruitment and relationship management with families and professionals. I also perform show-rounds, support the team with day-to-day tasks and answer phone enquiries.
I enjoy coming to work as my job is varied and continues to challenge me daily, I also find it extremely rewarding to socialise with our residents and knowing I have a positive impact on their lives.
Show More
Karen Goodwin
Hello, my name is Karen Goodwin.  I have been a Home Administrator here at Lawton Rise since February 2007.
My whole working life has been in Administration including Sales, Marketing, Training, Personal Assistant and Office Manager.
My responsibility is to support the Manager and her teams to operate a successful and well managed home by responding to the needs of staff, residents and relatives. I enjoy my position and working with all the staff here. I love problem solving and will always try to assist other departments where I can. I have great job satisfaction and working here is very rewarding.
Show More
Emma Golden
Hi, my name is Emma and I am the Head Chef here at Lawton Rise. I began working here at the home as a Kitchen Assistant and I have worked my way up to the role of Head Chef. I enjoy providing nutritious food for those we support and ensuring that all likes and preferences are catered for. I love seeing the effect a delicious home-baked cake or fresh, cold smoothie can have on our residents day.
Show More
Tony Wilkes
Hi, my name is Tony and I joined the team at Lawton Rise in June 2020 as Head of Maintenance.  I have an extensive background in working in the Care Sector and NHS in maintenance. I really enjoy working alongside the team and Residents and coming up with new ideas on how to make their environment the best it can be, I have already begun to convert one of the lounges in to a cinema and entertainment room and have lots of plans going forward for the rest of the building. I'm responsible for a variety of tasks, including maintaining a safe environment for residents and ensuring the home meets legislative and statutory health and safety requirements. Part of my job role is to liaise with our local fire service to enable me to deliver effective fire training to staff.
Show More
Pat Fox
Hello, my name is Pat and I am a Housekeeper at Lawton Rise. I initially joined Lawton Rise in 2002. I assist in managing the housekeeping team, such as planning rota, ordering supplies and assigning tasks to team members. Due to the nature of my job, I work across the home so have the chance to get to know all of our residents. I find this extremely rewarding as I play a part in making their day enjoyable. When time allows it, I love to catch up with residents, have a joke and offer my assistance to the care team. I have recently received my 20 year, long service award.
Show More
Anju Kunnummel
Hello, my name is Anju and I have been working as a Registered Nurse at Lawton Rise since November 2021. I have worked in Health and Social Care for over 14 years. I completed Nursing and Midwifery in India and worked in intensive care in speciality hospitals. I arrived in England in 2010, completed my degree in health and social care and worked as a Nutritionist in London for 6 years. I am passionate about delivering person centred care to residents, making a positive impact on their lives.
Show More
Caleb Chimereze
Hello, my name is Caleb and I'm a nurse here at Lawton Rise. My journey into the nursing profession was born out of the compassionate care I received from my Aunt who is a nurse and I decided to extend that care to others. I graduated from a Nigerian University where I obtained my degree in Nursing before moving to the UK. I worked in a variety of clinical areas.
Following my experiences I decided to provide Nursing care to the elderly. Since starting here at Lawton Rise I have had a fulfilling and rewarding experience with the residents and staff. It is my desire to keep working providing a holistic care to the residents and making them feel at home as much as possible, while respecting their dignity and ensuring their safety.
Show More
Amy Smale
Hello, my name is Amy Smale and I am a Care Home Assistant Practitioner. I started to work at Lawton Rise in 2014 as a Carer then moved up to Senior Carer.  I have been in the role of Care Home Assistant Practitioner for over two years.
Zoe Brown
Care Assistant Practitioner
Hello, my name is Zoe Brown and I am a Care Home Assistant Practitioner. I started to work at Lawton Rise in 2003 as the Activities Coordinator. 18 months later I moved to the role of Carer. I worked my way up to Senior Carer and now the role of Care Home Assistant Practitioner which I have been in for over two years. I enjoy working in dementia care, every day, every hour is different and there is never a dull moment. Looking after our residents is very rewarding.
Show More
Deepu Baby
Hi, my name is Deepu and I am a nurse here at Lawton Rise. I have worked here since April 2021. I initially trained as a Nurse at University in India but moved to the UK in 2007 whereby I began my 8 year career as a Senior Carer in London.
In 2015, my family and I moved to Stoke on Trent where I continued working in the care sector. However in March 2021 I acquired my Nurse Pin Number which meant I was a fully qualified nurse and able to practise in the UK. I was extremely proud and excited as my Mother was a Nurse so I consider this a very noble profession. I enjoy working within a care home environment as I am able to build relationships with all residents and treat them as though they are my own family.
Show More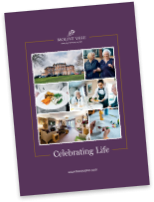 Read our brochure 'Providing great quality care and wellbeing' for more information on how we're here to help you and your loved one.
Read brochure
Food & Nutrition
Activities & Events
Care & Facilities
What happens now?
Are you ready to discuss your individual care requirements? Pick up the phone and talk to us, book a visit to our care home or come and take a look around our facilities.
Our fees and contract
We want to be as transparent as possible about how we charge for the different services we provide as well as what's included in our contract. Please click the links below to find out more about our fees and contract.
View typical fees
View Our Contract
Useful downloads
Here to help you make the right decision about your care requirements.
48413