A comprehensive guide to understanding the costs involved in care homes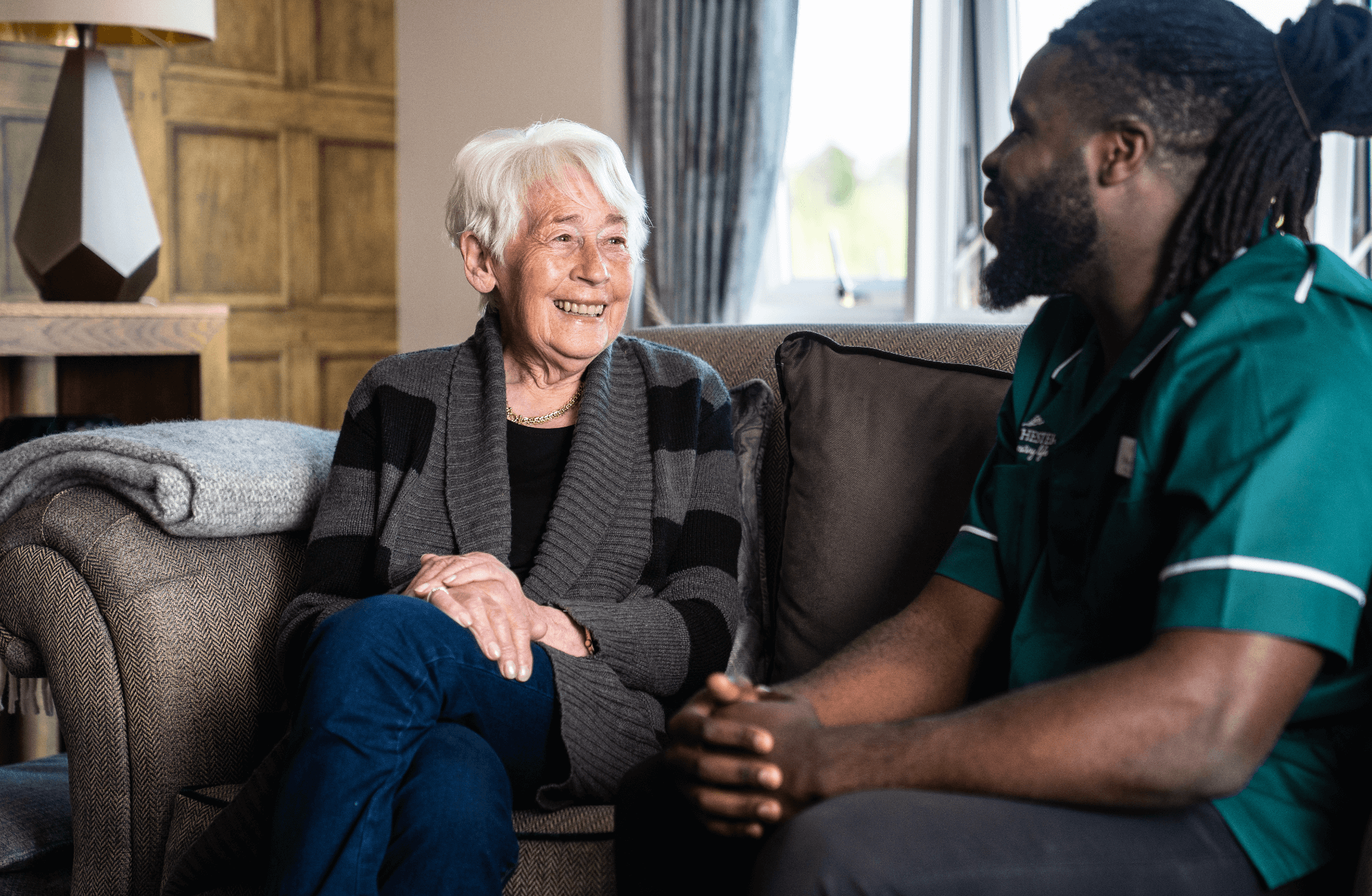 Care home costs can be a daunting prospect, especially as we, and the people around us get older.
We understand that sometimes it's difficult to know where to start, but being aware of the cost of care homes, the funding available and how everything works will make the decision-making process for you or your loved one a little bit easier.
How much do care homes cost?
The cost to live in a care home depends on a number of determining factors. From the level of care required to he home itself, and the quality of life it offers – the purpose-built facilities, the overall environment, nutritious and delicious food and the daily activities that provide opportunities, experiences and a sense of purpose. 
Care Home Costs UK
There are different rules depending on where you live in the UK, and the local authority funding available is determined by how much income and capital you have (such as savings or property ownership).
It's worth noting that from October 2025, the government will introduce a new £86,000 cap on the amount anyone in England will need to spend on their personal care over their lifetime, though this won't apply in Scotland. 
Will the cost of care vary by location?
The cost of care does vary by location, and even from care home to care home. As mentioned, it depends on a number of factors including the quality of life the home offers, and its purpose-built facilities. Home care costs differ from care home costs too, so it's always worth checking the differences between the two to see which is more appropriate for you.
The amount you'll have to contribute does also vary depending on where you live in the UK. You may be eligible for funding or some financial help depending on your assets and savings, though this depends on where you live.
For example, in England, you'll be eligible for council funding if your savings and assets are below a certain threshold - this is £23,350 in England and Northern Ireland (until the changes are implemented in October 2025), but is higher in other parts of the UK. 
In Scotland, from 10 April 2023 the capital limits are £20,250 for the lower limit and £32,750 for the upper limit. If you're assessed as having capital above the upper capital limit, you won't get help from your local council with paying care home fees over and above any assessed entitlement to free personal and nursing care.
In Wales, the capital limits are currently £24,000 for home care, or £50,000 for care in a care home.
What's included in the cost of care?
At Barchester, we charge a Weekly Fee, which covers the cost of care. We're proud of the high quality of care we provide, supporting residents to live a fulfilled and happy life. The Weekly Fee covers everything from the cost of caring staff to care needs, accommodation and facilities. At a glance, the cost of care covers:
24-hour staffing of the care home
Accommodation, including facilities, lounge and communal areas and your individual room.
Routine cleaning, maintenance and re-decorating (where necessary)
Utilities such as heating, electricity and water
Healthy and nutritious meals including snacks and beverages
Maintenance and upkeep of the home's grounds and gardens
Laundry services for bedding, towels and clothing
Organisation with external agencies such as GPs, district nurses and physiotherapists
Assistance with personal care
Activities in the home and routine trips out of the home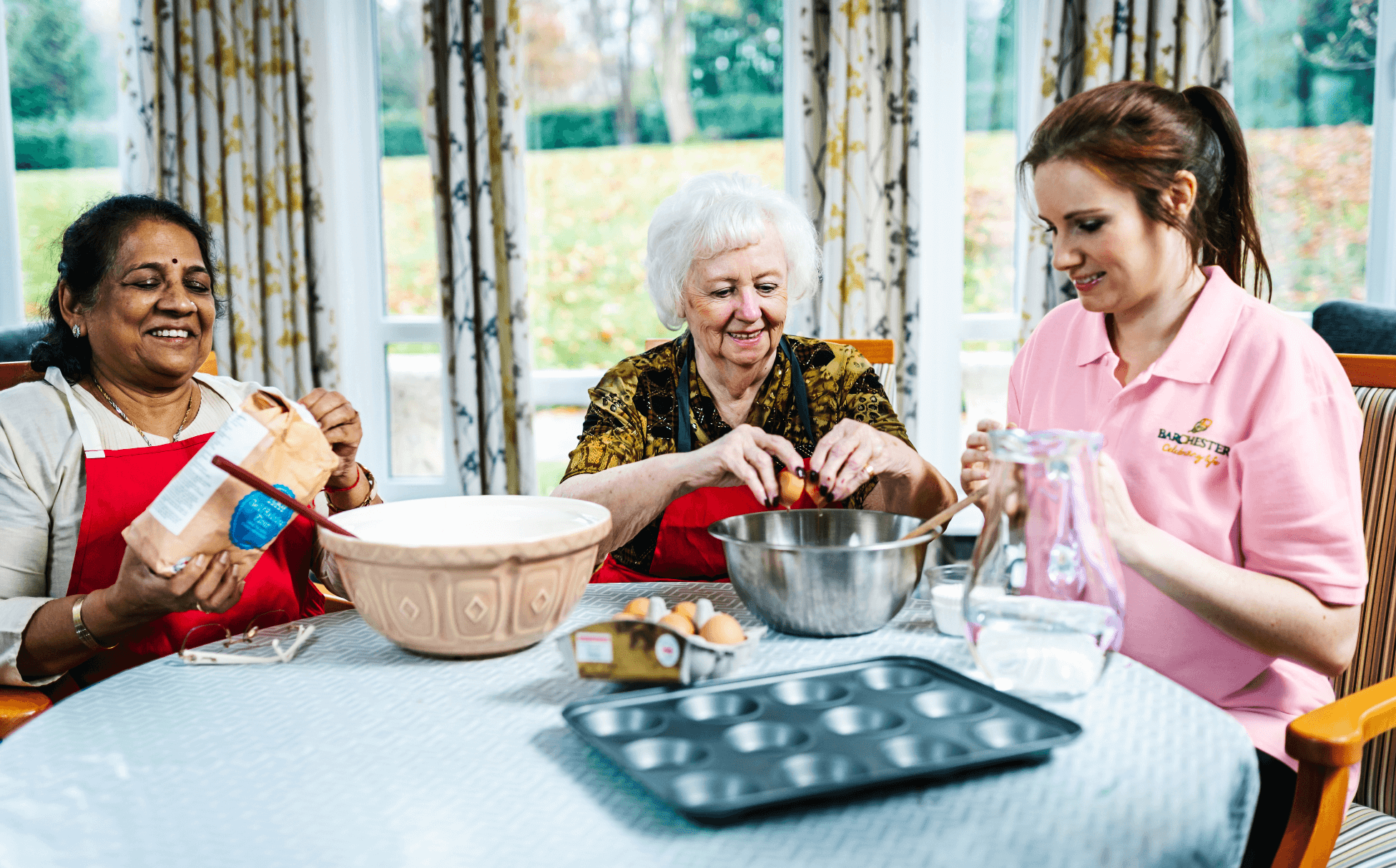 The cost of care homes at Barchester also covers general costs such as Wi-Fi, the annual testing of personal electrical equipment and any ongoing care reviews which will take place to ensure that you are continually receiving the level of care required.
Our 'Paying to live in a care home' guide is designed to try and help you understand more about the funding options available and what to consider when choosing a care home.
Read brochure
Hidden fees
We make a conscious effort to ensure that we don't have any hidden fees at our Barchester homes.
The Weekly Fee includes everything required to live a fulfilled and comfortable life within one of our care homes, but there are additional services and requirements which the Weekly Fee might not necessarily cover. 
For example, the cost of staff accompanying you to medical appointments or similar, plus the cost of the transportation isn't covered in the Weekly Fee, although this can be arranged and charged separately at a reasonable rate on request.
Where one-to-one care exceeds the needs that our staff can facilitate, an external provider will be brought in to provide this care, and would also be charged separately.
Additional items such as newspapers, toiletries, hairdressing appointments and special outings for example, can be organised by our staff, but payment for them will sit outside of the Weekly Fee.
Average Care Home Costs UK
How much you'll have to pay depends on your finances and assets. If you're able to pay all the costs yourself, you're referred to as a self-funder.
However, you could be entitled to financial support from your local authority and help with care home costs, although this depends on your location, your savings and your assets. You will undergo a care needs assessment and a means test to identify if you're eligible for financial help.
If your local authority is helping towards your costs, the care is classed as state-funded. It's worth noting that the cost to live in a well-appointed Barchester home might be greater than what your local authority is willing to cover.
A third party top-up fee would then need to be paid in order for you to be placed in the care home of your choice, which would make up the difference between the care home you'd prefer, and what your local authority will pay. This could be paid for by a family member or friend.
Care home fees are calculated weekly, but are charged monthly at Barchester. You can find the average weekly cost of care at a Barchester care home here.
Care Home Cost by Type of Care
Residential Care Home Costs
Residential care is the standard placement, and usually means that you do not need round-the-clock nursing care. 
The cost of residential care homes can vary based on a number of factors, including your location and the purpose-built facilities within the home. Any nursing services that may be required by you can be supplied by the district nursing team, funded by the NHS.
Nursing Care Costs
If you require nursing care, this usually means that you require an element of medical care and therefore will need to be supported by round-the-clock nursing care. This means that an uplift in the Weekly Fee will be payable, but this will depend entirely on the nature of the enhanced care required.
Dementia Care Home Costs
Those living with dementia may need a greater level of care than those who are able to live more independently, and therefore the cost of care homes would be higher for those with dementia. 
At Barchester, our 'Memory Lane' programme utilises a careful blend of skills and techniques developed by leading experts in the field of dementia care, incorporating person-centred design in its use of colour and cues to help individuals navigate through the home.
Care is focused on independence, dignity and choice, with a person-centred approach. Staffing levels reflect the needs of residents, and people living with dementia are offered a range of activities to help preserve life skills, support interactions and retain a sense of purpose and selfhood.
When you visit a Barchester care home you will be given an average Weekly Fee rate in order for you to understand broadly what the costs of living in the care home might be, enabling you to compare the rates with other care homes. You'll be given a definitive cost once you've completed a pre-admission assessment which will determine the level of care and support that you require.
Care Home vs Home Care Costs
Depending on the level of care required, there are differences in cost between care homes and receiving care at home.
Care Home Costs
As discussed, care home costs cover everything from the physical accommodation, food and bills, to the emotional and psychological support which naturally comes with living in a care home. 
Home Care Costs
Although the cost of home care might be cheaper in some instances, it's worth remembering the additional support that comes with living in a care home. For example, those living in a care home will find themselves surrounded by other residents, as well as staff. This contributes to residents living a fulfilled and sociable life, and can mitigate any potential feelings of loneliness. There is also an element of safety to living in a care home, knowing that there will be someone on hand to help 24 hours a day.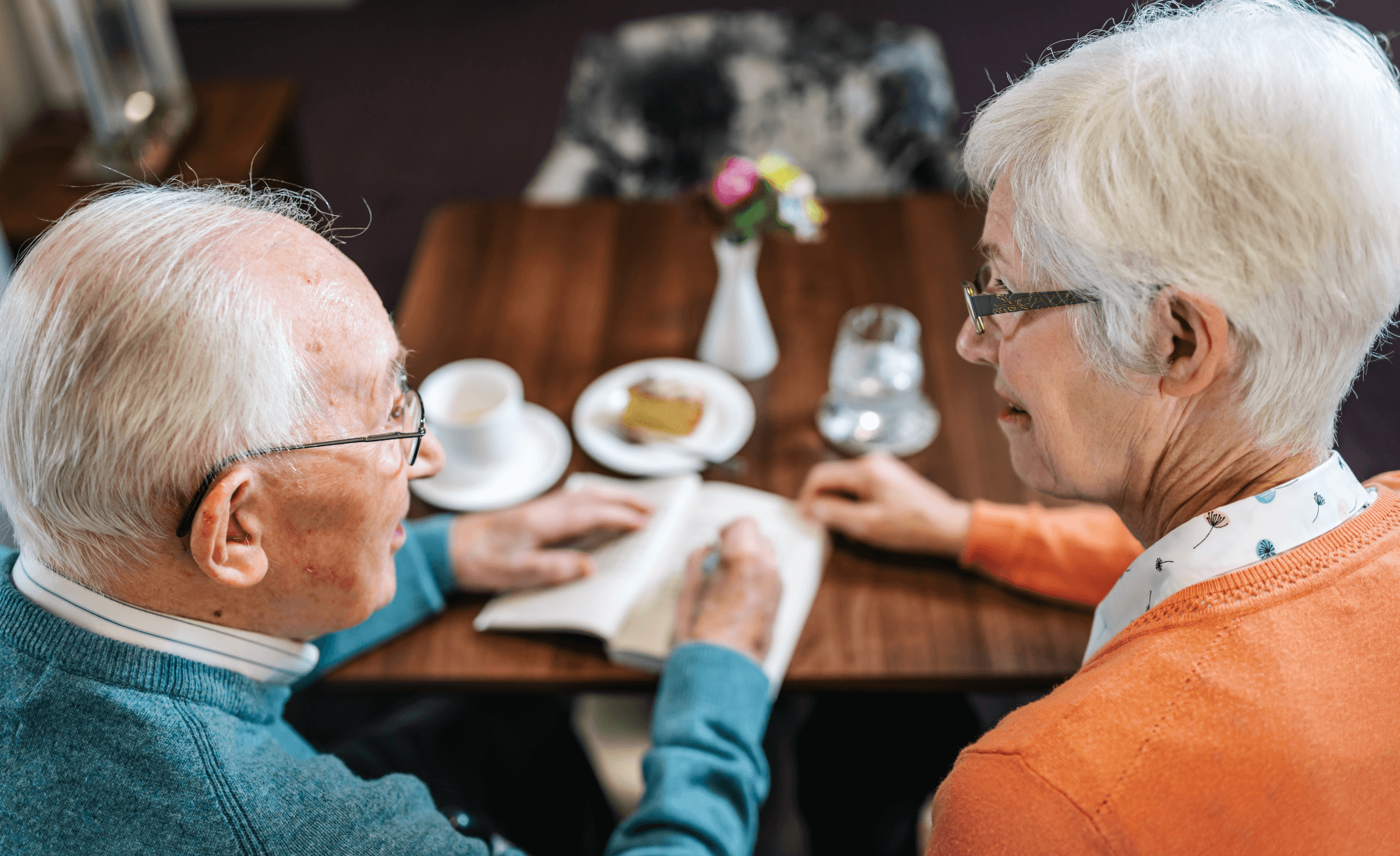 This isn't always the case with home care, as visits are often sporadic throughout the day or week, and can be short. Where you may require additional care as your needs change, the cost of home care can often exceed the cost of a care home.
Comparing the Cost of Care
It's always sensible to compare the costs of care, against your wants and needs. Care home costs include your overall care, and the accommodation you're living in, whereas home care costs only cover the cost of your care. You will have to take into account the fact that you will still be required to pay for your bills and the cost of food if you choose home care.
 
Questions and answers
Will I have to sell my house?
Your means test will be able to identify your financial position, and whether or not your house makes up part of your capital. For example, if your partner or in some circumstances, a relative still lives there, it will not be included. It may also be excluded if you're only due to go into a care home on a short-term or temporary basis.
What happens if my circumstances change?
If your care needs change, you will need to progress applications with the integrated care board (ICB) or local authority to determine whether or not you're entitled to additional funding. Our staff can assist where possible, but it will be your responsibility to initiate and pursue conversations.

What happens if I run out of money?
If your assets fall below the national threshold, then you'll likely require a third party top up which may come from the local authority depending on your circumstances, or may need to come from a friend or family member. If your assets begin to fall close to the threshold, please let us know as soon as possible so we can guide you with what to do next.

Do people with dementia have to pay care home fees?
People living with dementia will usually be expected to pay towards their costs for care. This can either be self-funded or with help from their local authority. A person with dementia may be eligible for NHS continuing healthcare, whereby the NHS organises and fully funds their social care.

Find your nearest Barchester care home
With over 200 care homes in the UK, there's always a Barchester care home near you.