Anais Rose Davis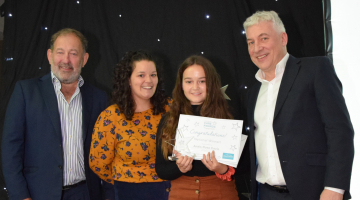 Staff and residents at Tyspane Care Centre in Devon are celebrating after teenager, Anais Rose Davis, was named 'Volunter of the Year' at the Barchester Care Awards 2018.
Judge for the award, Mike O'Reilly, Director of Care, Risk and Compliance, said of Anais that "She's been a volunteer to Tyspane Care Centre since the young age of two, following in the footsteps of her grandmother who has been volunteering at the home for years. Helping with pet therapy, entertaining the residents with her singing and dancing, and supporting the home every year at their popular summer fetes. This year Anais used her initiative not only to recruit help from the community but also to get donations towards the creation of an incredible 3 foot by 2.5 foot cake in celebration of the Queen's birthday which she baked herself using her aunt's industrial oven. The cake was so impressive it was even picked up in the local news. Her efforts to bridge the age gap at the home, as well as her compassionate commitment at such a young age is truly an inspiration".
Sara Maynard, General Manager at Tyspane Care Centre said: "Our care centre is like a family and Anais is a part of that family, loved and valued by everyone. It takes a special kind of person to give up so much of their time to help others and we are lucky to have such a fantastic volunteer. We're always looking for volunteers at the home young or old. Anais definitely keeps us here at Tyspane young at heart!"
Congratulations Anais!
Other Finalists: