Residents Garden of the Year
Bob Maven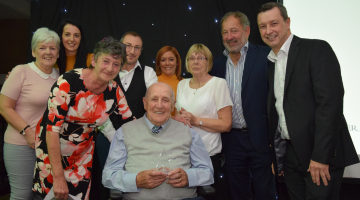 Staff and residents at Chester Court Care Home in Bedlington are celebrating after 91 year old resident, Bob Maven, was awarded the 'Residents Garden of the Year' award at the Barchester Care Awards 2018.
Paul Mason, Director of Health and Safety at Barchester and a judge for the Residents' Garden category said "The gardens are the pride and joy of Bob who is a 91 year old resident who lives there. The gardens are spread around the whole home and consist of bedding plants, hanging baskets and well maintained lawns. A fully stocked greenhouse to include grapes (once again from the sunny North East of England!) The home also had a fully stocked herb garden and numerous flowers, too many to mention. Bob works dawn till dusk within the garden and has even adapted his wheelchair to hold his gardening tools. He is the talk of the local community and keeps winning prizes in the Northumbria in Bloom competition. In fact when I was judging the gardens a passing taxi driver shouted "fantastic garden Bob- keep up the good work!"
Congratulations Bob!
Other Finalists: