Lifetime Achievement Award
Gillian McKnight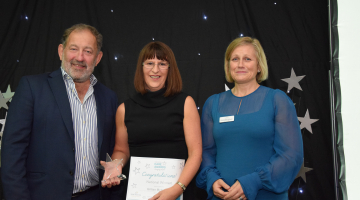 Staff and residents at Fours Hills in Glasgow are celebrating after General Manager, Gillian McKnight was awarded the Lifetime Achievement Award at the Barchester Care Awards 2018.
Genevieve Glover, Director of HR and a judge for the Lifetime Achievement category, said of Gillian that "Gillian is being recognised this year for managing the home with compassion, integrity, honesty and respect for all. Managing a team of over 150 people, who are all fiercely loyal to Gillian's leadership and vision, Gillian takes ownership of and pride in her home, and the high standard of care that they deliver. She strives to give her all every day and support others, so her colleagues know they can always turn to her when they need some extra assistance. She is respected by families, and residents love chatting to her as she shows a genuine interest in their lives. To continue giving such high-quality care and support for over 22 years is a huge achievement."
Congratulations Gillian!
Other Finalists: