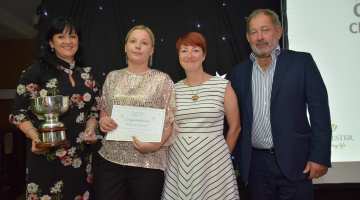 Residents and staff at Chorleywood Beaumont Care Community in Hertfordshire are overjoyed that their garden, which is central to life at the home, was crowned National Winner of the Garden of the Year category in national gardening competition, Barchester in Bloom, the garden-themed categories which are a part of the Barchester Care Awards 2018.
The home's gardening team made up of gardener Patrick McNicolas, alongside Maintenance Manager, Adrian Stoica, and Maintenance Assistant, Emmanuel Onciuleanu, who were all thrilled with the win. Adrian said: "residents at Chorleywood Beaumont love spending time in our garden, and it really is a labour of love. We have put in so much work to get our garden to look its best, and residents even helped with creating our interesting wooden scarecrows during our residents gardening club as interesting features throughout the green space. We love our garden and we're looking forward to incorporating new projects and ideas into the home with residents and the local community so we can take home the trophy again next year."
Congratulations Chorleywood!
Other Finalists: